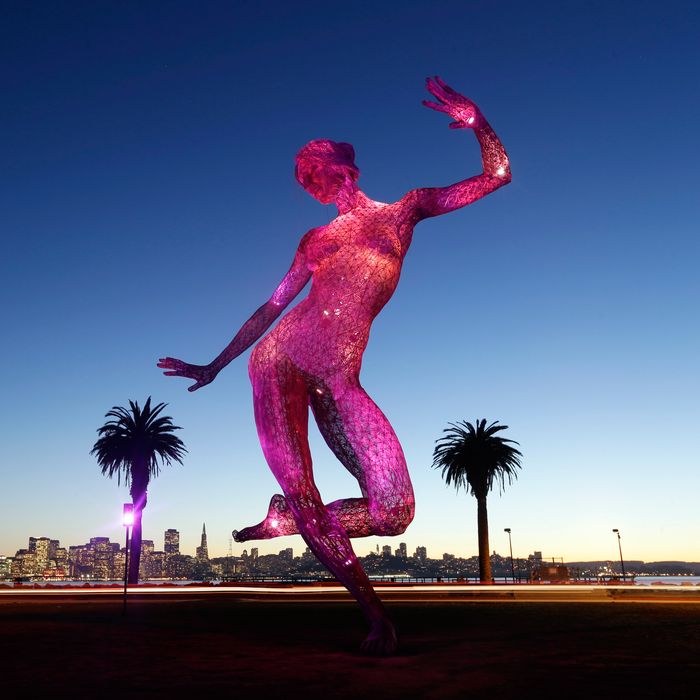 Photo: Marcio Jose Sanchez/Corbis
Former Vogue editor Meredith Melling went to Burning Man and wrote a sincere post about dressing for this occasion. No, this is not a parody, this is in fact the real-life edition of the Overspenders' "Guide to Festival Fashion." In her lead-up to this event, Melling's chief concern was what to wear: "When Carolyn Bessette-Kennedy is your style saint and on more than one occasion your look is described as 'New England with a bohemian twist,' Burner style can seem like a very distant and daunting prospect" (in case you're wondering, Ralph Lauren does not make a gas mask). While the obvious answer is head-to-toe Calypso, Melling had some sound advice for all of those fashion-conscious Burners. Forget the Ten Principles of Burning Man. Here are ten Vogue-endorsed Burning Man practices.
1. Explain that you would only do something this crazy for a man.
A marine, natch, who can protect you (and your hair) from the ravaging winds.
2. Procure and name-drop the wealthy founders of your Burning Man camp.
In this case, socialite and art patron Yvonne Force Villareal.

3. Get your Burning Man ensemble somewhere "eccentric" like Screaming Mimi's. 
But only buy things that can "double as a Fashion Week wardrobe." I mean that's just smart shopping.
4. Make sure you tailor your purchases — no one wears off-the-rack, EWWW.
Writes Melling: "When I went back to pick up some of my purchases that had been altered, the sales staff told me they were inspired — apparently my selects were refreshingly different from the neon/Barbarella/S&M bits that define typical Burner looks they see. My confidence was gradually mounting …"

5. Have your Burner outfit approved by your bona fide "quirky" friend Lynn Yaeger.
Be prepared to choke back tears when she is unimpressed. 

6. Remember, VIP status matters. Even on the playa.
Secure your front-row seats well in advance, advises Melling: "I'd heard endless raving about the Robot Heart sunrise dance party, rumored to be the best on the Playa (especially if you can secure a spot atop the Robot Heart art car — which we did)."

7. Only use Vogue-approved references when deciding on themed outfits.
Burning Man style is often inspired by things like "Intergalactic Warriors" or "Mother Earth meets Black Jesus meets LSD" or even "Vagina," but a true Vogue-ette maintains her highbrow moodboards. Melling recommends Jane Birkin à la La Piscine or Leelee Sobieski's Raf Simons moment as guiding inspirations. And break in your Vivienne Westwood boots so they resemble something Kate Moss would wear.

8. Consult a professional hair and makeup artist to to optimize your playa dreads. 
No sand-formed, hippie dreads here. Melling enlisted Alexa Rodulfo to create a bespoke braid look for her weeklong stint as a Burner. Make a note next time to channel the Chanel spring runway.

9. Choose the most inconvenient and eco-unfriendly face glitter …
"I had planned to apply hundreds of tiny glitter stars under my eyes as my statement beauty look."

10. … and then settle for trendy Flash Tattoos once your eyes are opened by eco-shaming haute hippies.
Whatever it takes to wake up to the plight of Mother Earth: "Needless to say, glitter that could potentially flutter to the ground is a big no-no and would indeed have made me a big Burning Man loser."