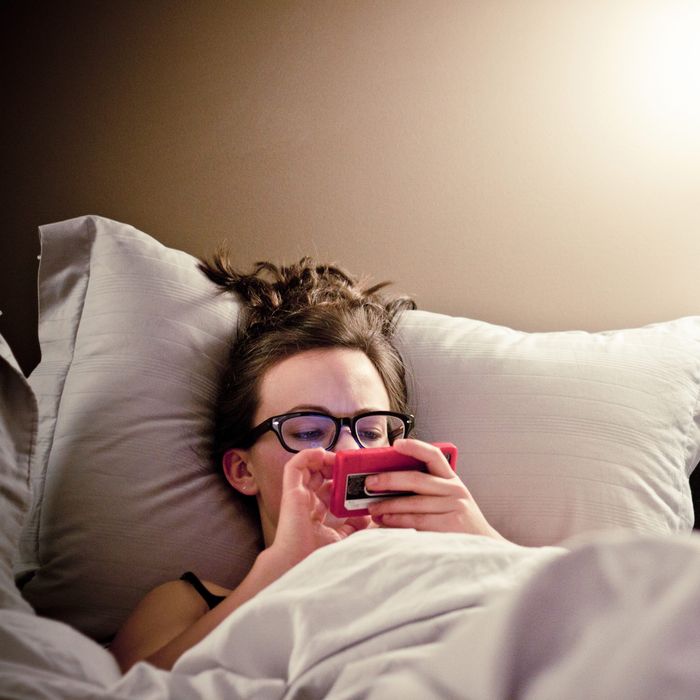 Photo: Christopher Kimmel/Getty Images
In the six months or so I've been on Tinder, I've matched with nearly 300 guys. The other night I was scrolling through my usual aspiring-musician-with-man-bun matches and realized I didn't recognize a lot of these dudes. I didn't even find them attractive. And then I realized it was because, at least half the time, I let my friends use Tinder for me.
I am all too happy to hand over my phone — after about five minutes of swiping through the possibilities, I find myself feeling both snow-blind and depressed — to friends in relationships who can live their vicarious Tinder fantasies through me. For them, it's a playground, consequence-free — one in which they can browse through available men, taking screenshots of guys who pose with giant Avicii tattoos on their forearms, and comment on receding hairlines or the sociological implications of sneaker choices. It is the digital equivalent of the time-honored tradition in which the coupled-up play yenta for their single pals, whether asked to or not.
Drew Zandonella-Stannard, 30, dabbled in online dating after college, back when it was less of a phenomenon than it is now. She ended up meeting her fiancé three years ago through her job in marketing at a chocolate company in Seattle. "I had this pang of jealousy [about Tinder] because it was the first form of social media I wasn't able to participate in," she said. "I think I would have been really good at it. I'm good at reading people, good at judging people." So she indulges her curiosity by taking over friends' phones. "I will swipe for friends at bars or at somebody's house hanging out. Basically wherever there's wine involved," she said. It's a bonding activity, almost an icebreaker exercise. It brings back fond memories for her of the collective gaze: looking at Myspace profiles circa 2006 or checking out exes on Facebook or circling faces in her middle-school yearbook.
Vicarious Tindering can also function the way the dinner-party setups used to. "They want to save you, the married friends," said Karen Luh, who is a lawyer in Los Angeles. She sighed audibly. "I was having dinner with a friend and talking about losers I was dating. She said, 'You should use this thing Tinder.' She had seen it at a baby shower. She presented it like she wished she could use it, too." The problem, Karen said, is when her friends have a different set of standards than her. "A gay friend in a relationship loves to do it for me, but he's looking for completely different things — he gives a pass to guys with conspicuous tattoos. On the other hand, there are the married friends who have a more academic or maternal approach. They try to swipe for you like they're trying to pick a husband for you."
That rings a bell. I have one friend with a longtime boyfriend whose most offered Tinder comment is "He seems decent" for anyone vaguely inoffensive, as if the point of Tinder is not in fact to make split-second decisions based on aesthetics, vague intuition, and whatever other dark magic you conjure. This nice-guy approach seems to be a common problem for those who've been out of the dating pool for a while. Tracy Wilbur, who lives in Seattle, likes swiping for a single friend "to help her out." "I look for guys that are attractive, seem like they have a good personality and an interesting life based on the photos they have. My friend passes on some guys that I'm like, 'Wait, they're cute; they seem nice!'" These friends' intentions are pure, but the judgment is implicit: You're still single because you care about the wrong things.
Not all single people quite share their married friends' interest in the app. Myles Ellison, 26, a real-estate agent and model in Ridgewood, Queens, has gone on exactly one Tinder date, and it ended awkwardly: "He tried to kiss me, but I hugged him." One of his colleagues told him that Tinder seemed exciting, like she was missing out on some idealized version of single life, he said. "I was like, 'Oh honey, don't worry about it.'"
But no wonder it's so alluring for them: Married people get to swipe, maybe make a few matches, and then fantasy single playtime is over. "That's where it ends for them," said Kendra Gaeta, 39, who works in marketing in Los Angeles. "But for you that's not even the first step. You have to wait for the other person to initiate or to initiate a conversation yourself, hope there's witty banter, decide when do we begin texting on telephones, and at what point do we meet up?"
Perhaps, at least in part, the envy isn't even about wishing they were single and seeing what's on the menu out there, but about fear of being left out by new technology — or way of life. "It's America, so people are always worried about getting old and out of touch and obsolete," said Emily Witt, who profiled Tinder in GQ earlier this year and whose forthcoming book, Future Sex, is on women and sexuality. Married people feel like they're "missing out on this new kind of socialization, which isn't to say they should be jealous of us," she said.
Or for some would-be Tinder voyeurs, maybe it's simply a way to get their significant other a little bit jealous. One night last winter Gio Muniz and Ruth Reader were at a bar in Brooklyn, and the topic of Tinder came up. "We were talking to a friend who had just started messing around with it and telling us how someone finally figured out a hookup app for straight people," she said. So they downloaded it on his phone and started browsing. "It lasted 22 minutes or so," said Muniz. Then, "Ruth was like, 'You're gonna delete that, right?'"