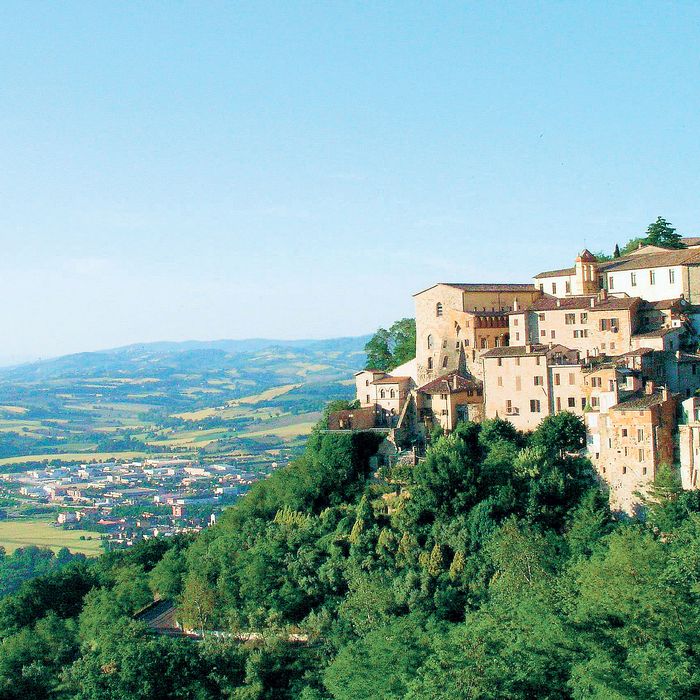 You don't have to spend a solid month in Italy to get a taste of Umbria. For many travelers, one of the major benefits of the place is that it's within striking distance of Rome. An hour-long train ride brings you to Orvieto, the gateway drug to Umbria: Orvieto's convenience to Rome makes it more touristy than the region's other towns (particularly in summer), but lots of other things make up for it. Like the stunning views from Orvieto's hilltop location. The elaborate Duomo that houses some of the early Renaissance's most important art (do not, do not miss the vibrant Last Judgment frescoes by Luca Signorelli, which Michelangelo studied carefully for his work in the Sistine Chapel). The labyrinthine underground, where rooms and tunnels were first dug into the soft tufa stone beneath the town some 2,700 years ago, which you can tour. And, of course, the winding medieval streets.
But Orvieto isn't even my favorite destination in Umbria, by a long shot. Here are some other places to put on your radar, and these are just a fraction of the options. (Also, it goes without saying that all are medieval, off the beaten path, and ridiculously picturesque).
Spoleto
The 2,500-year-old town climbs up a hillside and has ancient Roman remnants (including a 2,100-year-old bridge and ancient Roman theater), a seriously imposing 13th-century fortress, a majestic 13th-century aqueduct, and a Duomo with some of the loveliest Renaissance frescoes in Italy, and a colorful cycle by master Filippo Lippi, who is also buried here.
Norcia
Famous for its wild boar and pork products (in fact, across Italy the word norcineria now refers to a butcher's), Norcia is one of the few ancient towns in Umbria that's totally flat. It also has well-preserved medieval walls, picturesque piazzas, and makes a great base for excursions into the Sibilline Mountains.
Narni
Here, the ride in passes an enormous, ancient Roman arch built by Emperor Augustus, the town museum has a gorgeous Ghirlandaio altarpiece, and the underground beneath the Duomo is one of the creepiest you'll experience. A few years ago, excavations beneath the town's church revealed a paleo-Christian basilica — and next to that, a torture chamber and prison cells for those held during the Inquisition. The prison cell even has creepy, carved graffiti from the condemned souls.
Todi
Todi has some of the most stunning views over the Umbrian countryside you'll see, an elaborate Gothic Duomo, ruined medieval castle, winding alleyways, and some great restaurants serving up local specialties, like (in the fall and winter) local truffles.
Montefalco
A must for wine lovers, thanks to its production of famous wines like Sagrantino and Montefalco Rosso; the hilltop town also has lovely Gothic and early Renaissance churches (don't miss the church of San Francesco, with its beautiful frescoes by Benozzo Gozzoli) and a picture-perfect medieval piazza, overlooked by the 13th-century town hall.
Perugia
This extremely graceful small city serves as the region's capital. Most might now associate it with the ghastly Amanda Knox case, but needless to say, the city is much, much more than recent scandal, with its streets of elegant shops, views of the countryside, annual Umbria Jazz Festival, lovely churches (one of which has a fresco by Raphael), chocolate festival each October, and works by famed artist Pietro Vannucci, Raphael's teacher, who was nicknamed "Perugino" for being from the area.
Assisi
While definitely not off the beaten path — St. Francis put it on the tourist map back in the 13th century — Assisi is well worth a visit, with its ruined castle, lovely churches, and, best of all, the Basilica of St. Francis of Assisi, with a completely frescoed, two-story interior that's much more spectacular in person than it was in your college art history class.
If you want more than a day trip to the region, plan at least three days, which will let you see a handful of the area's towns. Five days to a week will allow you to really get a feel for the area, from the gentle hills of the Tuscan border northwest to the wild, rocky Sibilline mountains and the border with Le Marche. But don't be surprised if you want to stay much longer.
And no: You don't have to drive. In fact, for being a largely rural region, Umbria has surprisingly excellent public transportation. Trains on the Trenitalia network, Italy's national system, run frequently from Rome and Florence to Orvieto, Spoleto, and Perugia. But an equally useful train network in Umbria is actually a regional one, which takes in towns like Todi, Gubbio, and Terni. That Umbria has a rail system comes as a surprise to most travelers, because, as it's not part of the Trenitalia system, its stops don't appear if you check on trenitalia.com. Instead, go to the Umbria Mobilita site. (On this page, the blue line is the Umbria train line, the black is Trenitalia).
As for accommodation, chain hotels are few and far between in Umbria, as in much of non-urban Italy, but you'll find smaller B&Bs and family-run hotels in any of the local towns. If you can, though, go for an agriturismo. Although the name means "farm-stay," agriturismi run the gamut from simple to seriously luxurious — and no, you're not expected to "help out." They tend to be set in beautiful, rural settings guesthouses every bit as private as you'd expect at a B&B, with the option of homemade breakfast and/or dinner. As a result, they're one of the best-value types of places you can stay at; in my experience, they also tend to be among the most atmospheric and beautiful. You can search Umbria's (and Italy's) hundreds of agriturismi on sites like agriturismo.com.
Finally, before you go, make sure to check for any sagre (festivals) going on. Umbria's small towns play host to a number of them throughout the year, but especially in the fall; a sagra is usually devoted to one particular local product or specialty (from white truffle to gnocchi to salumi). They're usually really local events (and frequented by few foreign tourists), so a great way to get a taste, quite literally, of the area. Search for upcoming sagre on the website Sagre e Ditorni or Sagre in Italia.