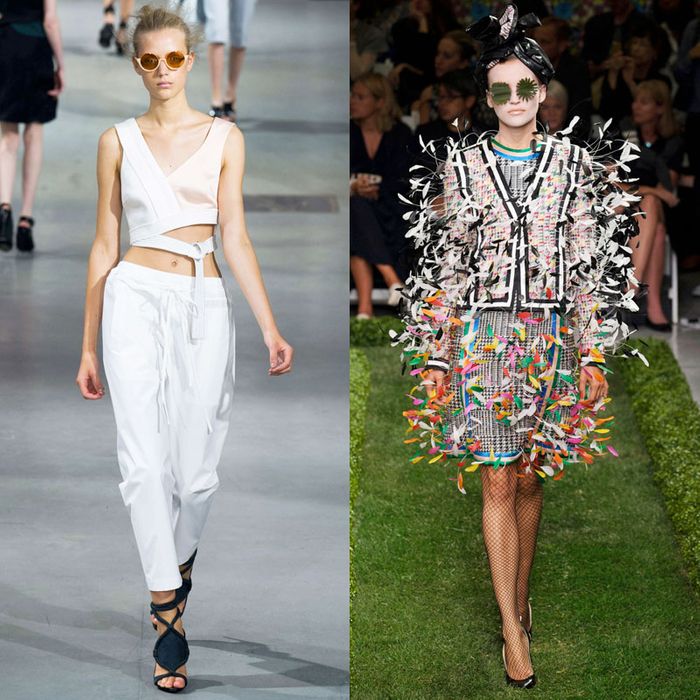 Photo: Imaxtree, Taylor Hill/Getty Images
Phillip Lim's starting point for his spring collection was sleep. His color palette was full of off-whites and tans, inspired, he said, by ever so slightly mismatched sheets. "At the end of the day, you put together the bed and it's just ivories and whites and ecrus," the designer said backstage. "I could either fuss over it, or I could just kind of enjoy nap time." It's tough to evoke bedtime without actually putting the audience to sleep, but Lim managed. His delicately curved, piped, and embroidered creations had enough surface interest to give everyone present an afternoon jolt.
Another show with a wonderfully dreamy quality to it was Thom Browne. The set was pure Insta-bait, with models lounging living-statue-style in a mock garden. Browne always has fun with preppy codes, and these clothes played on lawn games: badminton birdies embroidered onto jackets, a racket worn as a fascinator. (Stephen Jones's millinery was as much the star of the show as Browne's designs; you get the sense that the two were one-upping each other in outrageousness.) As models came out in 3-D takes on the natural world — a jacket whose wisps of feather evoked insect legs and trembled with every step, sweaters with oversize flower appliqués — a charming children's story, written by Browne and narrated by his friend and fan Diane Keaton, played as the soundtrack. Post-show, the designer shrugged off specific references — Alice in Wonderland, fairy tales, psychedelia — instead, he said, he intended to keep it simple."The collection was about very simple shapes, but really amazingly intricate shapes and materials and work and workmanship," he said. And luckily, the presentation's format allowed onlookers to catch every last glimpse of Browne's old-school worksmanship, as though it were under a microscope.
Rosie Assoulin's color-saturated cream-puff gowns are what we're all wearing in our dreams, but her beautifully low-key presentation today was down-to-earth. Her minimalist accessories — a Grecian urn-shaped bag and straw picture hat — had all of us wanting to wake up in spring 2015 already.
See the full 3.1 Phillip Lim spring 2015 show here.