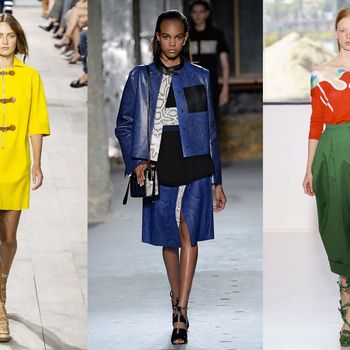 Photo: Imaxtree, Getty Images
From "Palm Bitchy" to "Norm Kors," Michael Kors has a knack for snappy summations of his shows. This season, it was "Optimistic chic." "I'm a pretty optimistic guy. I actually think the glass is half full, not half empty," the designer said — appropriately enough, while sipping on his signature venti-size iced tea. Though his show featured classic American sportswear on a smiling model, embroidered floral ball skirts, and a girl-group soundtrack, it had a more somber inspiration. "Right now, we open the paper, we look at our phones, and the headlines can be kind of daunting," he said. "So I really wanted to think about: When was the last time in fairly recent history where we came through a dark period and we had this optimism? You think about the '50s." As for those sunny hues: citrus, spring green, fuchsia? "Fashion people sometimes think you have to be sad to be chic. Like dour and sad, and serious, and I'm here to tell you: That's not the case at all." For an hour, at least, he let us forget our troubles and get happy.
Reed Krakoff was inspired by one color this season: cobalt blue. He emblazoned the walls of his show venue, the Hosfelt Gallery, with Yves Klein blue, which "has been in our collection since the first [season]," he said. "I always come back to it. It's actually part of the initial packaging we did. We never went forward with it, but it's always been part of the brand, and it's something that now has become a real signature." Krakoff's presentation, in which models rotated between different rooms, 3-D installations made with frequent collaborator Steven Sebring played on screens. One wall was plastered with chair sculptures, reflecting his deep immersion in the art world. He's not the kind of designer who stumbles across an artist on Wikipedia and grafts the reference onto an existing collection in order to give press-release writers a toehold. Krakoff is a serious collector, and he's encyclopedic on the topic. For this collection, he looked to color-field painting, creating an homage to the square à la Josef Albers — a motif that repeated across skirts and tops. Accessories are always his strong suit; today he introduced the RK40 bag, which is already up for pre-order on his website.
Drawing on the concept of mélange, Jack McCollough and Lazaro Hernandez of Proenza Schouler spliced skins and lashings of fringe into a graphic, geometric collection. While both the colors, notably the deep reds and greens, and the weight of the garments felt more appropriate for fall, the designers nicely split the difference between a Bauhaus palette and '80s flash. (Who's going to be the first to wear those patent-slick pants with one black leg and one red leg?)
It was strange to see people wearing Josep Font's designs for Delpozo in real life as his chic fellow Spaniards gathered for his show yesterday. His elaborate work is stunning on the runway, but not always easy to envision on the street. Backstage, the designer was coping with laryngitis that forced him to telegraph his thinking via an interpreter. Unless something was lost in translation, he looked at the German land artist Nils-Udo, paintings by Josef Albers, and the marine-themed models of the glass artists Leopold and Rudolf Blaschka this season. Font is a bit like the Blaschkas in that his work is delicate, impractical, and fiercely loved by a loyal few. He  continued to favor outsize, infanta-style shapes that might make them dark-horse maternity options for the pregnant street-style set. He channeled the marine theme with 3-D seashell embroidery and arcing, conchlike edges, while his sense of color mingling remained unmatched: lipstick red, kelly green, and lemon yellow all played well together. Font may have lost his voice, but that didn't prevent him from making a statement.
See the fuill Reed Krakoff collection here.
See the full Michael Kors collection here.
See the full Proenza Schouler collection here.
See the full Delpozo collection here.