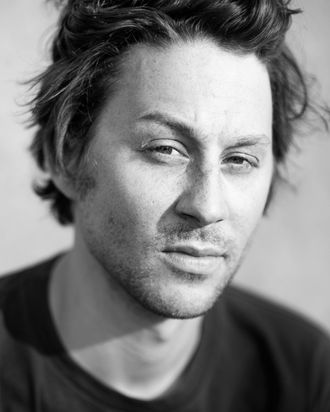 It's been a good year for the 30-year-old Austrian designer Arthur Arbesser, a Central Saint Martins grad who spent seven years working in the design atelier of Giorgio Armani before launching his own brand in late 2012. Last summer, Arbesser — who now lives and works in Milan — won Vogue Italia and AltaRoma's design competition Who Is on Next? and last season showed his collection in a stunning private home, for which he earned rave reviews and a spread in Elle. "I'm freaking out, it's too much!" Arbesser says of his recent success. This Sunday, he will present his spring/summer 2015 offering at Garage San Remo in Milan. Arbesser spoke to the Cut about the challenges of launching a new fashion brand in Italy, Helmut Newton, and starting out as "a nobody." (Check back throughout Milan Fashion Week for more interviews with Italian designers.) 
How many people do you have on staff?
It's me, an intern, and a crowd of friends. The press has been so supportive, but when they put me together with Fausto [Puglisi] or MSGM — those guys have full-on working businesses and big studios. It's very scary, but amazing, too.
How would you describe your brand?
I'd say very simple but very strong research on fabrics and materials. In a way basic, but not in a Gap way. I experiment less with volume and more with fabrics and functionality. I'm not keen on making something on-trend at the moment.
What was the best thing you learned from Mr. Armani?
No fuss. You really have to get on with your work. It's a tough business, and it's not glamorous at all. Also, to pay attention to everything. He oversees so many garments, from sunglasses to shoes, but still had the passion to discuss and look at everything upside down and inside out.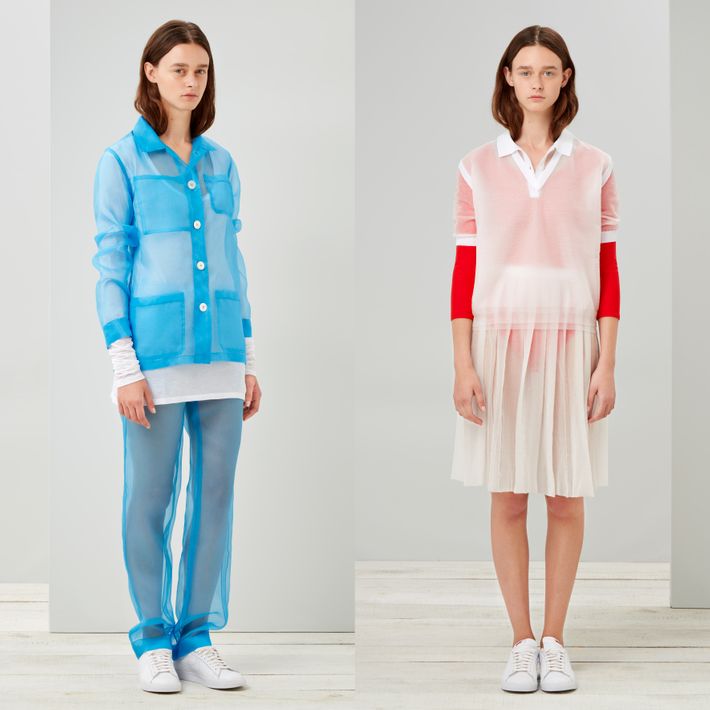 How did you launch your label?
I did it in Michela Pelizzari's office across from where No. 21 was showing. She said, "You need to think strategically because you're a nobody." We created an installation. For being a nobody it was actually quite good. I figured out the key to everything is friends and asking for help. I really want to continue this collaborative feeling.
Tell us about your presentation in Luca Cipelletti's mid-century Milanese apartment last season.
Luca was so generous to lend me his house. It was amazing. I got a page in August Elle. I realized something good was happening. It was so natural, though; it wasn't forced. So, that's why the pressure is on now. Initially I thought of doing a show, but the Camera della Moda [The National Chamber for Italian Fashion] is difficult.
What do you have planned now?
I did a video with Cordula Reyer. She's 50 and was a model for Helmut Newton — I've been a fan of hers forever. We shot on the rooftop of Vienna, with her wearing the new collection. We'll show the video during a presentation in Garage San Remo. She's coming as well. Luca is curating an exhibit of art by Carlo Valsecchi in the rooms with massive machinery. I'm freaking out; it's too much!
Are collaborative efforts the future of fashion?
I think it's good to do something that involves a lot of people. Lately there's so much ego in fashion, thinking about yourself a little bit too much. Cordula told me that when Helmut started, he was alone, and it was this group feeling — that's when the magic really happens. I'd never compare myself to him, of course.
What's the best part of working in Italy?
The manufacturing and production is the best — you can't beat it. There's also a weird attention being in Milan because there are so few of us [young designers] here.
What's the worst part of working in Italy?
There's a lack of organization and reliability. If you're a small brand you're the last one in the row. They serve their big clients first. It's very stressful on your nerves. At the end everything is somehow possible. It's amazing how the whole country actually ends up working.
Why are there not more young labels in Italy?
At Saint Martin's there were kids that were really poor, but they got grants. In Italy they don't have those scholarship programs — and it's expensive, so it attracts a certain kind of student who isn't really desperate. Getting through the college struggle creates an energy and desire. It makes you more creative, more hardworking. You must really want it. There is very little support in Italy if you compare it to BFC or New York's CFDA.
What's the one thing we all need from your fall collection?
One of the good things is the big, transparent tulle skirt that you wear over tight pants or leggings. It was a statement piece but also a best seller. It's in Opening Ceremony in Tokyo and at Wait and See in Milan.
How big do you want to become?
I guess I'm a little bit too romantic to think that way. I'd just love to do a quality product that's sold in beautiful shops.