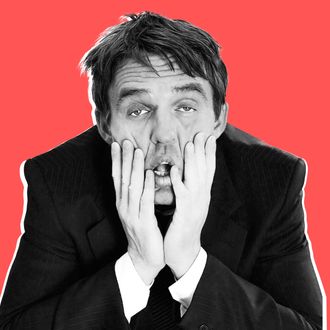 You've probably started seeing signs around advertising free flu shots, which is a helpful reminder that one of the ickier periods of the year, illness-wise, is approaching. A new study about how viruses spread will not make you feel any better about the sneezy days to come. The short version: Once something contagious gets on a surface a lot of people touch, it takes it hardly any time at all to spread basically everywhere.
The slightly longer version, via the press relase (there's no link yet, but I'll add one when it's up):
Using tracer viruses, researchers found that contamination of just a single doorknob or table top results in the spread of viruses throughout office buildings, hotels, and health care facilities. Within 2 to 4 hours, the virus could be detected on 40 to 60 percent of workers and visitors in the facilities and commonly touched objects, according to research presented at the 54th Interscience Conference on Antimicrobial Agents and Chemotherapy (ICAAC), an infectious disease meeting of the American Society for Microbiology.

…

Norovirus is the most common cause of acute gastroenteritis in the United States, according to the Centers for Disease Control and Prevention (CDC). Each year, it causes an estimated 19-21 million illnesses and contributes to 56,000-71,000 hospitalizations and 570-800 deaths. Touching surfaces or objects contaminated with norovirus then putting your fingers in your mouth is a common source of infection.

In the study, Gerba and his colleagues used bacteriophage MS-2 as a surrogate for the human norovirus, as it is similar in shape, size and resistance to disinfectants. The phage was placed on 1 to 2 commonly touched surfaces (door knob or table top) at the beginning of the day in office buildings, conference room and a health care facility. After various periods of time (2 to 8 hours) they sampled 60 to 100 fomites, surfaces capable of carrying infectious organisms (light switches, bed rails, table tops, countertops, push buttons, coffee pots handles, sink tap handles, door knobs, phones and computer equipment), for the phages.

"Within 2 to 4 hours between 40 to 60% of the fomites sampled were contaminated with virus," says Gerba.
Gross. The only bright side? "Using disinfecting wipes containing quaternary ammonium compounds (QUATS) registered by EPA as effective against viruses like norovirus and flu, along with hand hygiene, reduced virus spread by 80 to 99 percent," said one of the researchers. So keep those hand wipe handy.