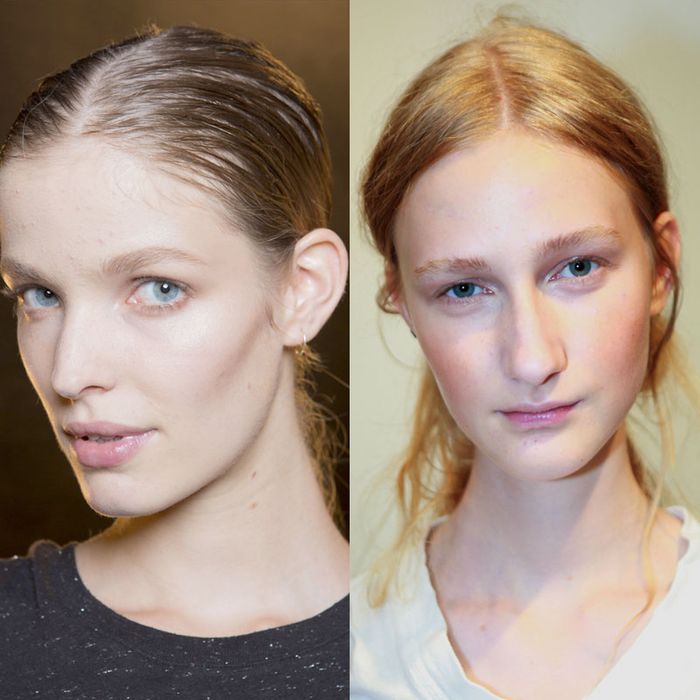 Photo: Ivan Lattuada, Bek Anderson
A lot of models have been looking a little dewy backstage and it's not just because it's 90-plus degrees outside. True to the trend-spotting rule of three, sweat has been a beauty inspiration at three shows. Perspiration has inspired the looks at Alexander Wang, Creatures of the Wind, and Prabal Gurung (with perhaps more to come). Perhaps this is the beauty version of sportswear chic.
Although it's not like you need a tutorial to look like you just prancercised, the sophisticated way to look like you just attended a Soul Cycle class is achieved through a little contour, with the slightest suggestion of sweaty, mussed hair. At Creatures of the Wind, the designers were inspired by the "overheated" look of girls at casting, and replicated a similar glow by rubbing a sheer bronze-brown NARS lipstick called Ligueria (out Spring 2015; for now a similar shade is Belle Du Jour) on the cheeks.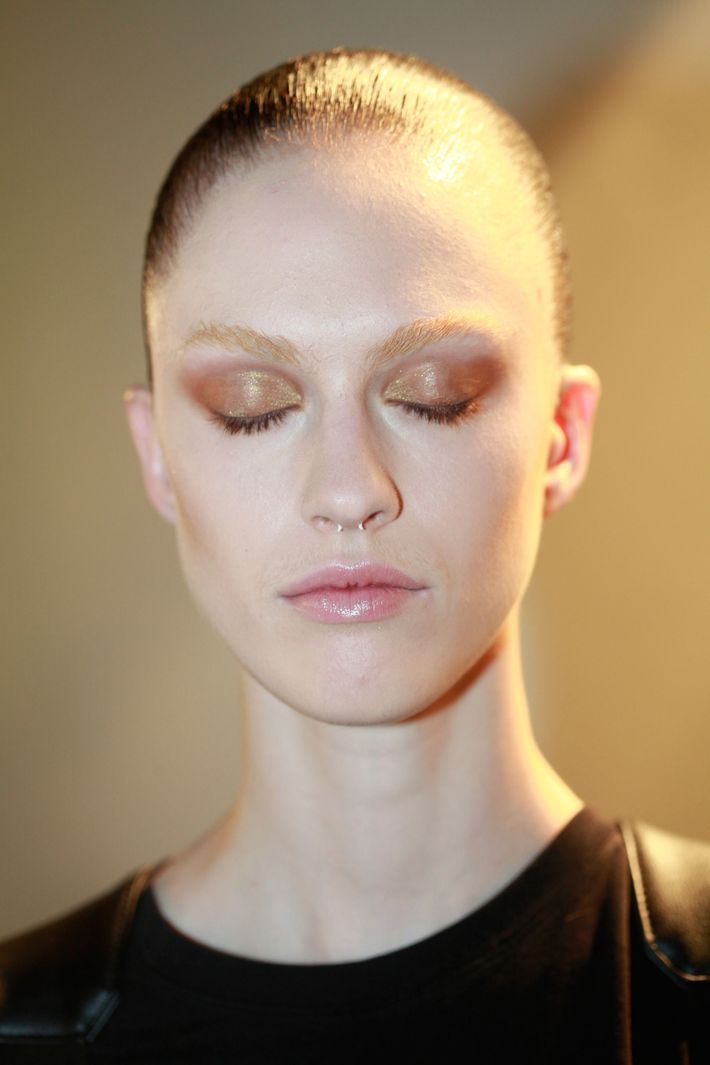 At Prabal Gurung, hairstylist Paul Hanlon said he liked the look of "girls walking down the street like they just came back from the gym" (your sweaty hair is an inspiration to someone). For Gurung's athletic woman, described as the type who would take Himalayan treks, he created slightly textured, matted low ponytails using Tresemme Climate Control Mousse. For Alexander Wang (as seen above), hairstylist Guido Palau created a highly glossy (using Redken Diamond Oil High Shine Airy Mist, available in October) low ponytail bound so tight that models had trouble turning their heads. "In a way, [Alexander Wang] was talking about when a girl is sweaty and her hair is back, but wanted to go more sophisticated than that," says Palau. Diane Kendal for NARS kept the girls from looking too severe but still athletic, by sweeping a dewy gold brown shimmer (NARS Iskander Eye Paint) across the lid. So if you've always complained about runway beauty not being "wearable" enough, this may be one to try.
See the full Alexander Wang show here.
See the full Prabal Gurung show here.