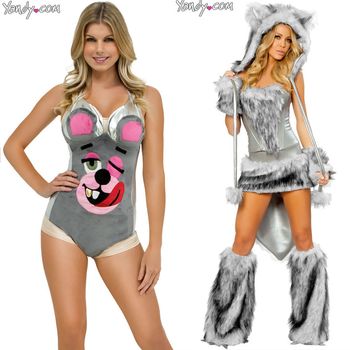 Photo: Courtesy of Yandy.com
Purveyor of strategically cropped professional uniforms Yandy does good business every Halloween, particularly among the college set. They calculated the most-desiring Zip Codes (all college towns, save for Murray Hill) and the most-popular sexy costumes per Zip Code. 
This list is an untold gift for any woman seeking her personal sexy-slutty sisterhood. All you must do, if you want to locate your seduction soul mates, and you do, is to discover which sexy costume fits your sexy personality, and go forth.
• Are you a Renaissance Pirate with an affection for a lace corset and a view-blocking hat? Journey your pillaging heart to Washington State University and plunder with your sisters. 

• Are you a cold-blooded ice forager? Tie up your Sexy Viking ensemble and explore new terrain with your favorite new traveling companions at University of Southern California. 

• Do you love flouncy, diaphanous fabrics and holding golden crockery? Your wish for a group of like-minded gal pals will be answered at University of Arizona. 

• Are you stealthy as a whisper? Silently traipse over to Texas State University and enjoy the extreme pleasure of not finding your fellow girl-ninjas. You guys are all so good at doing your job! It's amazing to be surrounded by such accomplished women.  

• Are you possibly a dead person? Walk your decomposing corpse around Florida State University in a sexy-skeleton outfit and find your fellow rotting people. Bond over the problems of extreme aging.  

• Are you trying to live on a houseboat? Wear the smallest seaworthy outfit you can find and gather up your crew at U.C., Santa Barbara. If you know the most about ships, you're the captain! 

• You got a taste for finding stuff in a high-pressured situation? Wear your favorite SWAT leotard, fishnets, and official SWAT hat and locate your girls at San Diego State University. 

• Are you studying classics and/or do you have a hieroglyphic tattoo? Meet your fellow Cleopatra cosplay sisters at West Virginia University. 

• Are you a wolf? Aooooo aooo grrowl growlll grrr aoooo University of Michigan, Ann Arbor, aoooo grrrr. 

• Are you a secret and stoned stuffed animal? Zip up that Twerkin' Teddy leotard and jiggle yourself to Arizona State University or Murray Hill. You, you wiggling machine, have choices. 

• Did you fail to find the complicated totality of your individual sexy personality in that list? No sisterhood for you, sorry.