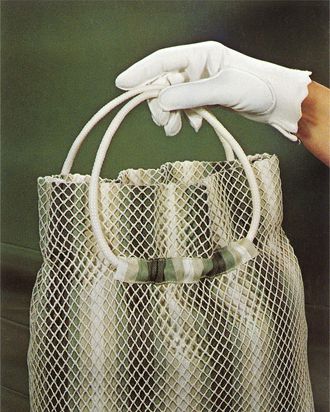 Photo: Found Image Press/Corbis
Whether you've just splurged on a designer bag or are afraid to let go of your beloved old tote, the reality is that leather handbags wear down over time. From scratches to sagging to spills, any well-used purse will eventually look its age. I used to just toss them into the back of the closet, sad to part with them but also unwilling to figure out how to fix them. That is, until I discovered PurseBlog's forums, with its dizzying number of threads devoted to bag maintenance, and realized how easy it is to salvage leather goods.
While general rules of bag maintenance include keeping the bag stuffed with the tissue that comes with purchase and spraying it with a waterproof protectant like Collonil, the Cut set out to find some of the most-extreme lengths people go to when maintaining their bags. From using Chanel eye-makeup remover to spraying Louis Vuitton coated canvas bags with Armor All, read on for the 13 craziest ways people have cared for their handbags on PurseBlog. (Repeat at your own risk.)
1. Chanel Eye-Makeup Remover. It's not just to take off your mascara. Apparently, Chanel eye-makeup remover does the trick for getting stains off leather. One user says she brought her Céline bag back to a department store with a green mark, and the sales associate simply poured some remover onto a tissue before dabbing away the spot. Others say that baby wipes can do the same thing for much less.
2. Cadillac Boot & Shoe Leather Conditioner. A fact most people don't realize is that leather is a skin, and like all skin, it needs moisture. One name came up in multiple threads: Cadillac, a lotion that cleans, polishes, and protects leather. The conditioner earned high marks for its ability to nourish leather and its ability to rub out a surface scratch. You can achieve the same results with other similar products like Apple Leather Care, which also has favorable reviews. Then follow up with Collonil Waterstop, a waterproofing spray to guard against water damage. As far as care goes, this tip has been repeated many times and is the best way to care for any prized handbag.
3. LaMer Moisturizer. Another weird tip a member learned from a department-store sales associate involves the pricey face cream. If leather moisturizer feels too pedestrian, listen up: The sales associate noticed that shoppers, after sampling LaMer, would rub the excess onto their very expensive Céline box bags. It's meant to buff out handling marks, whatever that means. This is definitely "try at your own risk," given how emollient the cream is — at best it does nothing and at worst you could wind up with a greasy stain. 
4. Lubriderm. Remember those Balenciaga moto bags that were the "It" bags in the early to mid-'00s? Well, after nearly a decade of use, cracks can develop and what's to the rescue? Lubriderm. Members swear by the body lotion's ability to give life back to cracked leather. They even have a method of massage that involves pumping dabs on the bag before kneading it like dough. Here's the illustrated guide, if you want to try this out at home. Based on images, it seems like a handy trick, but if you're really paranoid, just stick to the traditional leather conditioners.
5. Blackrock Leather 'N' Rich Treatment. Originally used for saddles, this treatment is a highly recommended option by a member who spends her time working with vintage leather, including refurbishing Hermès bags that seem beyond repair. To really get it into the leather, it's recommended that you lightly blow-dry to open up the pores before applying. Then apply a coat, buff in with a soft cloth, and repeat as needed. More detailed instructions are available here, and you can buy it on Amazon.
6. Armor All. Who knew AutoZone and luxury bags went hand in hand? The same member who posted about the Blackrock product also suggests using the car protectant to maintain and rejuvenate coated canvas bags. So in case you ever want to whip out that old Louis Vuitton monogram again, you can spray a bit of this stuff on, use a wool dauber to apply it evenly, and have it look as good as new. This is by far one of the more out-of-the-box suggestions, so try at your own risk. She's an expert restorer; you are not.
7. Samorga Inserts. The biggest problem with many expensive bags is sagging as leather gets softer over time. To prevent your prized possession from turning into a puddle on the floor, members swear by Samorga felt organizers. The brand has differently shaped ones that fit nearly every designer brand. Not only does it prevent your tote from turning into a black hole, its stiff corners help maintain the overall shape of your purse.
8. Pillows. Most members will keep the tissue paper that came with purchase and stuff the bag when not in use to help retain its shape. One intrepid member decided to use a pillow instead. Probably not a good idea — it could potentially stretch out the leather, leaving you with a weirdly lumpy bag.
9. The Inside-Out Dust-Bag Trick. In addition to using beauty products on your purse, another member described how her trusted sales associate told her to use the soft cloth dust-bag to buff out scratches. Supposedly, if you flip it inside out, warm it up in the microwave, and then rub on the leather, marks will disappear. Then again, that member has yet to try the tip.
10. White Erasers. Not just useful for getting rid of pencil marks! One member claimed that she rubbed it on suede to get rid of a water stain and it worked. It sounds harmless enough, so if you happen to be in this situation, give it a try.
11. Hairspray. This tip proves to be divisive on message boards. Some suggest spritzing on a Q-tip to remove pen marks, while others have found that doing so will create a new stain on the leather.
12. Paint Markers. Now that more brands have taken to adding a subtle gold or silver stamp to their bags, the latest problem is that for some they tend to fade over time. While you could try to get your bag re-stamped, one creative member thought of grabbing a thin metallic paint marker to fill in the bare spots. Let's hope she has a steady hand.
13. Smelleze. If you're a smoker or you purchased a vintage bag with a weird, musty odor, one member suggested grabbing one of these Smelleze pouches. Drop into the offending purse and then wrap the entire thing up in a plastic bag. A few days later, any scents should be absorbed into the pouch. If you're really curious, Smelleze also has pouches to remove other questionable smells like stinky shoes and gym bags.