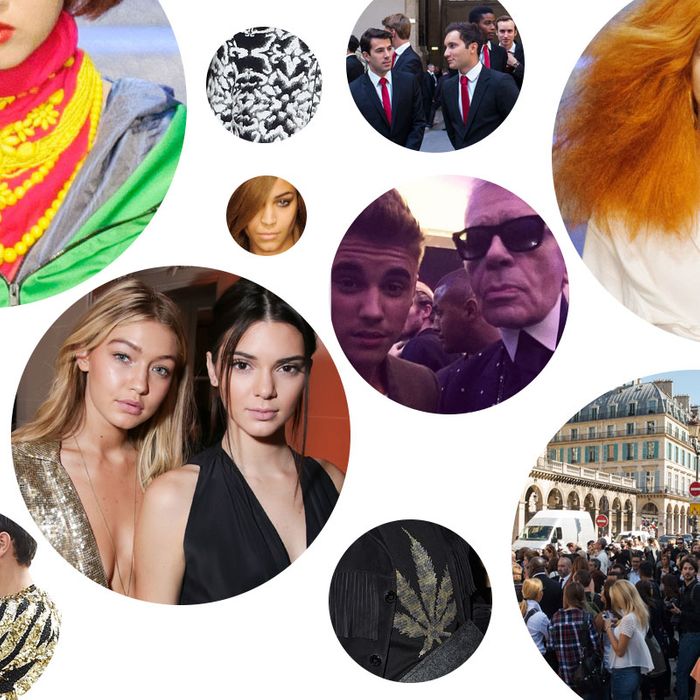 Photo: Getty Images, Imaxtree, Justin Bieber/Instagram
Fashion month is finally over! For its part, Paris has been filled with drones and Kardashian-Wests; reasons to celebrate Carine Roitfeld; and a sprinkling of Hiltons. Here, 15 highlights from the last few days of Paris Fashion Week: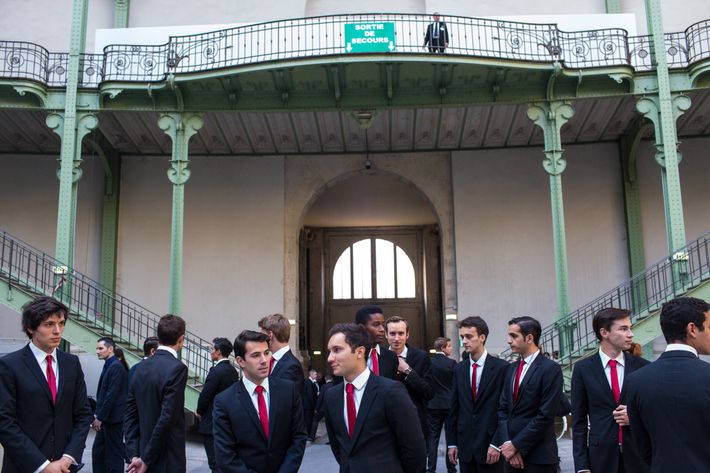 1. France's economic woes may be legion, but one group that's benefiting from all this #PFW madness is made up of young, attractive, model-type men. They're everywhere: proffering an umbrella, passing you a tray of macarons, or showing you to your seat at the Grand Palais. Turns out, their red ties mark them as part of a group called Les Cravates Rouges.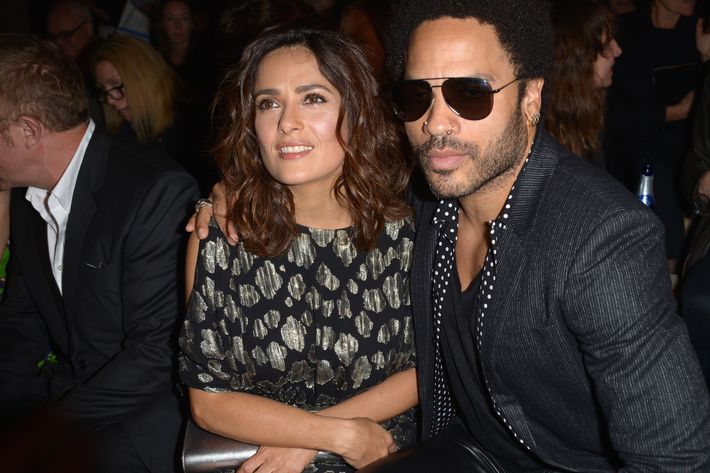 2. Hedi Slimane has put his own stamp on the house of Saint Laurent, and it seems that YSL stalwarts are all in favor of his tenure. Catherine Deneuve and Betty Catroux formed a blonde, style-icon bloc in the front row of Monday's show. Across from them sat Lenny Kravitz, who engaged in the trifecta of activities traditionally performed by celebrities at fashion shows. Those would be: wearing oversize sunglasses while sitting in complete darkness, vigorously chewing gum, and dancing in his seat.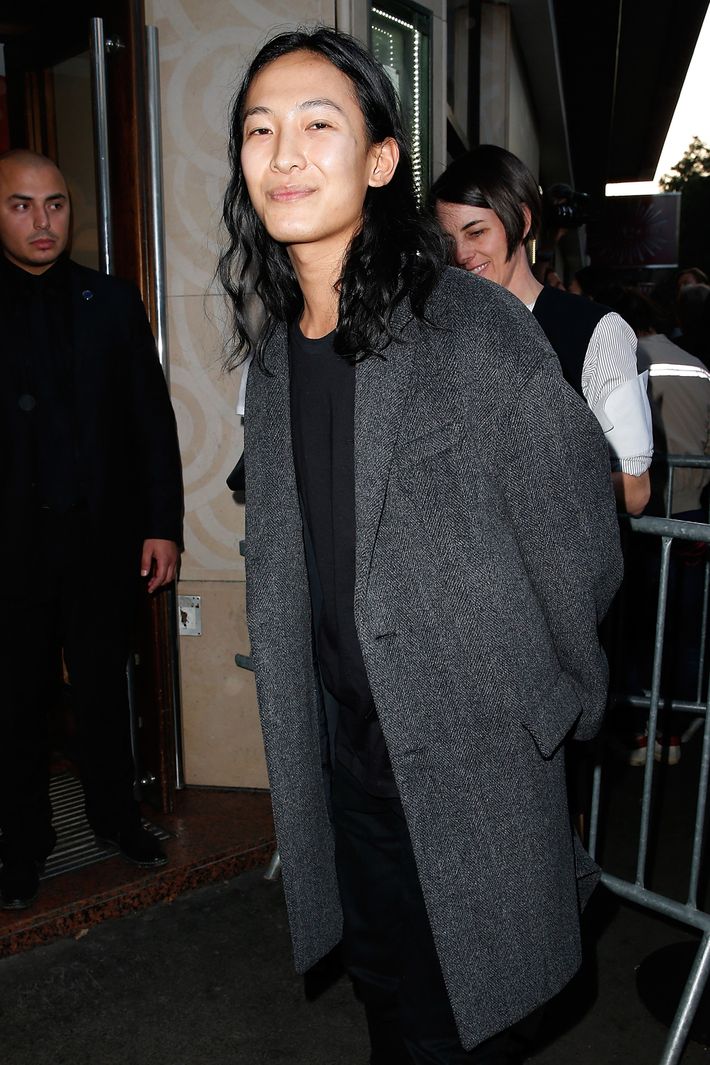 3. Gaultier's final show was an emotional roller coaster and a designer-spotter's dream: Jeremy Scott, Pierre Cardin, and Alex Wang were all there. When I spotted Wang patiently re-spelling his name at the check-in, I had to intervene. "Madame, this is the designer of Balenciaga. He is very important," I broke in. Wang turned around, smiled, and thanked me profusely.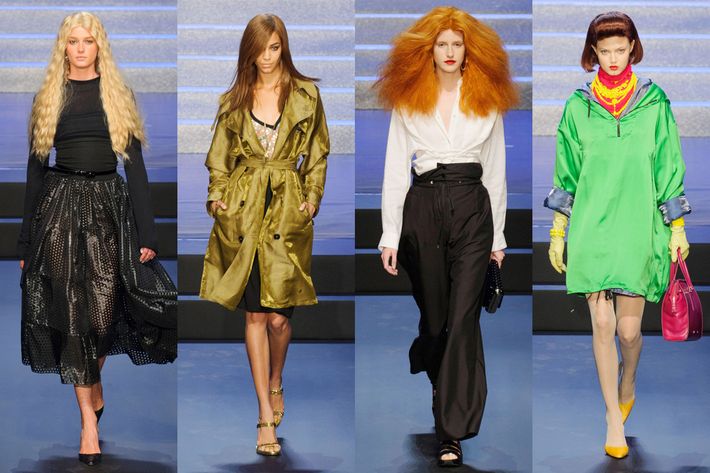 4. Everyone loves a fashion inside joke, and Gaultier played one with his tribute to fashion editors. Disguising models as Suzy Menkes, Carine Roitfeld, Franca Sozzani,and Grace Coddington, he flashed the editors' publication credits on a screen as Madonna's "Vogue" played.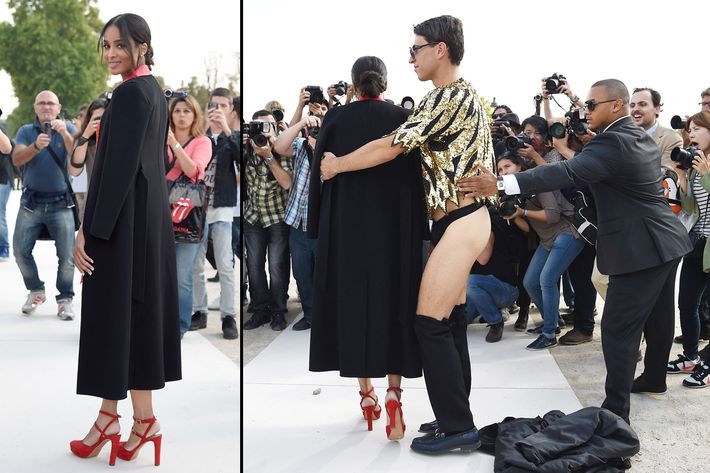 5. Kim may be getting all the attention, but a newly single Ciara is our pick for bombshell of the week. She rocked an awesome ear cuff in front of us at Haider Ackermann, then made fetching appearances at Valentino and Givenchy. Unfortunately, like Kim, Ciara fell victim to the bizarre antics of Vitalii Sediuk, the Ukrainian weirdo who grabs onto celebrities and won't let go.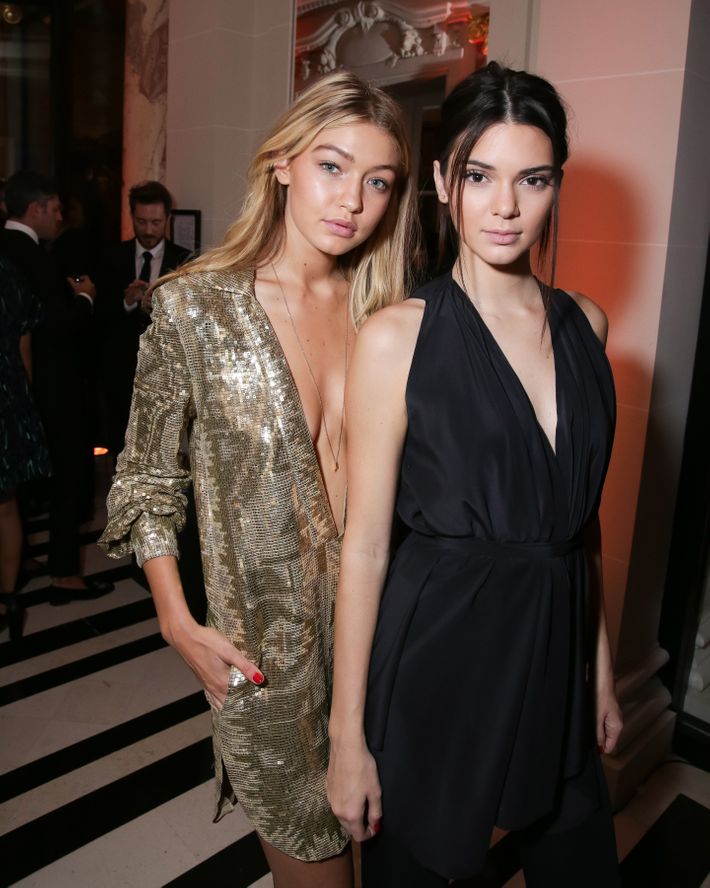 6. Besties Gigi Hadid and Kendall Jenner walked through the CR Fashion Book party hand in hand, gossiping throughout. The only thing better than being on top of the world at the tender age of 19 and 18, respectively, is sharing it with your BFF.
7. Also at the party: Justin Bieber and Karl Lagerfeld engaged in a lengthy tête-à-tête. Any idea what that meeting of the minds (and iconic hairdos) was about? Our money's on drop-crotch pants.
8. The most daunting show venue has got to be the temporary space in the Tuileries gardens, where Valentino, Nina Ricci, and a few others showed. It's full of onlookers silently taking your picture on their iPhones or a video on their iPads, even if you're an utter nobody like me, simply because you're heading into a show. Every showgoer I've talked to has sneakily snapped a picture of the scene because it's so nuts — I saw Caroline Issa turn the camera-tables on them on Tuesday. On the bright side, as I walked into the Valentino show, a group of French elementary-school students stood on either side of the path, clapping and cheering for me. "She's tall and pretty! Is she a model?" said one easily impressed youngster. Can I hire them to follow me around everywhere?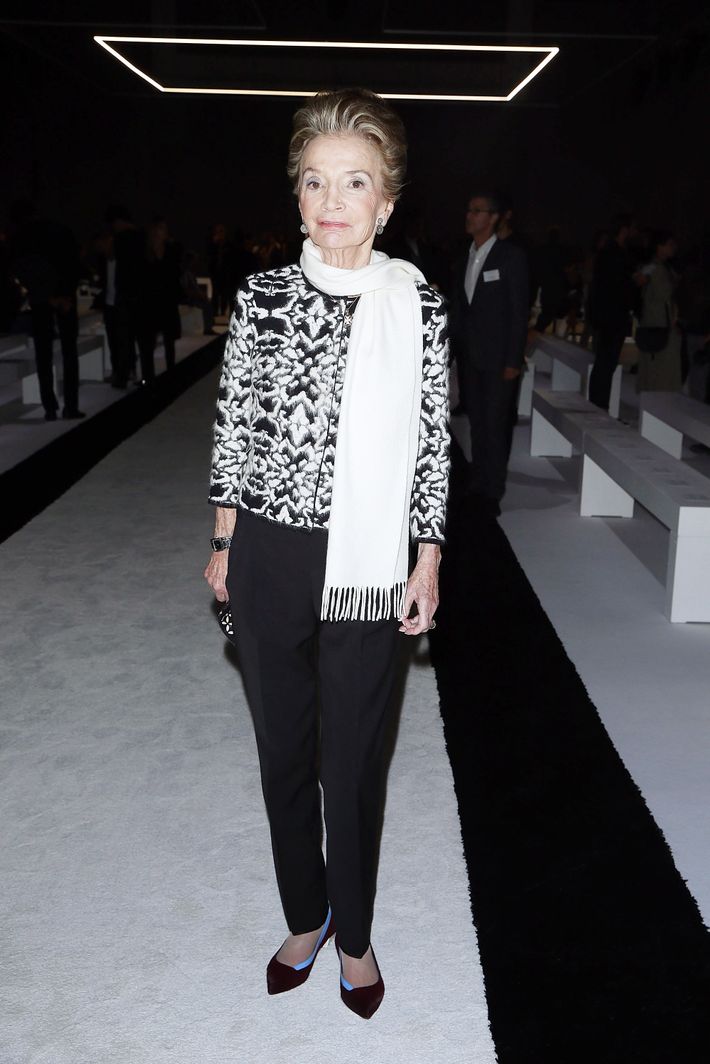 9. Lee Radziwill, who attended Alexander McQueen and Giambattista Valli, puts every starlet around her to shame. The 81-year-old is perfectly coiffed and nattily dressed, and best of all, seems to be having herself a grand old time and isn't too cool to show it. Her only rival in this department would have to be Bill Cunningham, who absolutely beamed through every show.
10. Many of the presentations and appointments feature snacks — fare, luckily, that's a lot more substantial than a measly dish of pretzels. In the interest of research, I sampled papaya with radishes and cream at Lanvin, finger sandwiches at APC, and a blueberry tart at Céline. Guess what: They were all really, really good.
11. The way Paris really goes for it in the runway-soundtrack stakes is something to be admired. Countless shows have featured the untz-untz kind of beat. It makes you feel like you're in Altman's Ready to Wear, in the best way.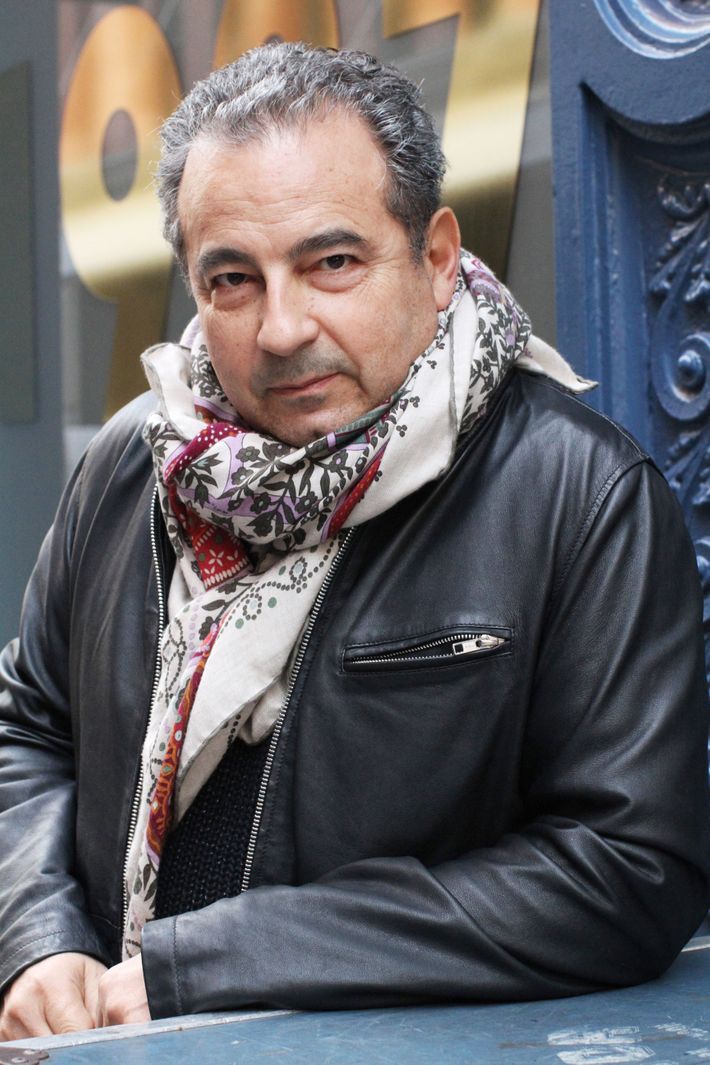 12. Jean Touitou for president! The APC designer is known for giving colorful speeches peppered with visual aids and intellectual references (this season, he quoted Swann's Way). To introduce his latest collection, he told a story about falling in love with his girlfriend's mother as a teen, called out the fashion scene for being "repetitive," and proposed showing just once a year (we're on board). He also offered a few mistifying analogies: "Even the same German-Parisian cat will wear the same coat every day." (I will be puzzling over that one for a while.) Afterward, I told him he should look into stand-up. "I am not Bill Murray, eh?" he said. (He pronounced it Moiree.)
13. The Margiela atelier might be one of the most fascinating places I visited all week. Not only does the staff wear lab coats — the space is filled with furniture and chandeliers are draped with white drop cloths. It was the ideal backdrop to comb through the house's latest collection of hand-painted trenches and '60s-style flares.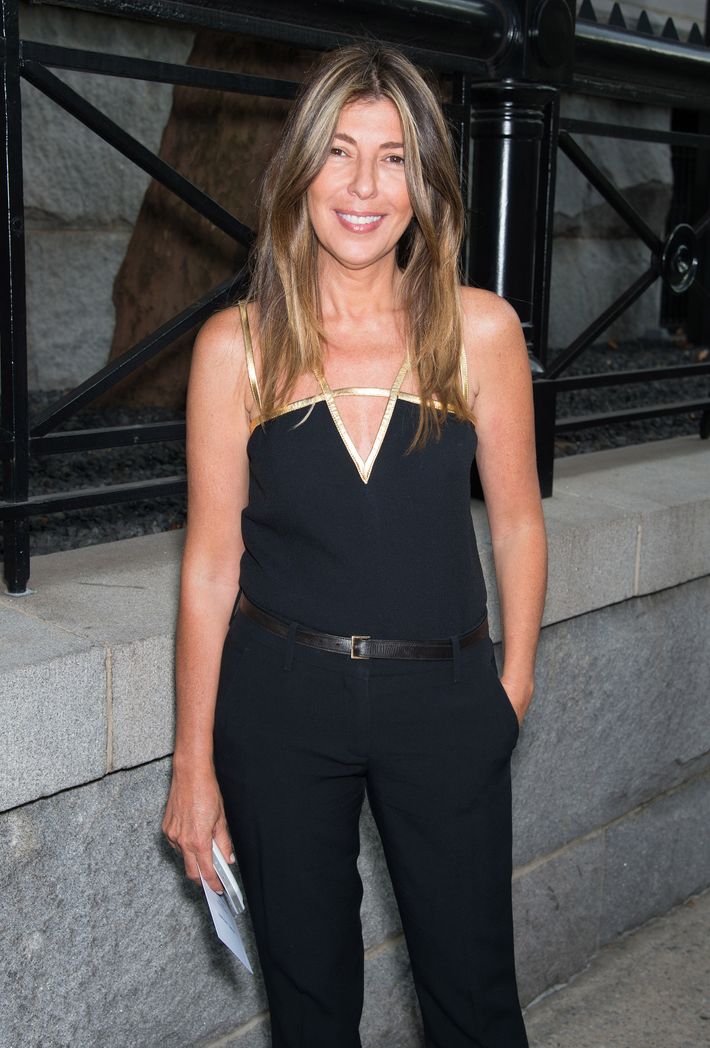 14. Nina Garcia practices random acts of fashion kindness. While I was in an elevator with her at Céline, she made a point of complimenting a total stranger's Isabel Marant shoes, causing the woman to blush and say, "A compliment from you means a lot." Garcia followed it up by telling the woman she had lovely feet.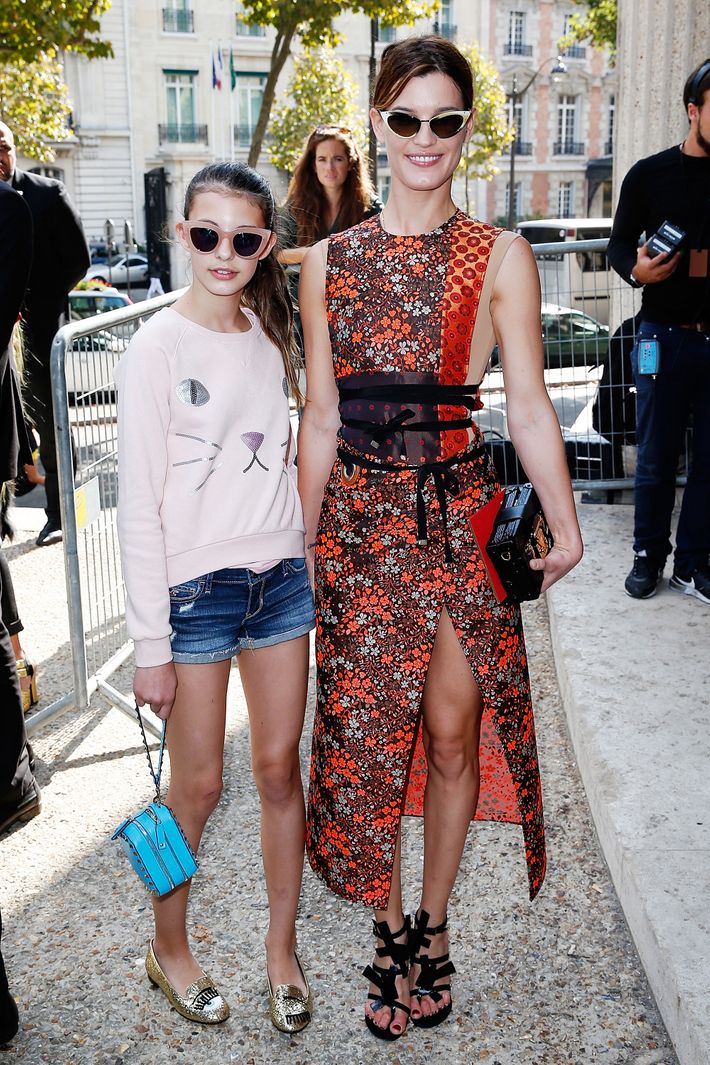 15. Hanneli Mustaparta brought her adorable, mini-me niece to shows on the last day. They even wore matching sunglasses. Way to pay it forward, Han.