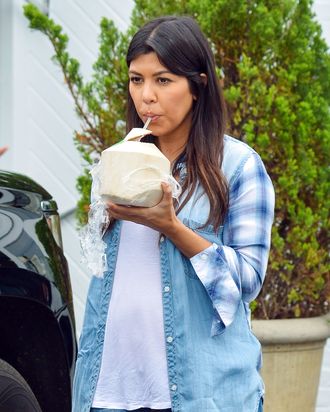 It's hard to tell where it all began. Was it with Miranda Kerr? Oprah? Goop? (It was probably Goop.) But in the past few years, coconut oil has seemingly weaseled its way into so many celebrities' beauty routines. Shailene Woodley and Gwyneth Paltrow use it to gargle and spit for whiter, brighter teeth. Angelina Jolie starts her day with Brad Pitt and cereal and coconut oil. Channing Tatum smeared it over his wife's pregnant belly.
In honor of this all-natural beauty staple (and all of the weird things that can be done with it), the Cut rounded up 25 quotes from celebrities on how they've used coconut oil — from the intriguing to the downright bizarre.
1. "This is an Indian thing — my mom makes me heat up coconut oil, put it in my hair and wrap it in a towel. It keeps it shiny." —Mindy Kaling, People.
2. "Once I was blowdrying my hair in the kitchen and running really late. I just thought 'like whatever' and grabbed some coconut oil and rubbed it on my face and hair. It's the best antibacterial, too." —Erin Heatherton, Elle Australia.
3. "I use coconut oil a lot — I do on my face, on my skin and in my cooking. And I just started oil pulling, which is when you swish coconut oil around [in your mouth] for 20 minutes, and it's supposed to be great for oral health and making your teeth white. It's supposed to clear up your skin, as well. It's really interesting; it's an ancient, ancient technique. I read about it on the Internet." —Gwyneth Paltrow, E! Online.
4. "Then I went to Peacefood on 11th and University with my assistant, Jimmy, and had some coffee and a kale-and-coconut-oil shake thing." —Alan Cumming, Grub Street.
5. "Cocoa powder and coconut oil and, you know, those dried things — what are they called? That's it! Dates — and I put them all in the processor, and whoosh! Delicious!" —Gisele Bündchen on baking a vegan birthday cake for her son, British Vogue.
6. "I will do crazy skincare things in the kitchen, as well. I love coconut oil, so if I come home at night feeling all dry and like a fossil I'll put my hand in a jar of coconut oil and just mush it over my face. I'll put it in my hair, too, and sleep like that … in my coat. Just kidding, I wouldn't do that in my coat. [Laughs]." —Suki Waterhouse, Into the Gloss.
7. "I will not go a day without coconut oil. I personally take four tablespoons per day, either on my salads, in my cooking or in my cups of green tea." —Miranda Kerr, Australian Cosmopolitan as reported by the Huffington Post.
8. "I never did an interview with Australian Cosmopolitan magazine and unfortunately they have misquoted and misrepresented comments posted on my blog. When it comes to coconut oil, I personally find it beneficial and use approximately four teaspoons of coconut oil a day (in my salads and meals), not tablespoons. Everyone is different, but that is what works for me and I prefer it as a substitute to other oils more readily used in day-to-day food preparation and cooking." —Miranda Kerr, Herald Sun.
9. "Angelina [Jolie] has been known to start her day with little more than a spoonful of coconut oil and a handful of cereal." —Grazia Daily.
10. "The food I love so much that if I dropped it on the floor, I'd eat it anyway is a nacho. I fry the chips myself. Just take a tortilla, cut it into triangles, and throw 'em in coconut oil." —Jennifer Aniston, Self.
11. "Something my mom does that is kind of cool: She puts coconut oil on the ends of her hair. When you shampoo your hair, you're trying to get the oil out of your roots, but you really want the rest of your hair to maintain its moisture. When you put coconut oil on the ends, the shampoo gets oil out of the roots, but also protects the ends." —Blake Lively, the Cut.
12. "I'm allergic to everything so I just use extra virgin olive oil on my skin because I know it won't cause a reaction. At night, I take off my makeup with coconut oil." —Emma Stone, Vogue.
13. "You can do something called 'oil pulling' where you swish coconut or sesame oil in your mouth when you wake up and spit it out. It's amazing!" —Shailene Woodley, Into the Gloss.
14. "I eat coconuts all the time and I use coconut oil every day. Not only do I love the smell and the taste of coconut, this magical fruit has so many health benefits! It boosts your metabolism, aids in weight loss, supports immunity, stops sugar cravings, and best of all — hydrates and makes skin stronger, preventing wrinkles and sagging! I love to make coconut pudding for a little sweet treat, I also use the oil as a hair mask and I use coconut oil as body lotion every day! It makes my skin and hair so smooth and soft." —Kourtney Kardashian, her own blog.
15. "At one point Tatum describes how he'd massage his wife's belly with coconut oil during her pregnancy." —Metro UK.
16. "In love with you. So many ways to cook with this magical product." —Jessica Seinfeld, Instagram.
17. "And what Dylan and I are using right now in our hair and on our skin is this: Spectrum Coconut Oil, unrefined. We just finished a tub of it. I swear by coconut oil, and even raw olive oil. I've even been known to take it on the plane with me and slather it on, and people think I'm weird, but who cares? I slather it on my body, and on the tips of my hair." —Carolyn Murphy, Into the Gloss.
18. "I covered myself in it after a sunburn. Who knows if that helps, but it felt good and I smelled tasty. I have used it in curly hair and even to oil my bike lock when it was stuck." —Hairstylist James Pecis, Into the Gloss.
19. "It's amazing, coconut oil. I use it as a moisturizer. I put it in my hair when I want a kind of greasy look. I take off my makeup with it. I put a little  bit in my coffee. I have coconut oil with everything." —Lykke Li, the Coveteur.
20. "To take care of my body, I'm an organic coconut oil girl. I put it on right after the shower. It's good, it's healthy, and it's only occasionally confusing: when I cook with it and have it on my hands I'll go to wash to wash them off but then I'm like, 'Wait a second, I should just rub it on myself.'" —Mandy Moore, Into the Gloss.
21. "[Apolo Anton] Ohno ate only vegetables, fruit and fish, except for the night before and the morning of each race, when he gorged on brown rice pasta prepared with coconut oil and essential fats." —the New York Times.
22. "Ladies, here's an amazing trick. Use the oil to highlight your cheekbones over your makeup. Less is more. A little of it goes a long way! At the end of your day, use the oil to also remove the excess makeup. This is an all-in-one GIFT FROM THE GODS! Have you been looking to burn more fat? This curbs your appetite to give you more energy! It doesn't stop there. Cook with the damn thing at a high temperature as a healthy alternative to using vegetable or canola oil. Try it. Love it. THANK ME LATERRR!! xoxo." —Kelly Osbourne, her own blog.
23. "I'll use coconut oil. I'll use any brand as long as it's 100 percent, and it's something that I'll pick up at the health-food store. I don't like to put too much on if I don't know what it is. The product is going in your pores every day. Like with coconut oil, you can literally eat it." —Zoë Kravitz, the New York Times.
24. "If my skin is dry, I'll sleep covered in organic coconut oil. I also use La Mer's Reparative Body Lotion." —Poppy Delevingne, Harper's Bazaar.
25. "Coconut oil !! RT. @MaeBarkley: @Mariobatali hey MB! best oil for coconut shrimps please? Thanks so much!" —Mario Batali, Twitter.