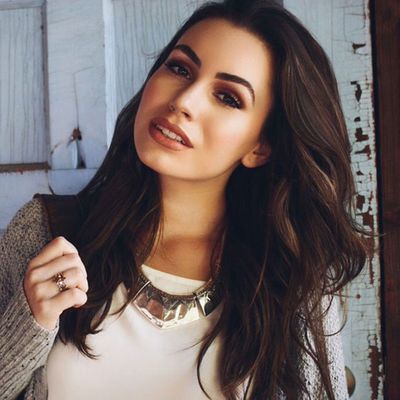 Photo: sophietsimmons.com
Let us introduce you to a delightful new designer: 22-year-old Sophie Tweed-Simmons. Like Stella McCartney, she is rock-star-royalty offspring, the daughter of KISS bassist Gene Simmons and Playboy model Shannon Tweed. But in addition to being a celebrity spawn, she is also a staunch body-size advocate, telling the Daily Mail that as a U.S.-size 8 to 10 growing up in Hollywood, "I struggled trying so hard to fit in growing up. I have never been a 'skinny' girl, I've always been athletic and curvy and strong. I went through a laundry list of things that got me to this point of [finally] thinking I'm pretty awesome." In honor of her new capsule collection, Sophie x The Style Club, here are seven reasons why Tweed-Simmons is awesome (other than her probably amazing rock T-shirt collection). 

1. Her clothing line is free of restraint, particularly those of the waist variety.
2. It's designed around precise anatomical measurements.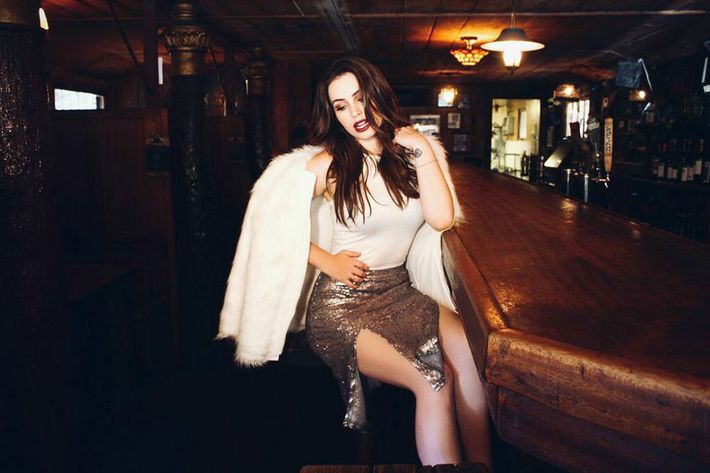 3. She builds hardy sequined skirts that protect against flashing (are we sure she is a rock star's daughter?). 

"It is stretchy, so I don't worry about ripping my seam in a delicate sequined skirt at a party. And it has built-in shorts underneath, so you don't have to worry about any flashing mishaps."
4. She named each piece in the collection after a female role model. There's a Gwen Stefani sweater, a Hillary Clinton turtleneck, a faux-leather Michelle Obama skirt, and a miniskirt named after new Nobel Prize–winner Malala Yousafzai (pictured below.) Also: Nancy Reagan, Oprah Winfrey, Sheryl Sandberg (are they aerobics leggings?), Arianna Huffington, and Betty Friedan have namesake garments.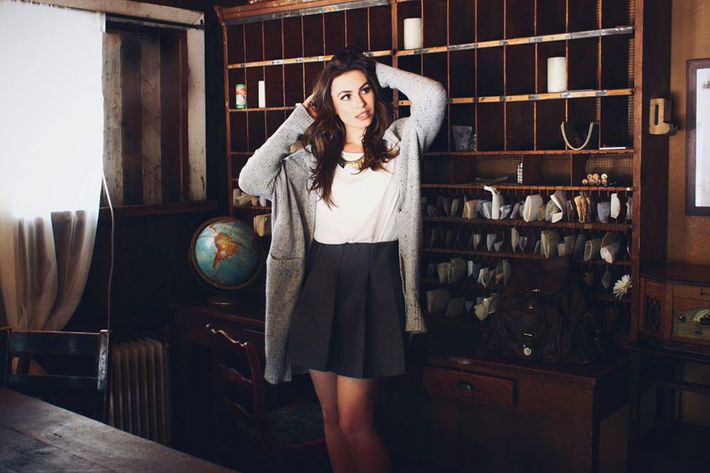 5. You may think hope is a thing with feathers, but it is actually a thing with a tasteful midriff. There's also a crop top named after Emily Dickinson (seen below). High-school literature teachers, rejoice.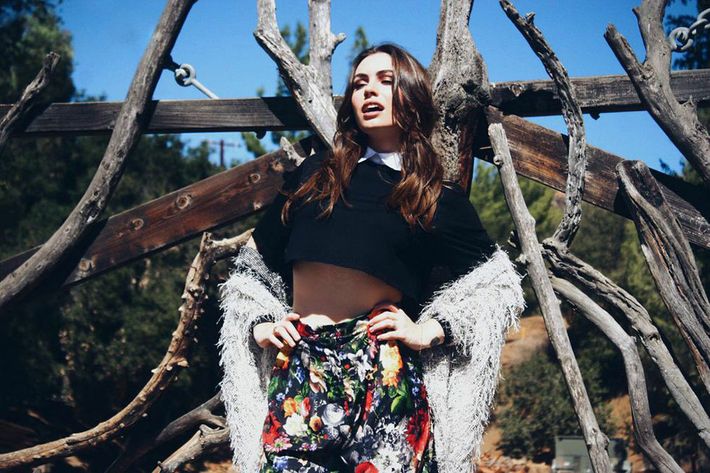 6. She participated in a makeup-free, Photoshop-free shoot for Galore magazine called "You Can't Retouch This."
7. She told the thigh gap to suck it in an op-ed piece for World Lifestyle.
"I defiantly have days where I wish I was a size 2 and that my legs didn't touch. The days where I HATE absolutely all my clothes. The days I wish dressing rooms would die because I would literally rather break my arm than try on another skirt that won't ever fit me. I wish I didn't only eat really healthy foods and I could just eat junk all day.

But usually I just tell everyone to 'suck it' because I'm pretty awesome. And you are too."