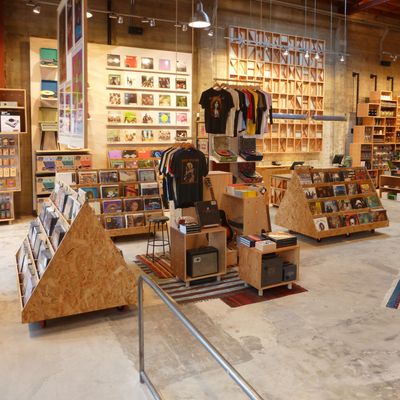 Photo: Courtesy of Urban Outfitters Blog
Last week, retro-trendy paradox-deviser Urban Outfitters claimed that it sold the most vinyl records of anyone in the world. The company didn't want to toot its own hip horn, but it was the world's largest supplier of the world's coolest thing. It sighed, hiply and audibly.
But now — as it must semi-monthly for various reasons of its own making — Urban Outfitters is retracting its smirk, because it was incorrect. Billboard reports that Amazon is actually the world's largest retailer of vinyl (with 12.3 percent; U.O. trails in second with 8.1 percent). 
U.O was last seen stomping around its room, bemoaning the rage of the second-place candidate, pouting, scrawling ALSO RAN across its binder, and generally achieving record levels of sulking.