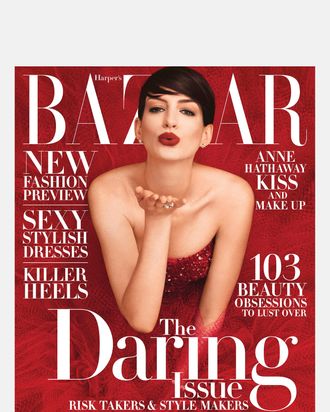 Photo: Alexi Lubomirski/Harper's BAZAAR
For November, Anne Hathaway is on the cover of Harper's Bazaar's "Daring" issue. Why is this notoriously straitlaced actress the cover girl for "daring," you ask?
Though in part, the story is daring us, the readers, to overcome our Hathaway-phobia and love her (hasn't she been asking for that, anyway?), it's really because Anne — now inspired by the likes of Leandra Medine, Jane Birkin, and Sophia Amoruso — has decided to let her sartorial freak-flag fly high these days. She says, "I am getting more daring now — I'll wear my mom jeans in public that haven't been tailored 'just so' yet, just because they feel good."
It's so nice when an actress really comes into her own and feels free to express herself. Untailored jeans? My God, Hathaway, go on with your bad self.