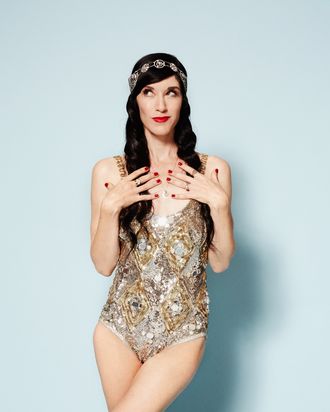 "I was really conflicted when I was younger," says Flicker, who grew up adoring theater. "Is it empowering to like wearing makeup and dressing up?" She wouldn't truly find that answer until 2005, when the ballerina turned experimental filmmaker created The Citizens Band with likeminded friends. Its immediate goal: to find a chic, novel way to campaign for political elections. Its lingering effect: offering a rotating cast of guest performers (Karen Elson, Maggie Gyllenhaal, and Zooey Deschanel among them) an outlet that's at once creative and potent.
"It made sense that part of feminism was once seen as almost emulating what male power looks like," says Flicker. "But to the credit of feminists before us, we're really past that. On some levels, with our overt femininity, The Citizens Band celebrates the power that women have." And yes, even their makeup represents strength and diversity. "We don't have rules," she says. "You adapt to what works for your face."
From its inception, The Citizens Band was an alluring package: throwback tunes resurrected with a punch through gorgeous Weimar-era theatrics. "We were all young and naïve enough that we didn't think in terms of, 'Is this a realistic goal?' We just got ballsier," Flicker explains. To boot, Jeffrey Deitch, the controversy-baiting art curator, invited them to do a career-making residency at his gallery space.
The Citizens Band's star continues to burn brightly almost a decade later, partly for very practical reasons: Social issues are cyclical. "We're very interested in putting on topical shows and found old songs that tell the story of what's going on politically now," explains Flicker, who's also created Lady Parts Justice with humorist Lizz Winstead and a handful of D.C. organizations. (Its motto: to use "humor and outrage" to promote women's rights during this year's midterm election.) "It reminds our audience that we repeat the same mistakes over and over again. Until we start looking at them, we'll just keep doing it. Sometimes I think, 'I can't believe we still have to sing this song.'"