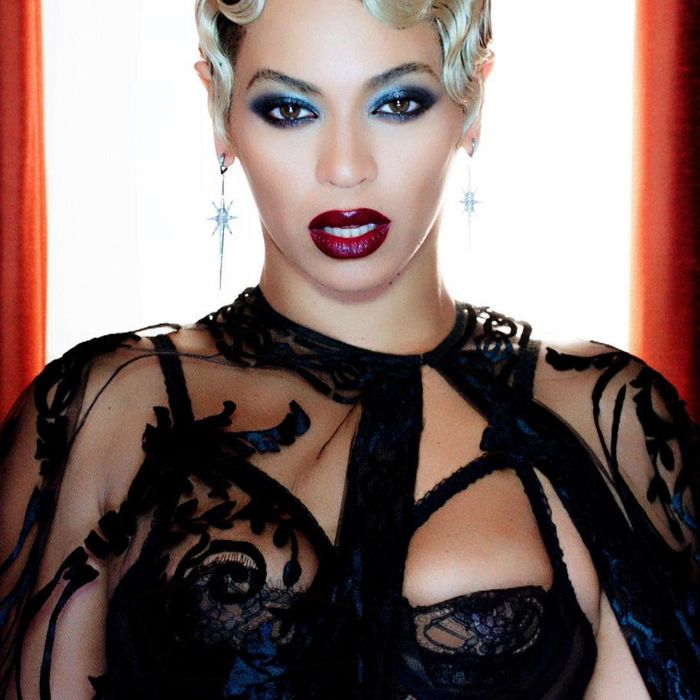 Makeup artist Francesca Tolot first met Beyoncé on the set of the "Crazy in Love" video in 2003 — and has worked with her ever since. She's covered the star in body oil, head-to-toe glitter, and even attempted to make her bad (for her role as Etta James in the movie Cadillac Records). 
Now Tolot has released a new book, for which Beyoncé wrote a foreword, calling Tolot "the most extraordinary makeup artist of our time." Like a beauty version of Boyhood, Tolot and her husband Ablerto shot the model Mitzi Martin  from 1986 to 2013, creating elaborate beauty looks — from making her up as a living sculpture to submerging her in water. Their work, now collected into 100 photographs, is the subject of their new book, One Woman 100 Faces. She spoke to the Cut about how the book came together, how to get Beyoncé-style glittery body makeup, and the importance of Scotch tape in glitter removal. Click through the slideshow for images from the book.
How did you start your career?
I started in Milan by meeting an amazing makeup artist who was opening a makeup studio. I decided to take a class for fun. At the time, I was wearing a lot of makeup and that was the only reason I took the class, for fun. He appreciated the way I was learning, and sent me a couple of jobs that he couldn't do. The first job was advertising for a makeup company and I absolutely hated it. I told him, "Sorry, this is not for me." He told me to try one time and it happened to be Vogue Italia. That was when I saw this could be fun, exciting, and creative.
So your second job as a novice makeup artist was with Vogue Italia?
In Itailan, it was in crescendo [laughs], being not conscious of what you are doing or what could really happen. It was a fashion story, with Thierry Mugler and was very futuristic and edgy.
You've said you like using makeup to showcase the strength of women. How do you think it does that?
When I started doing makeup, I stopped wearing it. But I discovered you don't need to create a mask. If you pay attention and learn how to use makeup, you don't need much to achieve the result you are looking for. 
You need to start gradually. Start your makeup by using the least amount you feel confident and comfortable with. Then add a little bit and stop at a point where maybe it's a compromise between what you used to do and what you do now. Once you do that, you realize you're gorgeous today, instead of having your makeup look good.
In your foreword, Beyoncé says that she applauds your skill in being able to "bring out a beauty she didn't even know existed." What do you think she was referencing and how do you do that?
[Laughs.] I actually don't know exactly what she was referring to. That phrase really surprised me because it was so beautiful and generous. When I first started working with her, I surprised her with different looks that maybe she wasn't used to seeing. So I'm not sure, but that's my interpretation!
Were you surprised that she agreed to write the foreword?
She had known about me wanting to do this book since the first day I met her. She knew it was my dream. And when I asked her, she said, "Of course. I know this is your dream coming true, of course, I would write the foreword." Also, she has such an understanding and appreciation for makeup that I knew she would relate to it to the art of photography and makeup.
I mean, look at her, she is not afraid of changing anything. She looks great in anything; she owns it. Whether she decides to go natural or extreme, she owns it. She feels comfortable. What is better than that? Beauty all around is part of who she is.

I noticed that one book image has the model covered entirely in glitter — which was kind of like the look you did at the VMAs and for her cover of Flaunt. How do you do something like that?
That was my inspiration for that VMAs and I've done that before on Beyoncé. When we were planning the VMAs and the look for the dancers, that came up as one thing. It is actually glitter, from head to toe, and it's glitter you can buy at the art store. I could use makeup glitter, but then it would cost a fortune because it's teeny-tiny. You use that and some mixing mediums, like body oil. I mixed different colors together to achieve a certain tone and color.
But glitter is very easy to stick to the body. From that day, I still find glitter here and there in my makeup bag. It doesn't matter how much you clean, it just hides. But yes, Scotch tape is a good way to get rid of it.
What look in the book are you most proud of?
The image I love most is one of the most iconic. It's the one with the paper eyelashes, which are made of turquoise painted black construction paper. That was the perfect example of a picture in which makeup is not the focus. I adhered with an eyelash glue. It was actually the only makeup I dreamed of; it came to me in a dream. And the next day, I was not working and started constructing. It's unusual for me to dream of ideas. I wish another dream like that would come back!
So you have 100 images, are there plans to do 150 or 200?
I don't think I can do that. At one photo shoot, one of my friends who helped me with the book looked at me and said, "Um, how about 50 instead? We could calm it down." So no, I don't think so. [Laughs.]