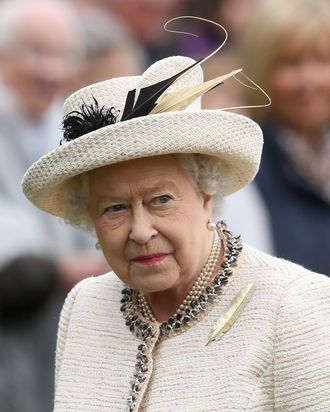 Photo: Chris Jackson/Getty Images
There is a threat to the epicenter of grand domesticity and fanciness. The queen is "deeply concerned." Decorum might be quickly giving way to debauchery. Reportedly, rampant online hookup culture is invading the living quarters of Buckingham Palace.  
The Daily Mail's sources report that among the 800 members of the Palace staff, many are on dating apps like Tinder and Grinder, and inviting their strange conquests back to their rooms. A former head of royal protection, Chief Superintendent Dai Davies, says that overnight guests have long been the "Achilles heel" of royal security. The invitation of randos, in particular, he says, "makes a complete mockery of the security structure, unfortunately." 
It's an overcast day for England: A complete mockery is being made and the queen has a new subject to scowl under her hat about.