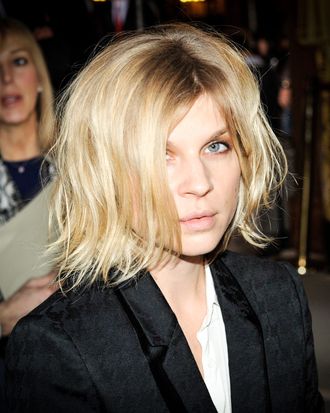 Photo: Leandro Justen/BFANYC.com
Few of us follow through on the pie-in-the-sky plans we make with our girlfriends after a few drinks. But one night, actresses Clémence Poésy and Nora Zehetner and designer Melissa Coker, devised an idea for a short fashion film — which actually panned out. This week, the group of friends debuts a three-and-a-half-minute short made for Coker's line, Wren, directed by Poésy and starring Zehetner. Titled Where Is That Script?, the film is narrated by a young girl imagining herself as an adult who's played by Zehetner. It was filmed all over downtown Manhattan and at the Museum of Natural History. Considering that Wren is also responsible for the viral "First Kiss" video, the label assembled a dream team: Masters of Sex writer Noelle Valdivia helped with the script and Mathias Malzieu from the French band Dionysos composed and performed the score. 
Poésy spoke to the Cut about finding the kids to star in the film, what it was like making it all on her iPhone, and, of course, her hair.

You, Nora, and Melissa are all friends and came up with the idea over dinner. How did you become friends with them initially and how did the idea evolve into a fully formed concept?
Nora, I've known for a long time — we met through mutual friends in London first and then spent a whole summer together both being relatively new to New York — spending every moment that we weren't working together. I met Melissa a little bit later through Nora — was it through Nora? We have a lot of mutual friends … I asked her if we could make a little Wren film some day and she very kindly said yes. At first, I wanted to do something that involved dance somehow, but very quickly the idea of making something funny that wouldn't feel like a " fashion film" took over — I  thought the contrast of what a 6-year-old thinks her life when she grows up will be and the images of an actual grown-up doing exactly what that 6-year-old is coming up with would allow us to be as playful as I wanted us to be. So we talked about that over drinks, and then asked Nora if she'd be in it. I never imagined making this without her, so luckily she agreed. I was in L.A. at the time and didn't know many kids there, so Nora and our friend Noelle helped me find the wonderful Anabelle (6) and Clover (8). Noelle and I interviewed them and I then filmed Nora in half a day at her house on my phone.
What made you decide to opt for the '30s -inspired framing?
I was a little terrified of not knowing how to film since I'd never done it before, yet I really wanted this not to cost anything so all pressure was off — which more or less meant doing it on my own. I remembered [French singer] Soko did most of her videos on an app called 8 mm — so that s what we went for.
What was it like working with Noelle Valdivia? Were you a fan of her work on Masters of Sex?
I'm a fan of Noelle Valdivia in general — she's the smartest, funniest, most amazing writer/girl/friend. I was staying with her at the time and didn't know any kids in Los Angeles. She introduced me to the very cool Clover, who knew exactly what she wanted to do when she grows up. We came up with questions that, of course, all changed when we met her and Anabelle — we were both pretty useless at handling microphones, so, once again, our phones had to do the trick — but I couldn't have done any of it without her.

What did Mathias's score add to the project?
Everything. It gave it its rhythm, its tone, it made it complete. I loved working with Mathias.
Did this directorial debut ignite any interest for you in starting to do longer projects?
Yup, yup, yup.
And finally, on a lighter note, everyone under the sun wants to know about your haircut and color. How did you get that perfect shade of blonde?
[Laughs.] David Mallett and Remy Faure in Paris do it all!