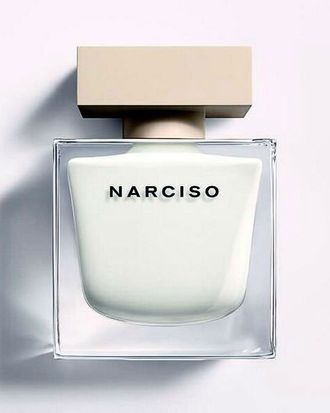 "All perfumes are about sex!" a European perfumer once told me. I was, and still am, doubtful. Sure, Axe body spray might be about sex — but Narciso Rodriguez's second fragrance offering, Narciso, offers proof that a scent can be sensual without being about sex.
Just as a fashion critic would never describe Narciso Rodriguez as a skin-baring designer, a perfume critic would never describe Narciso as a skin scent. It doesn't have quite the blaze as his first fragrance smash hit, For Her. If For Her is 90 degrees, Narciso feels like 60 degrees. The first suggestion of coolness comes from the shape of the bottle, which resembles a white sculpture. "I'm obsessed with cubes," the designer told the Cut. (The bottle's minimalist ivory color was inspired by the smooth white stones seen on the designer's vacation to Cyprus.)
Although Narciso feels cool, it doesn't feel cold. Its warmth comes from a similar musk base with woody vetiver, amber, and dark and white cedars. There are delicate notes of gardenia and Bulgarian rose, but these give the fragrance more of a powdery top note than a floral one. Like a white Narciso Rodriguez dress, the heat equation of the scent is balanced so that it never feels too virginal, sweet, or sultry. The scent feels like a sculpture in the Greek and Roman Art section of the Metropolitan Museum of Art come to life. Model Raquel Zimmermann (who takes a pose like Miley Cyrus's in Vanity Fair) embodies this idea in the video for the scent, in which the camera hovers around her sculpted curves. Click to watch the ad below.