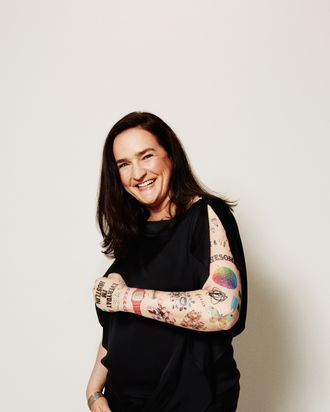 That rare confluence of playfulness and style—thanks to pedigreed contributors such as Stefan Sagmeister and Jessica Hische—also makes Tattly a genre-busting pop-art project. Just two days after Eisenberg launched Tattly in July 2011, the Tate Modern contacted her. Since then, her company has created original designs for NPR, MoMA PS1, Etsy, Twitter, and countless others (including Vulture, The Cut's sibling site).
Born and raised in Switzerland, Eisenberg (above, wearing Tattly designs) dreamed of coming to America to study art. Her parents weren't into that idea. So she traveled to New York City on vacation after graduating from art school in Europe. Says Eisenberg, giggling, "Within 12 hours of arriving here, I found an internship."
That led to jobs at respected design studios and creative agencies, until one day, she decided to start a side project. "My daughter always brought home these hideously designed temporary tattoos," says Eisenberg, of her 8 year old. (She also has a 4-year-old son.) Never one to simply complain, she started designing tattoos herself—and made her kids the focus group.
Her M.O. is appealingly nonchalant: Stoke curiosity; feed passion. "I very much see things from the angle of, 'Hey, this can be fun!'" she explains. "When you approach something as a side project, you operate on different rules. I didn't make decisions out of, 'This needs to make money.'" Instead, she followed her instincts, creating an aesthetic for Tattly that mirrors her own style: minimalist, with clean lines.
Too few people enjoy their careers as much Eisenberg does, and this is not lost on her. Determined to spread that feeling, she founded Studiomates, a Brooklyn co-work space, and the popular CreativeMornings, a free breakfast-time lecture series. "In this day and age, people crave authentic things that feel like somebody poured love into it," she says. That's the secret to Tattly's success, she insists. "And that's why I like to help other people get their labors of love off the ground."