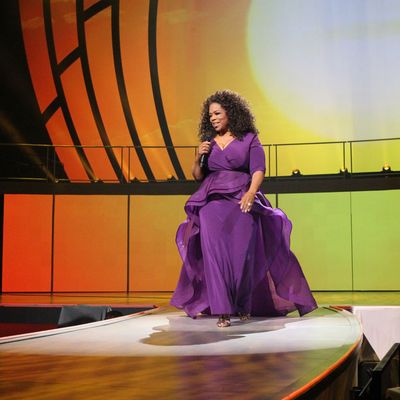 Photo: George Burns/Harpo Inc.
It's 8:30 a.m. in Newark, New Jersey. I am bound for the church of Oprah, otherwise known as the Prudential Center.
This was the fourth stop on Oprah's the Life You Want weekend tour — her biggest arena tour ever. In eight cities, she is offering fans two days of Oprah, including dancing, drinking, journaling, empowerment, enlightenment, an assortment of OWN-approved "trailblazers," and a temporary merch city called O-Town. The tour is Oprah's Biggest Dream, but it's also the Biggest Dream of many attendees, who paid anywhere between $95 and $999 (plus the cost of travel and a hotel room) in order to be near her.
My own Oprah awareness is mostly ambient (I may have read The Secret); my mom, however, is a Fan.
"You're WHERE?" she asks when I call from Newark to tell her where I am. "Okay," she says. "Listen closely. If you meet Oprah, tell her you're from Baltimore; your mom used to watch her on People Are Talking. She interviewed your brother Alexander when he was a little boy. She'll remember. If you don't see Oprah but you see Gayle, make sure you say hello. Tell her I watch her all the time. But, obviously, try for Oprah."
"So, what are the chances of me meeting Oprah?" I ask the perky woman manning the press check-in desk.
"Oooh, you see, Oprah is very busy," she responds. "She'll be onstage most of the day, so I doubt she'll have time for any interaction outside of that meet and greet." I ask if I can attend the meet and greet: "It took a ten-day security-clearance process for people who bought tickets. So, no."  She hands me my Oprah journal and Oprah pen.
I'm determined to meet her. It feels like my destiny: to come to this House of Oprah and not find her physical form would be the ultimate failure. I have eight hours plus a press pass and am very sneaky. I will find Oprah. For moms everywhere, I will find Oprah at this Oprah weekend.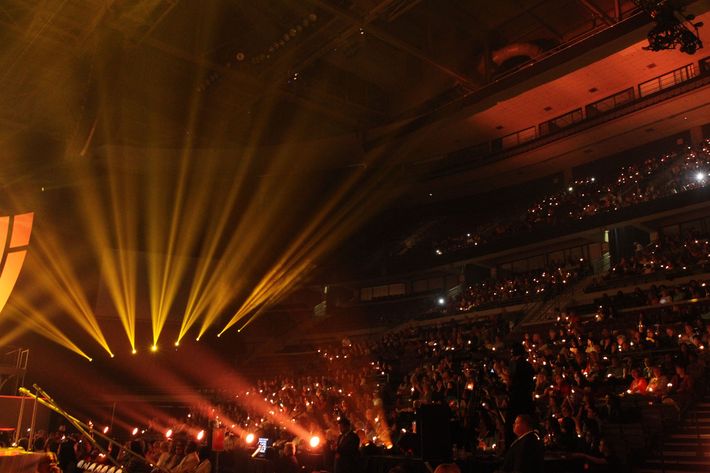 9:00 a.m.: I find my seat in the arena. DJ Kiss is already spinning a high-energy playlist, so there is no way we will ever be allowed to feel tired.
I take a moment to note how I can get down to the floor seating. Oprah will sit in the front row by the stage entrance the entire day. There are about eight security guards, but it seems like I could slip into the empty floor-level seats pretty easily if I just walked confidently, like Oprah. Oh, look! There's Stedman! And Gayle! The trifecta!
9:30 a.m.: DJ Kiss switches from Stevie Wonder to Sara Bareilles to signal the coming of OPRAAAAAAAHHHH. She emerges, resplendent in a dusty, pale-green shawl sweater and pleated maxi skirt. We have each received a special Oprah mind-control bracelet that lights up to signal that someone is about to speak, to instruct us to do something, or to beam us up to the mothership. For Oprah, the bracelet glows the purest white.
Somehow she knows about each and every one of us. During her welcome speech, she singles out a woman from the audience, Carla from Cleveland, who woke up at 2:30 a.m. and took three buses, a train, and trolley to get here. Carla is concerned — and again, it is terrifying that Oprah knows this — that her boyfriend is going to leave her. She's very sad. Distraught, even. This pilgrimage could not have come at a better time for her. "Don't you worry, Carla," says Oprah. "After a day with my trailblazers, you'll be leaving him." The audience cheers. We are all Carla.
All right, Mark Nepo, trailblazer No. 1, show Carla how to get her groove back!
Nepo, a poet, cancer survivor, and author of The Book of Awakening, is here to teach us about "saying yes to life." He's a tall, bald, dadlike figure in a bright-pink shirt and huge glasses. He's selected a James Taylor song as his entrance jam and a painting of some Bob Ross mountains as his backdrop. I can't really understand what he's talking about, but here's the gist: hawks, tigers, turtles, oceans, oak, ants. Ants? Ants. Consciousness. Say yes to life!
10:30 a.m.: Our O bracelets light up again to signal the first Open Heart Journaling Session. Oprah tells us to think about someone we love and write the life we want for them. I do as Oprah says and envision my niece, Dylan. I love her because she's 10 months old and can't speak yet. As I imagine her life, a baby starts cooing somewhere behind me. Holy shit, did I just manifest a baby??? If I can manifest an entire baby, I can absolutely manifest a meeting with Oprah. I will make this happen by journaling harder than anyone has ever journaled.
10:34 a.m.: Oprah has been walking around the floor-level seats, reading people's work and shaking hands (damn it). She selects two people to come to the stage and read their work. Two mothers, one black, one white, one worried, one proud, hold each other while they read the messages about their sons. It's beautiful. The woman in front of me lets out a soft sob. In fact, the woman behind me is dabbing her eyes. What do we have here? OUR FIRST COLLECTIVE CRY.
Oprah reveals that the point of writing what we want for others is to uncover what we really want for ourselves. This is what she calls the "Aha! moment" (trademarked in 2009, entered into the Merriam-Webster dictionary in 2012). "Aha," she whispers into the microphone, her face tipped up into the glowing light. "Ahaaaaaaaaaaa." The audience breathes back; we're all aha-gasming together. It's good.
11:21 a.m.: Finally a break. This bathroom break is sponsored by Charmin. They turned most of the men's bathrooms into women's bathrooms for this event because there are about 15,000 women and just a few cool men in attendance, but somehow the bathroom line is still way too long. Instead of using the bathroom, I buy a "Peace, Love, Oprah" hoodie, because it's freezing. I also decided to buy Oprah's Soul Library book set for $79 in case I need to burn something later for warmth — so far my heart kindling is not lighting a soul fire bright enough to keep me from getting hypothermia.
One thing I do find heartwarming is how empowering this crowd is. It's like as long as we're wearing our light-up Oprah bracelets, we've all been transformed into Care Bears or something. While I'm waiting in line for $12 popcorn, the woman behind the counter struggles with the cash register and a voice from the back of the very long line yells, "GIRL. TAKE YOUR TIME. YOU ARE WORTH IT!" While I'm walking past the merch table, the man behind it yells, "Step right up, ladies! I am here for you. I am here to support you in whatever you need!" And what we need is very expensive Oprah merchandise.
12:00 p.m.: Back in the arena, with bracelets and hearts aglow, everyone is dancing again, and you have to hand it to these women: They are dancing on their own. Wildly. With their eyes closed and arms and legs akimbo. They are pumping the air and raising the roof and pursing their lips with pure pleasure. I, not middle aged and therefore very self-conscious, am not dancing. But I'm jealous of the freedom of the Oprah women. It's like they've caught the spirit. Maybe if I catch the spirit, Oprah will come into the stands and touch my shoulder and I can whisper to her, "You once met my brother." And then my mom will be proud of me. Since that probably won't happen, I delicately make my way down the stairs and try to bum-rush two security guards. It doesn't work. Back to journaling.
12:11 p.m.: We're making pie charts of our lives now. You have to put smiley faces on sections of your life that are good and frown-y faces on sections that are less than great. While considering their lives, people are mass-weeping, audibly. There have to be a lot of frown-y faces out there. Oprah's pie chart is projected onto the big screen — she has many happy faces around finances, but several sad faces around hobbies. HA. Oprah has millions of dollars but no hobbies. How does she ever sleep at night? Oh, on giant pillows of money.
12:28 p.m.: Oprah waved at my section! It's happening. She might be coming this way! What do I do? Do I make my way to the last seat? Do I grab her? Is that okay? I'll grab her. Oh, never mind, now she's just back to hugging people in the expensive seats. She's earning those smiley faces in her finance sector.
Now she's discussing her pie chart, which has turned into a segment about Stedman and how happy she is to have him in her life. I feel bad for Stedman: He's been in the front row at every single one of these things. Wouldn't he rather be playing golf or something? Stedman's pie chart is 100 percent Oprah and all smiley faces, I bet.
Meanwhile, I am giving up hope of catching Oprah. The only person who has broken through the dam of security guards was a lucky arena attendant who got to bring her a bottle of Perrier. I have so many hours to go.
12:52 p.m.: For the most part, Oprah does a good job of packaging religious rhetoric and spirituality in enough universal, New Age language that it doesn't feel you're being fed something religious and/or spiritual. The cornerstones of her self-help empire — living your best life, getting in touch with your best self, et cetera — just appeal to basic emotions and the fixer-upper soul, if you will. The next speaker is an actual pastor, though, which is a little too much for me. I don't want to worship at this altar of overt spirituality, and if I hear "Roar" one more time, I am literally going to tear my clothes off and run screaming onto Oprah's stage. So I choose to go worship at Oprah's other altar. Oprah's Altar of Stuff.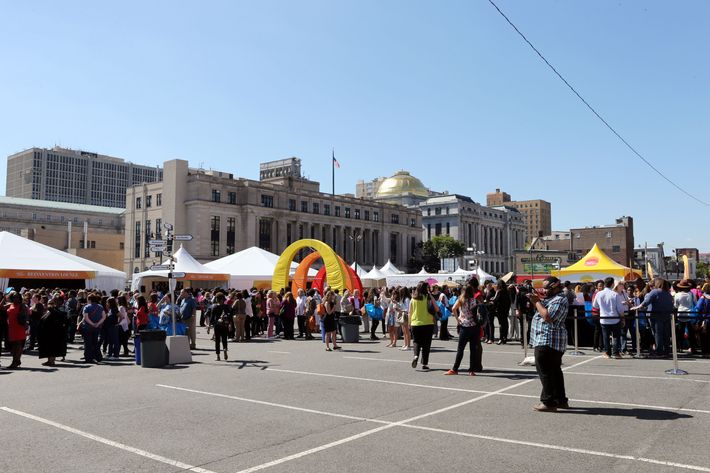 Spirituality is one pillar supporting the temple of Oprah, the other is stuff, swag, presents, goods, merch, and more. Oprah fucking loves stuff. She had a whole show dedicated to her favorite things. Remember those magical segments? By 2011 she had given away over $23 million worth of trips, Priuses, red-velvet cake, beauty products, cashmere sweatpants, UGGs, et cetera. There is no way in hell I'm going to shake hands with Oprah. I accept this. I'm sorry, Mom, but by George I will get Oprah's stuff.
I head to O-Town, the pop-up city that's been erected next to the arena. Since everyone is still inside with Pastor Rob, it's a ghost town, and everything is here for my taking. Everything. At the entrance an arena attendant asks if he can give me a hug. It's a long hug. Like too long. I say, "This hug might be too long," and he responds, "I know. I give really good hugs." I suppose this is his blessing.
For the next 30 minutes I run from tent to tent collecting my bounty: I get a scalp massage, a free flash tattoo, a selfie with her cardboard cutout. Then I take a selfie and print it out, write a confidence-boosting slogan on it, and paste it to a bus that will be parked in Times Square next week. Then I do a free yoga session, I get a coupon for CoverGirl foundation in D6 Toasted Almond, some Tide Pods, a free box of Always Maxi Pads, some Oil of Olay foundation and pore minimizer. I wait in line for crab salad until I realize it would cost me money. Instead, I get my makeup done for free. Baby-hooker eye shadow, sponsored by CoverGirl.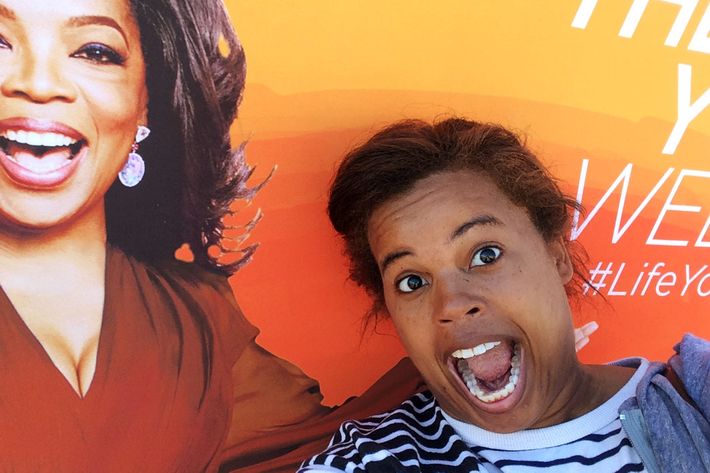 1:30 p.m.: I am so full of swag I can barely walk. Back inside the arena, something strange happens. I feel Oprah coursing through me. I am filled with the god light. I am in this. I grab two Chardonnays and some chicken fingers, and get to communing with my fellow Oprah pals. First, there's Eleanor, a middle-aged woman in a snug orange dress and huge white pearls. We're both waiting in line for chicken fingers, having opted out of the special Panera Bread boxed lunch. Eleanor looks sad. Even though she spent $599 on a floor seat, she's upset she didn't get the $999 ticket that would have allowed her to have lunch and a selfie session with Oprah. "It's okay," I tell her. "We can all feel Oprah in our own way. I felt a small thrill when she waved to me." Eleanor looks at me as if I'm kind of slow. "I mean, I know, I got to shake her hand when she walked through my section. Imagine how I felt." We've gone from being friends to competing over our Oprah encounters.
"I'm very jealous, Eleanor," I say. This is what she wants to hear, I guess, because soon we're laughing again. "Have you tried Deepak Chopra's meditations?" she asks me. "You just have to!"
"Oh, have you guys tried Deepak Chopra's meditations?" I understand the language now and can parrot it back. Soon I'm swapping hair tips with people, recommending the Deepak Chopra meditation to everyone. I'm singing along to "Man in the Mirror" in the mirror in the bathroom with total strangers while charging my iPhone. Is this "Roar"? I love this song! Haven't heard it enough today! I sit down with two ladies who tell me I have such a nice energy. They're older, but one can tell I'm about to hit my Saturn return and gives me some advice. I show her my Soul Library book collection. We hug.
3:06 p.m.: The arena has turned into a full-on dance party. "We Are Family" is on, and we ARE family. I have no idea how it's 3 p.m. already. I'm dancing in my seat. I'm holding hands with the girl next to me, while dancing, who claims she's met me before! It's so weird! We've never met! I guess we're just bonded.
Oh man! Is that my girl Eleanor dancing on the big screen? Go, Eleanor! Dance like everyone is watching, honey! Do the pony!
3:13 p.m.: Oprah is back after a costume change. She's in a blue sweater, jeans, and clogs. Jeans? Where is this journey going to take me?
3:15 p.m.: Oh, the journey is taking us into a forced exercise session. Oprah has recently discovered SoulCycle. And now a blonde mohawked SoulCycle instructor is going to take us through the Soul 15, a workout made of basic SoulCycle elements that you can do without a bike. I intend to sit this out, but my bracelet is lighting up so I know I have to do it, because I'm afraid of what will happen if I don't. All of a sudden all of the bracelets are changing colors while the whole audience is punching the air. We're jumping and up and down and laughing with each other to an EDM playlist. It's beautiful.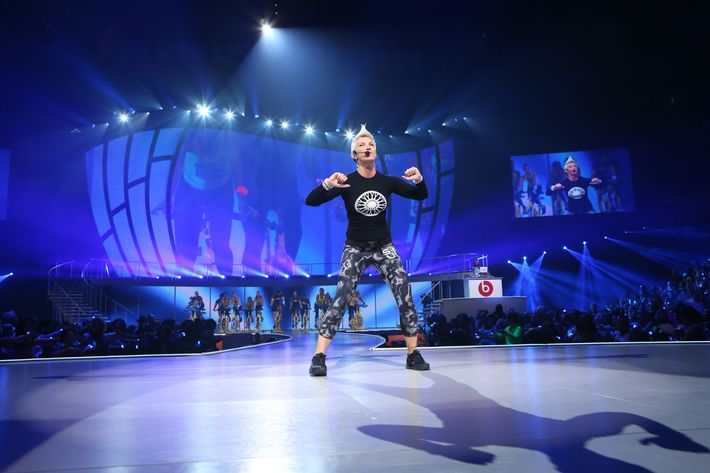 3:21 p.m.: I'M STANDING AND DANCING.
3:23 p.m.: I DRANK THE KOOL-AID.
3:25 p.m.: I'M ALIVE. I FEEL SO ALIVE.
3:30 p.m.: Man! What a moment! Remind me to sign up for SoulCycle! There's only an hour or so left to this day, and I never want it to end.
3:35 p.m.: Iyanla Vanzant is on the stage. People are very into her. I've been pretending to know who she is all day. Our bracelets glow red for her entrance, so I know things are going to be special and possibly seductive.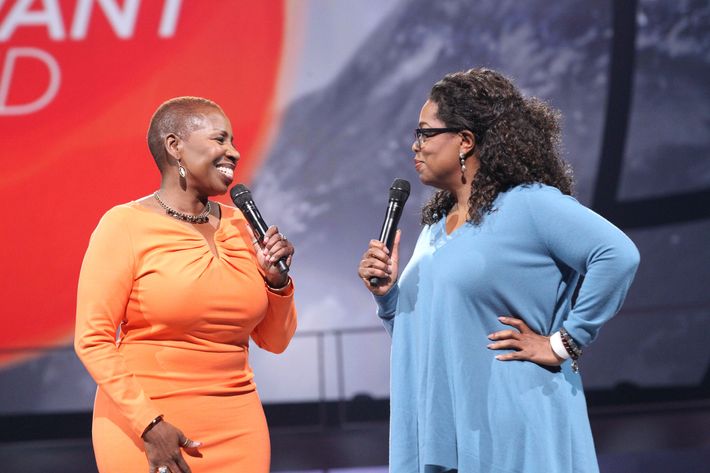 4:24 p.m.: I feel … weirdly emotional. Am I about to cry? I like Iyanla more than I like Oprah, actually. She's super funny. Her whole speech uses shopping sales as metaphor. It doesn't feel very spiritual, per se, but it does make me want to change some things. She's ultimately more relatable than Oprah, who hovers above us on her holy plane. Iyanla just gets that women really like dick and are sometimes stupid about it.
4:25 p.m.: Oh, God, I'm crying. This is what makes me cry? A metaphor about a Michael Kors dress? And some an analogy about humping puppies? The woman next to me who has been throwing shade all day hands me a tissue with a knowing nod. Welcome, her eyes say. Welcome.
4:30 p.m.: Iyanla is done. Oprah gets up and plugs Iyanla's special about a man who has 17 different children by eight different mothers and I am so excited, and so is Oprah, and she's yelling about penises in that booming Oprah baritone and it's really weird and un-Oprah-like. I feel like it's time to go, but there is still one more journal exercise left.
5:00 p.m.: Katy Perry's "Roar" is on again. My eye is twitching. My stomach hurts. For some people this place is like church, but for me it's like Vegas. I have no idea what time it is. I want to stop dancing but I am controlled by DJ Kiss and her funky tunes. I've been putting soul coins into a spiritual slot machine all day and am now emotionally broke. I want to stop emoting and whooping out inspirational quotes, but my Oprah mind-control bracelet won't stop lighting up. This thing was supposed to be over like an hour ago, but it's not. I think it's time to leave.
My bracelet won't light up once I'm 20 paces past the arena. I don't want to call my mom and tell her I didn't meet Oprah, but it occurs to me that I didn't even need to access her corporeal form. Like God, Oprah is everywhere: in the glasses of Chardonnay I drank, in the Soul Library book set and hoodie I bought, in the face of every arena attendant who stood around with a smile and gave me unsolicited hugs. She is in dadlike Nepo and she is in Eleanor. I did not need to pay $999 to meet her and I did not need to shake her hand, because I end the day full of shimmering Oprah. I am O-full. I have come to this place seeking Oprah, and I found her. By Oprah, I found her.