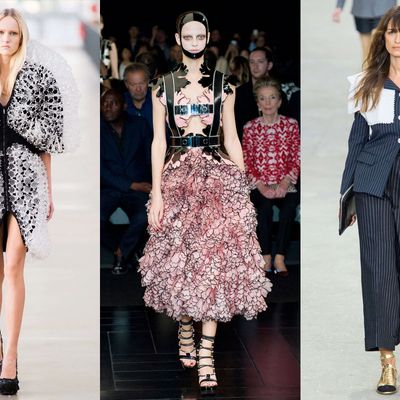 In the grand finale of yesterday's Chanel show at the Grand Palais, the models emerged en masse, marching, this time with bullhorns and placards: "#HeforShe, History is Herstory, Divorce Pour Tous!" In their mélange of smart tweeds, sweeping military coats, and color-soaked florals, they cavorted for the cameras. It looked like they were having a lot of fun.
Lagerfeld's statement was the fashion equivalent of Beyoncé's "Feminist" backdrop at the VMAs — a fourth-wave moment that happened to unite genuine sentiment with a trend just hitting mid-crest. (There was also possibly some fun being poked at France's protest-happy culture. Now that the Air France nightmare is over, we were treated to a pharmacists' strike this morning, and tomorrow, it's the notaries' turn.)
So was Karl cashing in on feminism as a trend, or trying to serve people a side of social justice with their 2.55 bags? A little bit of both would be my guess. The designer always has a trigger finger on the pulse of culture, whether that means the alcohol-monitoring bracelets of the rehabbed-starlet era or last season's supermarket-sweep take on normcore.
Two other designers today focused on female self-protection on a more aesthetic level — Iris van Herpen, with her spiny, sea-anemone-like constructions that almost seemed designed to keep predators at bay, and Sarah Burton at Alexander McQueen, who kitted out her models in chin-strapped helmets that evoked boxers and soldiers. (The show was held, appropriately, at the barracks.) But while both collections had a prickly, arm's-distance feeling to them, they were also beautiful, whether that beauty came in the form of van Herpen's 3-D-printed shells that resembled spun sugar or Burton's florals and unsparing use of pink.
On the opposite side of the coin was Maria Grazia Chiuri and Pierpaolo Piccioli's collection for Valentino. Inspired by the 18th-century tradition of the Grand Tour — à la Daisy Miller — the duo drew on archival prints to create romantic gowns splashed with images of shells and starfish. Was it fierce? No, but their romantic vision was appealing in its way. Maybe we'll really be empowered when we can wear whatever we want without having to worry about what it says about our current level of liberation.
See the full Chanel spring 2015 show here.
See the full Iris van Herpen spring 2015 show here. 
See the full Alexander McQueen spring 2015 show here.