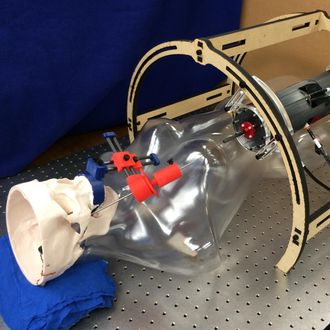 Photo: David Comber/Vanderbilt University
Severe epilepsy is not fun, and it is not easy to treat. As a press release from Vanderbilt explains, alleviating the condition "means drilling through the skull deep into the brain to destroy the small area where the seizures originate — invasive, dangerous and with a long recovery period." But some robot help is on the horizon.
From the press release:
Five years ago, a team of Vanderbilt engineers wondered: Is it possible to address epileptic seizures in a less invasive way? They decided it would be possible. Because the area of the brain involved is the hippocampus, which is located at the bottom of the brain, they could develop a robotic device that pokes through the cheek and enters the brain from underneath which avoids having to drill through the skull and is much closer to the target area. … The engineers have developed a working prototype, which was unveiled in a live demonstration this week at the Fluid Power Innovation and Research Conference in Nashville by David Comber, the graduate student in mechanical engineering who did much of the design work.

…

According to Associate Professor of Mechanical Engineering Eric Barth, who headed the project, the next stage in the surgical robot's development is testing it with cadavers. He estimates it could be in operating rooms within the next decade.
And after you've recovered from your robo-surgery, you'll be whisked home by a self-driving car (preferably a flying one). Maybe the future won't be so bad after all.