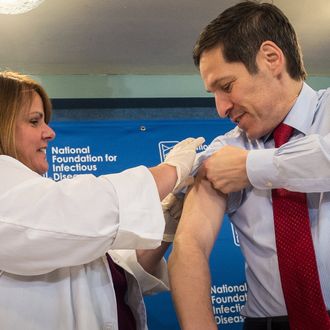 Photo: J. David Ake/AP/Corbis
Flu shots are up 50 percent in New York City compared to this time last year, according to the city health department, via WNYC. This could mean nothing, or it could mean, as WNYC points out, that the shots are more widely available this year. But it could also point to a weird upside of Ebola panic: The near-constant Ebola headlines are certainly keeping health at the top of the mind lately. Could fears over one illness be driving people to take action on another, albeit unrelated, illness?
Maybe! And, actually, getting a flu shot could indirectly help health-care workers fight Ebola, a health department representative told WNYC; fewer people with the flu in emergency departments means more resources are available, just in case they're needed if another Ebola case comes to the city. Anyway, given that last year just 46 percent of Americans got a flu shot, gold stars are hereby awarded to every New Yorker who's gotten one already.