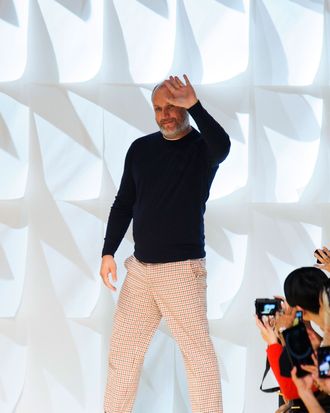 Peter Copping, formerly the artistic director of Nina Ricci, will take the top design position at Oscar de la Renta, the house announced today — confirming rumors that have been floating since early September. Copping begins his role as creative director on November 3. Speaking to WWD, de la Renta called him "a great talent … along with our shared design sensibilities, we both have a deep curiosity about the wider world, from music and art to architecture and gardens."

Born in Oxford, Copping always dreamed of being a designer. In 2012 he told Iris Apfel, who was speaking with him for Interview, "I can remember when I was young I used to make dresses for my sister's dolls. I'd find scraps of fabric. I can remember having some amazing green lamé that I just loved, and making a little tunic dress." Copping's talent soon landed him at Central Saint Martins and the Royal College of Art in London. He interned for Christian Lacroix in Paris while still an undergrad. After a post-graduation stint at Iceberg, he went on to Sonia Rykiel and then Louis Vuitton, where he worked under Marc Jacobs beginning in 1997, eventually becoming director of womenswear at the house. Copping was appointed to the Nina Ricci job in 2009, after Olivier Theyskens's departure. Lacroix's haute couture, Iceberg's Euro-clubwear, Rykiel's French whimsy, and Vuitton's heritage made for an eclectic résumé, so the Ricci appointment marked the first chance for Copping to carve out a signature style.
Copping took over Ricci during what you might call a long transitional period — in the decade before he took the helm, Nathalie Gervais, Massimo Giussani, James Aguiar, Lars Nilsson, and Theyskens had all designed for and departed the brand. Copping forged ahead in the house's signature feminine, ethereal style, though he always liked to rough up its ladylike image a bit. In 2012, he told W,  "It drives the ateliers crazy sometimes that, when things are too perfectly made, I'll ask them to go off and dump them in water or crush them. Sometimes we put the dresses in the steam press like in [cult eighties TV soap] Prisoner: Cell Block H."
For the most part, Copping's work has been well-received by critics. Lynn Yaeger, then writing for the Cut, praised his fall 2013's "irresistible air of Gallic dishabille," while the New York Times' Vanessa Friedman summarized his most recent effort as "Bon chic, bon genre, with a dollop of flirtation between consenting adults on top." Copping's vision for the house was also a moderate hit on the red carpet, with Carey Mulligan, Diane Kruger, and Julianne Moore among those sporting his designs. (In terms of his own wardrobe, he seems to favor relaxed-fit khakis and other normcore hallmarks. He told W that most of his wardrobe comes from the cult Japanese brand 45Rpm.) Compared with his peers, Copping has kept a low public profile, giving few interviews and avoiding the party circuit.
Copping knows how to leaven sweet with sexy: Witness look nine from his last collection, a blue crocheted sweater paired with a pink trumpet skirt, whose daring cut keeps it from reading like a human macaron costume. All of that training in Ricci's ladylike crucible perfectly prepares Copping to fill the admittedly big shoes left by de la Renta. His mastery of romantic day-dressing and his dramatic flair for eveningwear make him an excellent choice to carry on the legacy of the house. Ladies-who-lunch tweed? Lingerie-inspired provocation? Sweeping gowns? He's done it all.
Of course, there are stylistic variances: Copping's designs are sweeter and less brash than de la Renta's. He possesses a very British restraint. But like the youth-quake-obsessed Slimane taking over at Saint Laurent or pun-loving Jeremy Scott picking up where Franco Moschino left off, there's enough of a shared sensibility, combined with enough newness, to make the future seem very bright for the house Oscar built.