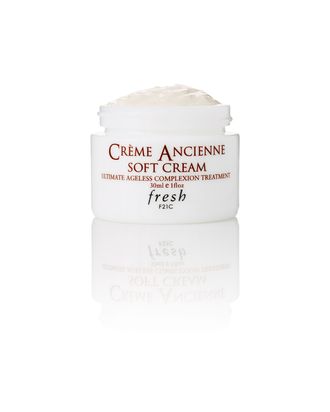 Photo: Courtesy of Creme Ancienne
Somewhere in the Czech Republic, past the mountains of the Black Forest, there lies a monastery. Twelve monks at this secret monastery hand-make Fresh's legendary Crème Ancienne line, whose fans include a legendary Los Angeles producer who apparently uses it to soften his pet tiger's paws. Now, the monks have a new SKU to make: Crème Ancienne's Soft Cream, a softer, fluffier version of their original moisturizer, created to satisfy customers who found the original to be too dense. 
The new texture of this cream is so soft that Lev Glazman, co-founder of Fresh, demonstrated its fluffiness at a press event using a mini ice-cream scoop, churning out perfect scoops each time. I poked at the cream, marveling at its coolness and almost yogurtlike texture. On the skin, the texture made the blend of rosewater, meadowfoam seed oil, echinacea extract, chamomile wax, and vitamin E sink easily into the skin, giving me some of the softest skin I've felt in the past two weeks. I think you and that pet tiger will be pleased by this new addition to the line — because no mammal likes cracked skin.
Crème Ancienne Soft Cream, $140 at Nordstrom.