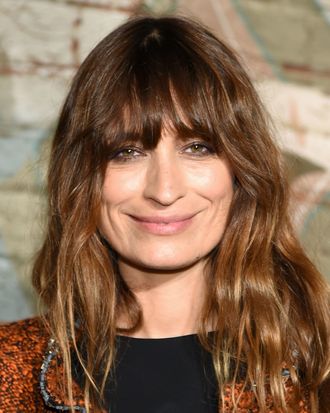 Photo: Dimitrios Kambouris/WireImage
Earlier this year, Lancôme announced a mysterious beauty collaboration with Chanel muse and seemingly ideal Parisian Caroline de Maigret. (She's such an ideal Parisian that she even wrote a tongue-in-cheek book with three other writers called How to Be Parisian.) But don't call her perfect — the Cut sat down with de Maigret, who was insistent that being perfect is a French cliché. Instead, de Maigret talked about Beyoncé as an alien, her own non-perfect beauty routine, which includes trimming her own bangs, the importance of exercising your face.
What was the joint process like for writing the book?
We would gather every week. I'd come and say, "I want to do something on parenting," and everyone would give their stories and ideas. The week after, we would bring back our text and then rewrite it so that everyone was happy. Because sometimes you write things because they sound good, but are not sincere. We'd be like, "Okay, have you really done that?" And someone would be like, "No, but you know …" "So no. Take it out." 
What was a cliché that you took out?
To be perfect. I think the French realized a long time ago that you can't be perfect, and the search for perfection is hopeless. [Laughs.] And it applies to life and to men, so not looking for Prince Charming anymore but being happy with life, trying to enjoy what you have, instead of expecting impossible standards.
In the U.S. we have this idea of "I woke up like this," which was popularized by Beyoncé. How does that idea relate to French beauty?
She's so lucky! [Laughs.] I didn't wake up like this! I was very flattered that Lancôme came to me as the woman I am. My beauty doesn't appeal to everybody, but I am a woman, working and being a mother, and I don't have the perfect body either. To tell women "It's okay" is nice. This is how we are, let's get the best out of ourselves, and try to help ourselves with all the toys that we have, like makeup, creams, and books.
But I'm fascinated by Beyoncé. She's a superwoman. But she's an alien. She is! I'm fascinated by this girl. She dances, she sings, she's a really hard worker; it's hours and hours of work. She takes care of herself. She's always nice. And she's a feminist — which we like in France. [Laughs.] She's a strong woman.
Why do you think Americans are so enraptured with the idea of French beauty?
It's the self-confidence and to feel that you're okay without adding more. It's more chic. Refinement and elegance are in details, rather than opulence and showing off. But it's funny, we don't want people to think that we take too much time doing futile or frivolous things. If you arrive with a lot of the hair and makeup, that means you wasted that time while you're supposed to do something more interesting. 
We have a tendency to try to do as many natural things as we can. I do a lot of massage and I pinch. There is a massage called pincement jacquet and they pinch your face and it's really, really good. There is also a trick I learned as a model to move your face using the French voyelles: aoeou, which uses every muscle. "Aoeou. Aoeou." It takes a lot of muscles. The gym is good for the face as well. I mean, why would it work for the body and not for the face, as well? You need to tone the face as well.
France is an old country where we were raised with architecture and paintings and so much history behind us. You do grow up with this respect for handcrafted and beautiful things. We're more in search of something beautiful rather than a lot of things. Instead of being trendy, which is not very interesting, you make a style and become who you are, and the projection of what you want people to see you in. 
Have you heard of normcore?
What? No, what is it?
It's this idea that everyone's trying to dress as normal as they can. It's kind of like a Seinfeld-style dressing.
That sounds like it's very tiring [laughs]. Why have a concept of what you wear in life? What appeals to me is something I feel good in and that makes me happy to go on and have my day. I don't think you should think more than that about fashion. You work and you have your family at night, and fashion is there. It's not something so important.
What is your beauty routine like?
I always put a firm base for makeup. I like Rénergie Lift from Lancôme, which is very nourishing and very soft. I usually put a lot of mascara (Grandiose), a lot, a lot, a lot, especially on top. I don't put too much under because after a while it falls and pushes the dark circles. Usually, I use brown mascara during the day so it's not too hard and then darker at night to make it more sexy. 
I don't put on foundation, but I put YSL Touche Éclat under the eyes and where I have blemishes or too many bags. I like to put a bit of pink rouge. I really love the Nars one, like Orgasm. It looks real or at least that's what I want to believe.
There's a really cute balm from Lancôme as well that's a little shine, but it doesn't have glitter that I really like. At night, I either put brown and bronze eye shadow to make it a bit sexy. If I don't do eyes, I only do lips, like just mascara and red lips. A bit of my eccentricity with makeup goes into nail polish. I like orange and blues. I love to play around with colors. Wow, so eccentric.
Are you into nail art at all?
No. Oh, no. No, it doesn't interest me whatsoever. And I don't like it. No. I have friends that will show off different countries and stuff on their nails and I'm like, "No!"
What about for your hair?
For my hair, I don't do anything. I wash it every morning. I get screamed at about that by my hairstylists. I touch my hair so much as I talk, that I feel dirty if I don't. I use supermarket shampoo, which I buy for the smell. I buy Elsève by L'Oréal, the orange bottle and no conditioner. Conditioner makes my hair very slick. I don't like it. I like for them to look big and a bit messy. Conditioner makes it look too nice. And then I let them air-dry.
Do you trim your own bangs?
Yes, with kitchen scissors.  Every time I let a hairdresser do it, he fucks it up. Honestly. Either I end up like Bettie Page or if not, it's just too well-cut and it's not me. So I have to do it myself. Sometimes I have holes right above my eyes because I only cut to see. It's ridiculous. And on Sundays, I'll do a hair mask to balance the no conditioner, like Leonor Greyl Jasmine Flower. And at the same time I put a clay mask and look like a ghost for half an hour. My son screams in the apartment like I'm not supposed to look at him for half an hour. 
What is your hangover cure if you're not feeling well in the morning?
Before going to bed, I take aspirin and drink a lot of water. I always take off my makeup even though I'm really drunk. It really helps the hangover in the morning not to have a completely dry face. I drink some green tea usually in the morning. I put a mask on right away. But I also crave junk food in the morning. I need a burger or something when I'm hung-over.


This interview has been edited and condensed.