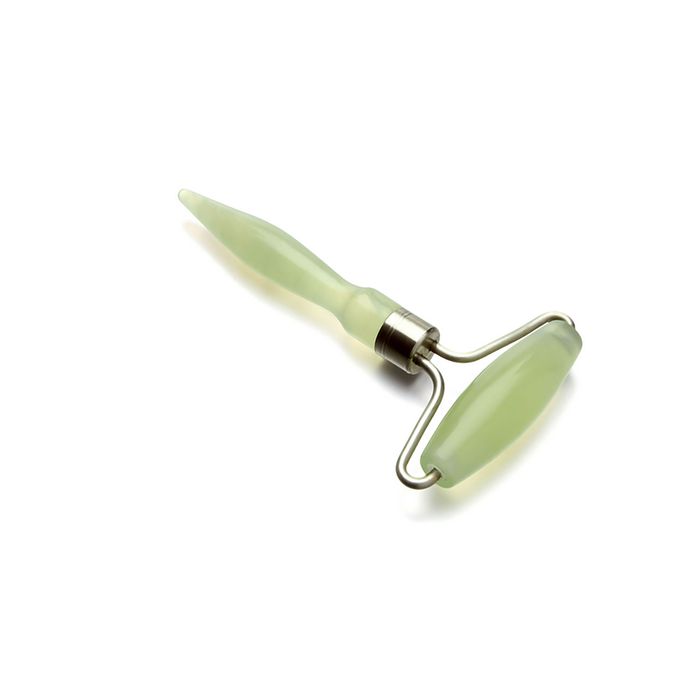 Jade rollers may seem like a relatively new beauty phenomenon — but they've actually been around since at least the 7th century. A favorite tool of elite women in China from then on, jade rollers are thought to reduce facial puffiness, drain the body of toxins, and balance one's qi. The gemstone naturally transmits infrared rays, which warm and increase blood circulation. I put one to the test.
After washing my face, I rolled LING's jade roller over my skin. I followed the instructions from Patrick Chan, CEO of LING Spa. He said to roll in an upward motion all over my face for just a few minutes. I noticed results immediately. My face grew flush, as if I had just returned from a run. The jade in the roller was cold, but warmed as I continued to roll. If anything, the treatment was soothing.
Chan says that jade assists with lymphatic drainage, a massage technique that rids the body of fluid retention. After rolling around my eyes, my under-eye bags appeared dramatically de-puffed. I don't think I observed a difference in my qi (pronounced chi) energy balance, which is a spiritual principle I can't even begin to explain.
Jade rollers can be used as often as daily, or weekly — but Chan suggests using it after applying a serum or moisturizer to increase penetration. I plan to use my roller every week or so now, whenever I feel the need for an at-home mini-facial.
Jade Roller, $90 at LING.