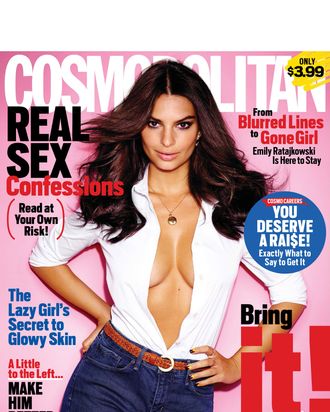 In an NPR interview this morning, Cosmopolitan editor-in-chief Joanna Coles found herself defending her magazine's November cover, which features Emily Ratajkowski in an unbuttoned white shirt next to a headline about asking for a raise. Said Coles:


I don't think anyone would suggest that you negotiate for a raise with your shirt undone to your waist. But I think that she is being very handsomely paid for Gone Girl. … I think that women's lives are multilayered. I have no problem understanding that women are interested in mascara and the Middle East. Men are allowed to talk about sports relentlessly, and yet we still take them seriously. I don't understand why women can't talk about fashion, or sex, or love, or wanting more money and not be taken as seriously as men.
We'll second that. Listen to the full conversation here.