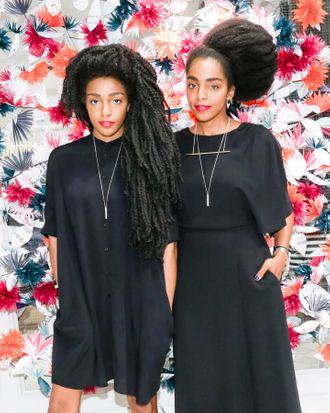 Photo: Benjamin Lozovsky/BFAnyc.com/BFA NYC
When & Other Stories opened its first store last March, on Regent Street in London, it wasn't entirely clear what niche H&M's youngest sister brand was trying to fill. The fast-fashion giant already had a sophisticated older sibling in the form of COS, the best-kept secret of Stateside fashion editors since its founding in 2007. (The cat's been let out of the bag since then, with COS's Soho debut coming this December.) Would & Other Stories have a similar vibe, with calf-length mohair coats and pleated wool trousers inspired by Stockholm? Would it be the most expensive H&M offshoot to date?
What debuted that rainy week in London, and rolled out incredibly quickly over the next few months — seven stores, from Copenhagen to Cologne, opened in two months — is a women's lifestyle brand that manages to be more curated than H&M and less strictly minimalist than COS. The prices fall somewhere between the two, ranging from $9 nail polish to a black mohair coat for $495, with silk trousers and bomber jackets coming in under $250. The clothing (not to mention shoes, and clutches, and body scrub, and nail polish) is designed exclusively in two small ateliers, in Stockholm and Paris, and the philosophy is simple: Perennial closet staples don't need to be subtle. Think dramatic black palazzo trousers and gold stud earrings inspired by water lilies.
New York fashion bloggers and editors have been salivating over the brand's arrival here since the announcement was made in March. The Broadway flagship, which opens tomorrow, is launching simultaneously with the brand's U.S. e-shop, which, as of this morning, had already crashed due to a huge influx of traffic from would-be shoppers. On Wednesday, I walked through the store with creative director Sara Hildén Bengtsson, previously of Kenzo and Liberty, and ready-to-wear designer Behnaz Aram, who designs costumes for Swedish operas on the side. Both were in head-to-toe black, with Hilden sporting sparkly gold Vans, and Aram in black Nikes. I'd snuck in through a side entrance, past tourists craning to glimpse behind the window screens. Around me, women in asymmetrical miniskirts and slouchy merino wool sweaters adjusted clothing racks and set out succulents and cacti in clay pots. Bengtsson looked a little sheepish. "We've only been around for a year and a half. We're only talking about baby steps still." In other words, "We're very, very nervous."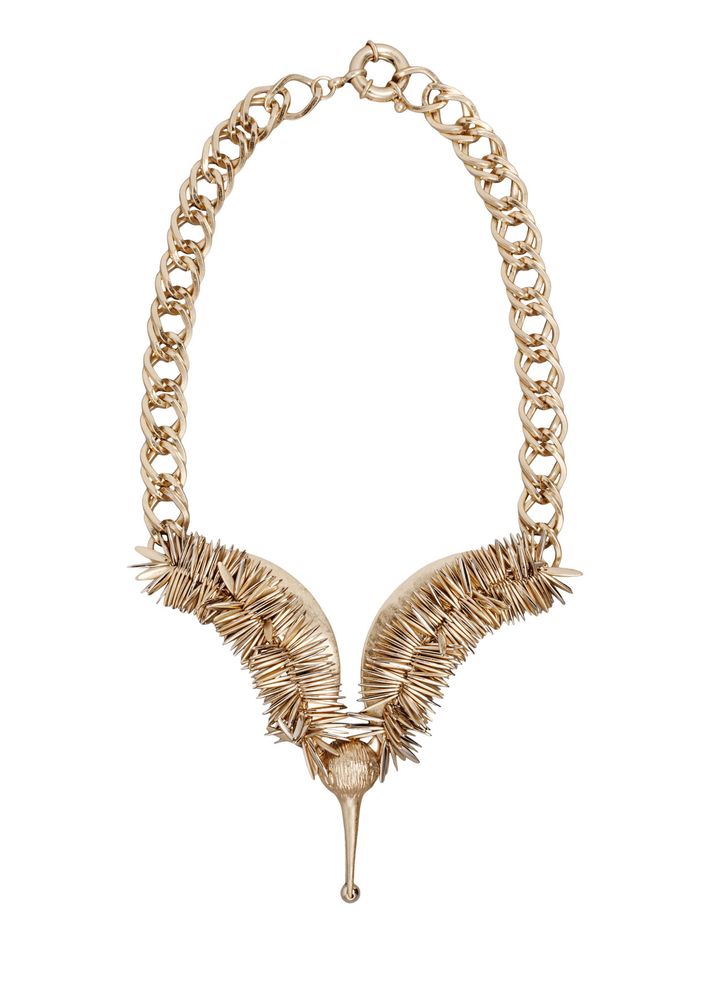 The 6,400-square-foot space is part atelier, part old-timey pharmacy. Strips of black spotlights march across the vertigo-inducing ceiling, and the clothing hangs on rolling racks decorated with photos from the season's look books, in plastic sleeves like the ones used to identify garments at a fashion show. Some of the clothing is even draped on dressmaker mannequins, the kind you'd imagine stuck full of pins and draped with swatches. In the center of the store, skin care and beauty get a dedicated annex equipped with a vanity mirror and shiny porcelain sink for testing body scrubs with names like "Lemon Daydream" and "Fig Fiction."
Across the Paris and Stockholm ateliers, four distinct & Other Stories design teams tackle four different target customers, each inspired by a metropolitan city. There's feminine and romantic Paris, embodied this season by fringy gold chokers and open-back beaded dresses, the boxy scuba turtlenecks of minimalist and tailored Stockholm, hard-edged tweeds for Berlin, and sophisticated New York wool coats with cotton-candy stripes.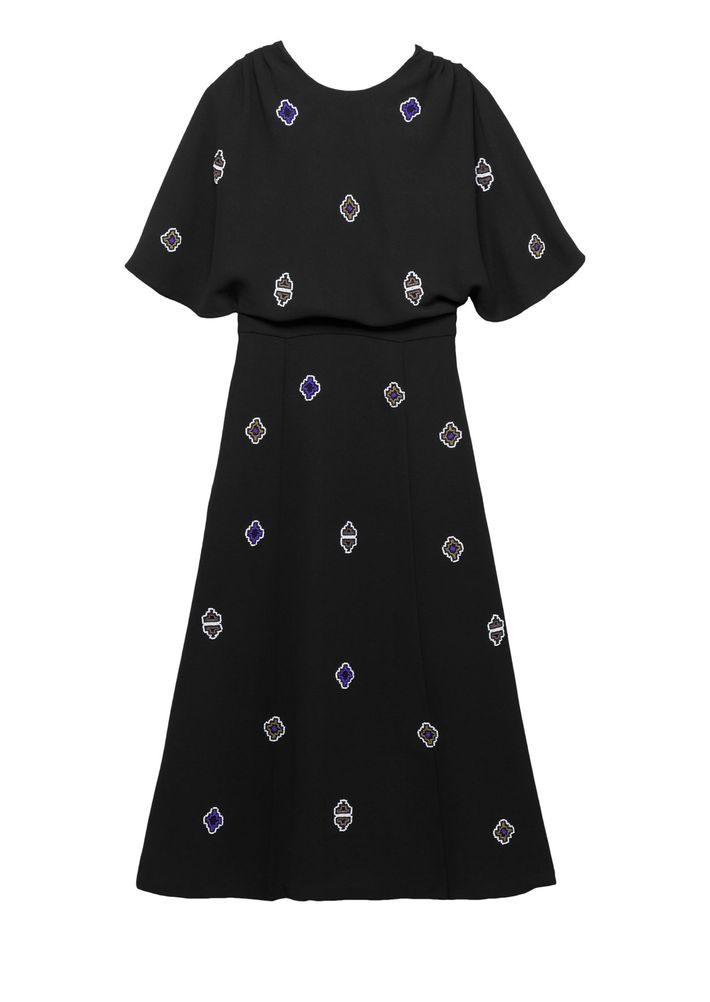 Each city gets its own piece of the showroom floor, but the collections aren't labeled. Instead, color is the organizing principle. Over the summer, the store teased its impending arrival with an installation of paint-dipped wooden rectangles. A few weeks ago the installation had to come down, and rather than get rid of it, Bengtsson suggested an impromptu reinstallation inside the store. Two days shy of the opening, this required some late-night ladder teetering. (According to the communications director, "Sara almost literally broke her leg climbing.") Now, purple swatches rest on shelves above racks of kaleidoscopic purple coats, and transition from apple green to periwinkle over corresponding hues of hand soaps and body mists.
Equally integral to the layout of the store are the brand's "co-labs," their term for collaborations. In March, & Other Stories announced a capsule collection with Swedish pop star Lykke Li (also the surprise performer at Wednesday night's opening party). All the pieces are designed to fit into one big faux-snakeskin shoulder bag for the jet-setting, low-maintenance pop star (pointy-toe calf leather boots, a silk camisole, a pair of slick leather slippers). The team also did a timely Brooklyn rooftop photo shoot staring the Quann sisters (pictured above left), electronic artist Takenya, a.k.a. TK Wonder, and her twin, Cipriana, who runs the lifestyle blog Urban Bush Babes. Images from their self-styled shoot are all over the store. And last week they debuted a look book featuring self-described "geriatric starlet" Iris Apfel in her favorite pieces from fall, including a pair of tasseled leather flats and a midi skirt in electric purple and blue.
Despite Bengtsson and Aram's mix-and-match philosophy, their four collections have thematic consistencies. Specifically, animal prints and snakeskin — from leopard ankle booties in the back, to blue-metallic snakeskin clutches in the front. "It's an interesting print to play with," Aram muses, "because you can do it in a really hipster-y kind of way, or you can do it in a crazy Italian way. You can do it in a French way, or you can do it in a New York way." Bengtsson cuts in, "We've got hairy things going on." Spoken like a practiced storyteller.