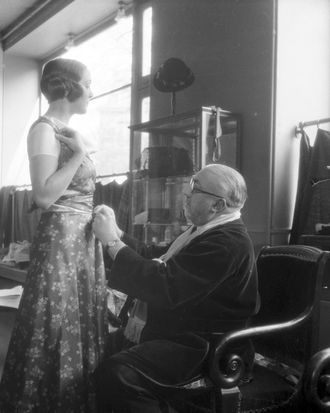 Photo: Lipnitzki/Roger Viollet/Getty Images
Designer names one thought consigned to the mothballs and museum basements have been getting a lot of play of late. Most recently, Harvey Weinstein announced that he intends to revive the house of Charles James, and Space Age holdover Courréges is making a play for world domination. Today, Women's Wear Daily reports that the long-dormant house of Paul Poiret is, in very modern fashion, going up for online auction starting today. A British mergers and acquisitions company, Savigny Partners, is handling the auction. The name is currently owned by Arnaud de Lummen, who also previously owned the rights to Vionnet and Moynat — and still holds the license for Mainbocher, which might yet be the next moribund house to go on the block. "Paul Poiret is so well-known it could attract lesser-known investors out of the blue, including from developing markets," de Lummen told the paper. He also mentioned that John Galliano would be his ideal pick for a designer — though he's obviously otherwise engaged.
The house of Poiret was only in operation from 1903 to 1929, but was one of the most influential of the 20th century. He helped pioneer loose, comfortable dressing in an era when corsets were still the norm; his tunics, kimono dresses, and harem pants were eagerly embraced by women. He was also an early genius of publicity, and famous for holding talked-about events — including one titled the Thousand and Second Night, during which his wife and muse Denise posed in a gilded bird cage. And he invited collaboration, working with Raoul Dufy on textiles and Edward Steichen on photo shoots. Unfortunately, Poiret's final years were far less glamorous — he ended his life as a destitute street painter.
Everyone from Azzedine Alaïa to couture newcomer Delphine Manivet has issued paeans to the designer, but it's been over 80 years since the company produced its last piece. In 2007, Paul Poiret finally got a retrospective titled "King of Fashion" at the Metropolitan Museum of Art's Costume Institute, and more recently, a reworked Poiret dress appeared on the Margiela runway during Couture Week in July. It remains to be seen if his designs can translate to today's climate of athleisure and normcore, but it will be interesting to see who ends up bringing the house into the 21st century.