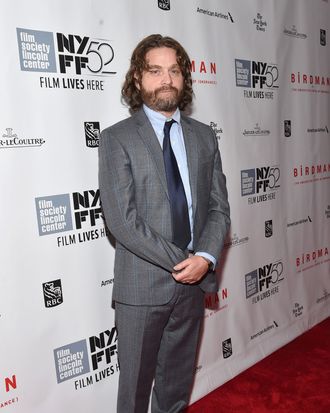 Photo: Mike Coppola/2014 Getty Images
Zach Galifianakis has downsized himself and now must answer questions about the mechanics of his metabolic systems. A reporter at E! wanted to know if this might be a whole new lifestyle?
"I know you lost your weight from not drinking beers, but is it a whole new lifestyle? Did you change what you eat? Did you start going to the gym?" she wonders, aloud.
Oh, for sure it's a lifestyle, he answers. It's the most inevitable — perhaps the only inevitable — part of a lifestyle, he says. Do you want to know about how he lost the weight? Do you, punk? Here it is. Here is what he has to say about his whole new lifestyle:
No, I'm just. I'm dying.
The interviewer said, "But you look good, that suits you very well. I can say that."
Death becomes him, for sure.