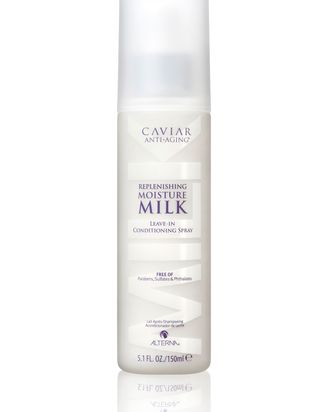 Photo: Copyright Anthony Verde
My hair is dry. Really dry. It-could-cut-you dry. So when a product comes along that claims to condition and moisturize sad, dry hair like mine, I listen.
Alterna Haircare's Caviar Anti-Aging Replenishing Moisture Milk is a lightweight conditioner you can use either on damp hair post-wash or on dry hair in between shampoo sessions. It smells vaguely like the scent of B.O. masked with floral perfume, but I don't mind the funky scent. (It seems that the best hair products nowadays tend to emit a strange odor or two.)
I first applied the moisture milk to my damp, curly strands. The viscous conditioner sank into my hair. After air-drying for two hours, my curly hair was bouncy, soft, and frizz-free. I liked the results, but this could have been beginner's luck. The next day, I sprayed the lengths of my (fully dry) ends with the conditioner and experienced the same soft, moisturized results. My ringlets drank up the moisture milk like an essential tonic. This product was good.
The moisture milk boasts fancy ingredients like "age-control complex," "color hold," and "seasilk," all of which claim to increase some degree of shine, brightness, and moisture. It was too difficult to gauge how brightly my hair shone, although my strands were markedly less brittle.
Alterna Haircare's Caviar Anti-Aging Replenishing Moisture Milk's name alone sounds like one big overpromise. While I can't attest to the anti-aging part, it did whip my dry strands into something unrecognizably smooth and soft.
Caviar Anti-Aging Replenishing Moisture Milk, $30 at Sephora.