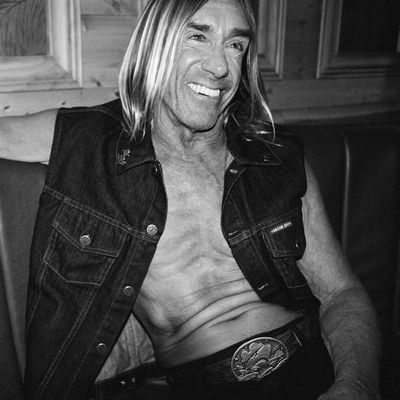 Naked, rock-hard, leather-y abs are usually among the first visuals that pop to mind after one hears the name Iggy Pop, so when we learned that the Stooges frontman was launching a fashion collaboration with Sailor Jerry it seemed to warrant further investigation. We chased down the musician (distractingly shirtless, of course) in Miami to chat about owning 100 pairs of "balls-tight" skinny jeans, almost being a judge on American Idol, and using a "smart guy" in place of a smartphone.
Was this is your first fashion collaboration?
Yeah, and I don't really wear clothes. I always wear the minimum [laughs]. That was kind of the irony of the whole collaboration, wasn't it? When I do wear something, it tends to be this [signals to outfit of vest with no top underneath and skinny black jeans] and if it's cold, I'll go for a leather jacket. That's about it. So my idea was just to do a good-quality denim vest with the patches. The patches were inspired by the punks and especially the punkettes in London and later Los Angeles between '76 and '80. Into the '70s, they used to take either a tunic or a sport coat or sometimes a peacoat and cover it in patches and metals and it was always cool. It looked great, and it was something more feminine. I wanted something that a guy could wear if he actually rode a bike and I wanted something that could be customized the other way.
Talk us through your involvement with the Sailor Jerry collection?
A musician friend, Matt Sorum from the Guns N' Roses, called me to say, "There's these guys from Sailor Jerry, they're looking for you, can I give them an email?" or something like that. Some lawyer had gone to junior high school with me and they told me they wanted to use "T.V. Eye" from the Fun House album in a spot. That was the first thing I heard, then apparently the collaboration came up — would I design a vest? They mentioned Paul Simonon [from the Clash] had done it last year and I asked to see the spot and it was wow. It was everything I wished people would do when we began our group in 1970, but a lot of people were scared of us.

How many pairs of black jeans have you owned and what brand do you usually sport?
You know, I don't go through that many pairs, so I would say, in my whole life: Probably 100 pairs of jeans would cover it. I think so, 'cause that's how the holes and rips started. I would just keep wearing them and I'd go, "I can't wear the new jeans, these are the jeans, right?" And finally they'd be held up by the seams.
The guys that work with me call it the "Iggy kit." If you have a little satchel and a belt that says Iggy, a pair of very, very tight black jeans, balls-tight, and pair of black Blundstones. That's what I wore exclusively for the last 12 years.
I use designer ones these days because they're stronger and they'll hold up. [John] Varvatos's I wore last night, 'cause he gave them to me, and Chrome Hearts I've been wearing onstage for the last three or four years 'cause the stretch in the denim is very strong. When the original Stooges were together, I would go down to the Washington Avenue and buy women's clothing.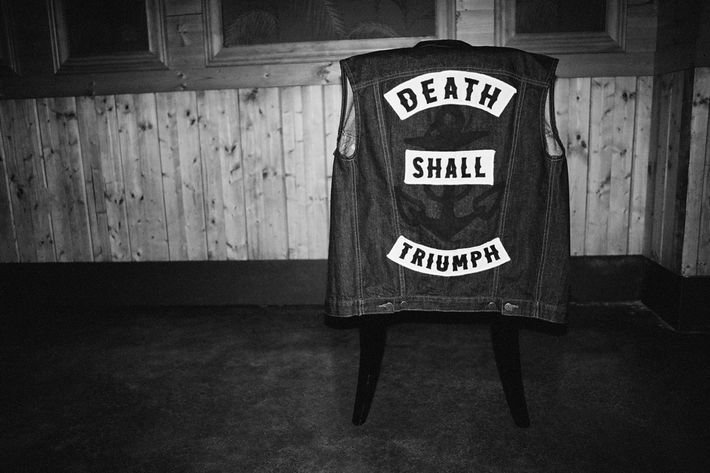 I was watching an interview of you that was filmed around 1990 and you stated a few things that you wanted to improve on. They were things like to sing more powerfully in a higher register, work on the gap between what you say and the clarity with which you're able to say it, and make more money. Flash-forward to today, do you think you accomplished those three things?
I've definitely slammed-dunked with the money. I've made a lot, lot, lot more money. The high-range part didn't come until when Ron Asheton passed away and I wanted to finish up the Stooges properly with the Raw Power Stooges. Then, that was as high in my range as I'd ever gotten and I was 30 years older and I thought, At 40 years older, how am I going to do this? And I actually just practiced and rehearsed each day until I did it for four years. Although I sing best down lower, I achieved a lot of it through a benefactor. I had a tai-chi master from Soho named Don Ahn, a Korean tai-chi master who taught me the chi-gong. And I learned certain ways to breathe that give me certain powers.

You were also asked if you were an optimist or a pessimist, and you answered that you were neutral, but that you were daring. Where do you sit on that statement today?
I am optimistic socially and pessimistic personally. I have had the amazing gift to be given all sorts of opportunities, projects, and love and attention from the public and society late in life. Everything that I have, that other people imagine they want to get from age 22 to 40, I've gotten from age 60 forward. Which sounds great, but the problem is I have the soul of a beach bum [laughs]. What do I really want to be doing? I want to swim, I want to go to the beach, I want to eat really good food, I want to drink fine Bordeaux, and I want to have sex.

Would you ever see yourself partaking as a guest judge in shows like The Voice, similar to Pharrell and Gwen Stefani?
I wouldn't, only because those shows are about how good a parrot you can be and I don't have parrot lips [laughs]. However, I'm curious about everything; I've learned to always be curious. So American Idol is owned by a European company, so when they were getting the new crop of judges in a few years ago, one of the European execs forced them to interview me for the job. The Fox executive said, "Okay, Iggy, so why should I consider you for the job?" I was like, I don't care. I'm not going to tell you. You called me Rufus, you know. Fuck off. But we did have a conversation because I'm curious about these kinds of things, you know?
Do you have a smartphone?
I have a smart guy. I have a smart guy with a smartphone and a computer and nothing is in my name ever and I'm scared of it. I do have an old flip cell phone called a Rugby because you can drop it a lot and it won't break, and when you want to text it still has three letters to each button. So, I can read an email, but I don't know how to send one.

Has the internet and rise of technology helped you advance your career?
It's been really good for my career. Because you used to walk in the record store and I would have a postcard, and Debbie [Harry], for instance, would have a lifesize cutout, and Pink Floyd would have an inflatable pig that took up the whole store. But now, everybody, depending on the size of the screen, is the same size.

Have you heard of the selfie craze?
Yeah, of course. I get selfied day and night!
And have you ever taken a selfie yourself?
No! I don't ever, I never even think of that. I have a camera in there [points to brain].