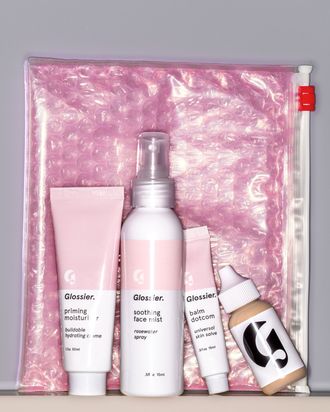 Photo: Courtesy of Glossier
Today, Into the Gloss founder Emily Weiss launches Glossier, a beauty line, complete with a slick campaign of models cast on Instagram and a separate website with product shots by Raymond Meier. Weiss calls it "a beauty brand [you] want to be friends with."
The friendship begins with skin care and stickers (each product order comes with the option to customize the packaging with a set of emojilike stickers), including a moisturizer, all-purpose balm, luminizing skin tint, and rosewater mist. Glossier (pronounced gloss-eee-ay) is about immediacy, showing yourself, freedom, and fun, Weiss explains. The Cut talked to Weiss to learn more about why she considers the line to be feminist, the Phoebe Philo–inspired stickers, and her future plans for the brand.
Why do you consider Glossier to be feminist?
With Glossier, [what] we are trying to do is show that beauty can be smart and cool. In my Top Shelf interviews, I often hear people say, "Oh, I'm so low-maintenance," almost as though they're sort of embarrassed to say they might do many steps. Beauty is a way of expressing yourself. You can get really excited about beauty products and still be taken seriously.
It's not something that should be homogenizing. I don't like the idea that there's a recipe for pretty. I wanted to challenge that idea by going back to the basic idea of redefining foundation. What is your foundation? It's not necessarily a skin-colored fluid that stamps out all of your angles, little quirks, and imperfections.What I want to encourage with Glossier is to bring that out and encourage women to enjoy themselves for a minute.
As girls, there's also always this pressure to edit yourself into a certain persona for social media or the workplace. Every day you're wondering, Who am I in any given moment? I want Glossier to encourage somebody to smile for a second and let loose and feel okay in the present.
As a beauty editor yourself, you know how many beauty products there are already. What made you want to start a line of your own?
With Glossier, we are taking a curated, contextual approach and applying it to product development. We're not going to be putting out 30 colors of an eye shadow. I hope Glossier and the very small collections that we put out reflect the times and needs of what our girl wants.
Right now, for example, it's really about kind of stripping everything away, being a little free, and just making sure your skin is looking great. We have a limited-edition product for holiday, and then we have something else coming in January. I don't think we're going to be so hung up on [the] traditional marketing calendar. Our speed to market and develop things as a small, nimble team is another big difference. We will go into color early next year, and we have a pop-up opening on Monday, October 13.
Where did the sticker idea come from?
From my teen years, I was really into Delia's, Clueless, and Sanrio. I used to collect [stickers] all the time. I remember a few years ago when Phoebe Philo just went to Céline and I bought a pair of Céline sunglasses. It had a little sticker, and I peeled it off, and was going to throw it away but then thought, That's really cute, and put it on my mirror. All of a sudden, you can brand or remember your environment. That to me is the ultimate way of showing community or brand affinity. I want Glossier to really feel like a community. You can personalize your bottles so no two bottles will look the same.
Bobbi Brown was criticized when she was announced as the editor-in-chief at Yahoo Beauty. Are you worried about editorial separation with Into the Gloss?
I feel that as long as I'm honest, then no. It's a totally different brand. I'm not interested in only wearing Glossier products. It's outdated to think that anyone only wears one brand, whether it's beauty or fashion. Certainly, some Glossier products will pop up because people are using them, but I feel pretty hopeful and confident that people will find Glossier on their own.