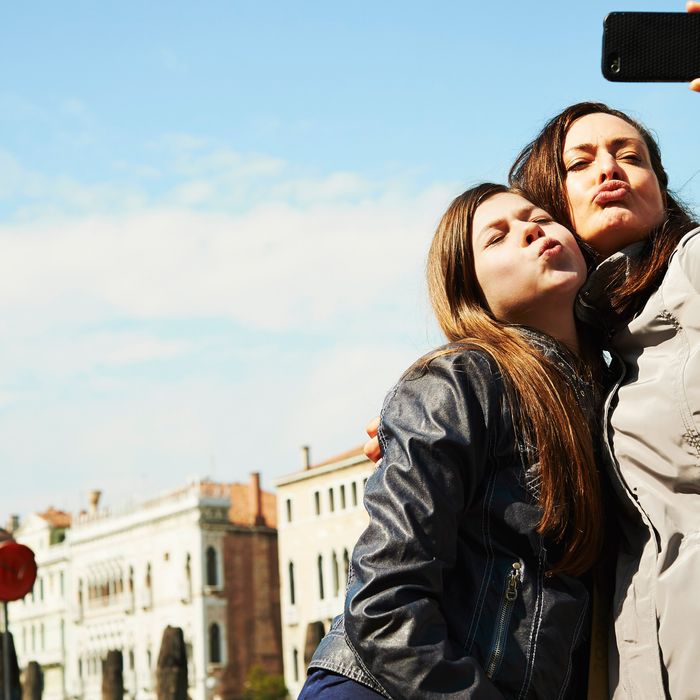 Photo: Adrian Weinbrecht/Corbis
Recently, an actual Italian at a bar in the East Village asked if I were Italian, too. I'm Italian-American — and I take great pride in it — but I fumbled for the right answer; "I'm of Italian descent," I murmured. What was I afraid of? That he'd give me a pop quiz on Vatican news? That he'd judge me as an ignorant American because I drank my coffee to-go? What would we actually have to talk about? Turns out I shouldn't have been so worried. In the course of researching my book, The Twentysomething Guide to Getting it Together, I learned that we had plenty in common simply by being millennials. From Milan to New York, twentysomethings are dealing with plenty of similar career and relationship pressures, whether or not our culture frowns upon removing our underwear during a massage. Click ahead for five other things we have in common with our young friends across the Atlantic (and one we don't).
1. They are increasingly stuck living with their parents.
Almost every American twentysomething has been forced to explain Twitter, or Snapchat, or — gasp — sexting to a parent. For members of the "boomerang generation," sharing with Mom and Dad has become the norm — and we're not alone. Seventy-nine percent of Italian millennials also live with their parents. While this has always been a part of their culture, most young Italians these days no longer have an option. It appears the mama's boys on Italy's dating scene are here to stay. In the States, we might view this "failure to launch" as a personal flaw, but Laura Cappelli, 35, an editor at Pianeta Donna, an Italian news and lifestyle site for women, points a finger at the Great Recession. "It seems that without the support of family, you cannot make a dignified living." While older generations in Italy and America grew up during a period of economic growth, security for the middle class has all but evaporated.
2. They are losing faith in their career dreams.
There is a poster in my office of a generic athlete shooting a basketball. It reads, "You miss 100% of the shots you don't take." This poster was a random thrift-store find, but its theme is so familiar that it might as well have hung in every class I've ever attended. Millennials grew up bombarded with messages urging us to take a shot, no matter the risk. But now that we've entered adulthood, the job market for young people in both the United States and Italy is bleak. Natalie Aldern, 29, an American twentysomething who has been living in Italy for four years, has noticed a loss of confidence; "Young people here are disillusioned. Persistent lack of opportunities has taken a toll." If our dreams are a hoop, the economy is LeBron James.
The good news is, millennial optimism around the world knows no bounds. While we mistrust establishment, a study by PwC indicates that our generation is still willing to work hard — as long as the schedule and location is flexible.
3. They love '80s and '90s nostalgia.
Nostalgia for the '80s and '90s is a worldwide epidemic — Italians are into it, too. Recently, Capelli notes, a throwback campaign for Algida ice cream proved wildly successful in her country. So why is a whole generation of healthy youngsters constantly looking back, as if ripped from the lyrics of a Bruce Springsteen song? For starters, the internet makes it easy, offering a wide range of old toys, clothing, and entertainment gems that older generations could only find at the flea market. But also: It's kind of fun. For American twentysomethings, the culture of reminiscing most often appears in the form of Disney Princess memes. One movie we all agree on? Ritorno al Futuro!
4. They support gay marriage.
Don't let the Vatican fool you: Italian twentysomethings are open-minded about sexuality, too. Unfortunately, their older generations are much more conservative on the matter. But all is not lost! Sara, 31, an Italian writer from Corso Indipendenza, called my attention to a heartening story about the historically homophobic Berlusconi. After divorcing his third wife, Berlusconi, 78, began dating a 29-year-old millennial named Francesca Pascale. Pascale signed up as a volunteer in the local branch of Arcigay, Italy's most renowned pro-gay-rights group, and marched in the most recent Gay Pride Parade. Since then, Berlusconi has started expressing more open-minded views on gay rights.   
5. They love a good selfie.
Selfies are responsible for social-media-induced FOMO on a global scale. According to Time, Milan is the eighth most popular city in the world for selfies. But while young Italians enjoy uploading their faces to social media, dating online is still largely stigmatized. Aldern says it's nothing like here in the States; "Online dating is NOT a thing." Apparently, romance languages don't translate to OKCupid. Marketing research for GirlShop.it found that the reason Italy's acceptance of online dating seems to lag behind the rest of Europe is that Italian men come across as pushy and overly sexual online, which is not ideal when looking for a long-term relationship. "Apps like Tinder do seem to be getting more popular for hookups," Aldern adds. So at least those selfies are getting some use.
6. They don't love pumpkin-spice lattes.
Pumpkin-spice lattes have become so synonymous with millennial culture in America that we call drinking them "basic." But while baristas have attempted to sprinkle a little pumpkin-spice magic over in Italy, their customers are just not having it. Sara insists real Italians still prefer espresso.