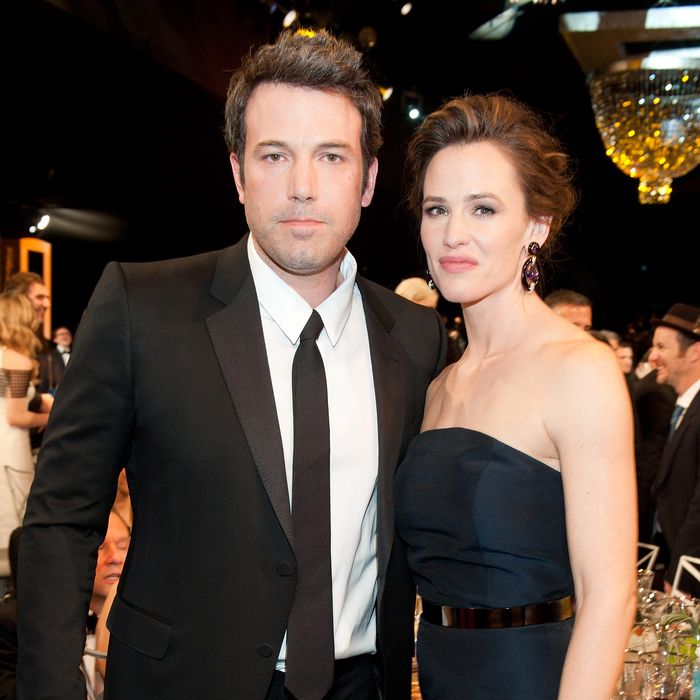 Photo: Angela Weiss/Getty Images
Jennifer Garner and her dimples are on a mission to talk about her husband. While gossip about gambling and debates about Islam swirl, the most-popular items about Ben Affleck have come via Garner's anecdotes. She's on a charm offensive to talk about her husband's recent body of work, namely his body in his work. For example: Affleck has a hot new Batman physique and his junk appears in Gone Girl on the big, silver screen.
Garner herself has two movies out. But her current promotional media tour seems to be centered on her husband. On Garner's recent trip to the charm chapel of Hollywood, Ellen DeGeneres acknowledged that Garner has two movies out, and Affleck has one. Let's focus on his, shall we? Ellen said, in not so many words. Let's talk about your husband's dong, she continued. Garner was seemingly delighted to gush about her husband and his full-frontal business.
There's a weird resonance with Gone Girl in this anecdote crusade. Many of the movie's reviews note that Affleck excels in his role, because her faults as a celebrity personality are the faults of his Gone Girl character (shady charisma). As David Edelstein writes, "his most common failing, a certain handsome-lug lack of commitment" is Nick's as well. It's the perfect part for him.
A large segment of Gone Girl consists of a campaign to present Affleck's character, Nick Dunne, as a loving husband. And Garner's media-force campaign plays like a goofy shadow of that. It's as if some media mastermind decided Affleck is so good at playing a dubiously murderous husband that his real-life wife should be recruited to reassure people. She could soothe audiences with cute stories about their family having lice. It's like Garner is guaranteeing you she won't get Gone Girl–ed.
And Garner's stories about Affleck are full of compliments for his wonderful, likable, genuine charm, and their wonderful, genuine love (important trip to 2005: the exact moment they fell in love). Also note, she has previously saved him by turning an extremely public remark on their marriage into "the hugest, warmest compliment." On Fallon, Garner does an impression of Affleck as a dopey husband who doesn't want to go to a party alone. It's an impression rendered with love, with total love, she says while holding her heart. In an interview with InStyle about their marriage, she says he is the force of spontaneous love in their home: "He is in charge of laughter. No matter how much I tickle them or toss them or chase them around, it's not the same. If I'm the slow, steady drumbeat, he's the jazz."
In her interview on Fallon, she repeated that she went along to a party she didn't want to go to because she did not want to appear high-maintenance, because she is not a "high-maintenance chick." This is straight from a Gone Girl tirade. Not being that kind of "chick." In all of this, Garner's not the type of high-maintenance chick who would distract from her husband's big movie.
Her two movies, out now, are Jason Reitman's Men, Women & Children and Alexander and the Terrible Horrible No Good Very Bad Day.