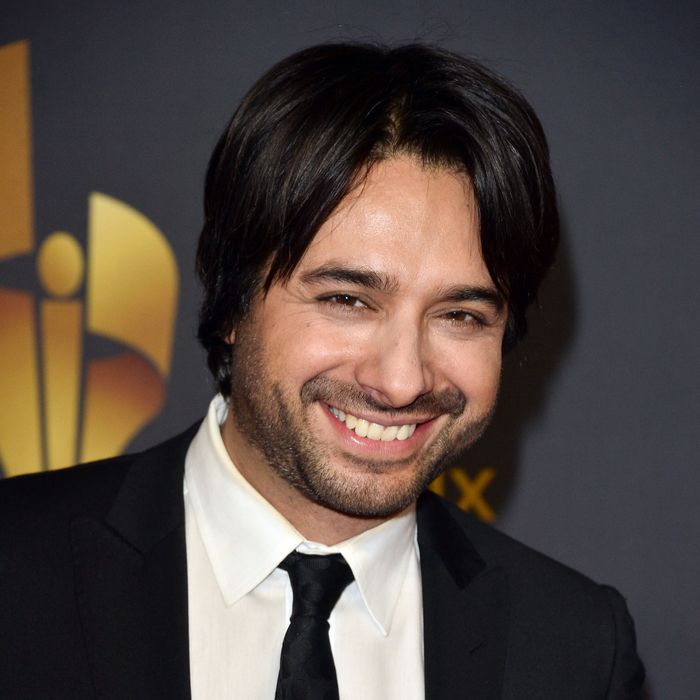 Photo: George Pimentel/Getty Images
Beloved Canadian public-radio host Jian Ghomeshi was fired this week amid allegations of sexual abuse that he claims were in fact consensual, if kinky, foreplay. Defending himself on Facebook, Ghomeshi wrote that the three anonymous women who told the Toronto Star he had hit, bitten, and choked them without warning or safe words were a conspiracy of "jilted" ex-girlfriends waging a defamatory campaign to "reframe" their private, consensual sexual relationships involving BDSM (for bondage and discipline, dominance and submission, sadism and masochism). Ghomeshi offered a literary precedent for his sex life in the high-low register of public radio — "like a mild form of Fifty Shades of Grey or a story from Lynn Coady's Giller-Prize winning book last year" — and claimed he was fired because the CBC was embarrassed by reports about his "unbecoming"-but-legal lifestyle (and not because a woman who worked with him also alleged sexual harassment in the Star). He promised a $50 million wrongful-termination suit.
It's impossible for outsiders to know whether Ghomeshi's rough sex was, in fact, consensual, and how that affects his employability. But it bears mentioning that he is not the first person to use his right to privacy and kink to shirk responsibility for allegedly harmful sexual relationships.
One of the guiding principles of BDSM is "safe, sane, and consensual," which the community upholds with meticulously negotiated checklists, limits, safe words, and check-ins. Still, many within the scene say it is nonetheless a safe haven for predators. Three years ago, writer and sex worker Kitty Stryker called attention to the problem in an essay titled "I Never Called It Rape." Yes, Stryker had agreed to "play" — BDSM parlance for sexual encounters — as a submissive. But dominants proudly flouted the predetermined boundaries mid-play or dismissed safe words as amateurish and un-sexy. Others took advantage of situations that fell outside those mediated sessions — during a ride home, a photo shoot, or the postcoital moments when she believed a "scene" had ended. The expectation of nonconsensual extras is reportedly one that women and submissives often face. But in an effort to protect the legitimacy of "consensual non-consent" — agreeing to be "raped" until a safe word is uttered — Stryker and others say the BDSM community is quick to write off rape allegations as drama, gossip, or inexperience, discouraging other victims from coming forward.
That's exactly what happened less than a year later, when members of Fetlife — a social-networking site for the BDSM set — began speaking up about members who had violated the contracts of their IRL sessions. The posts were deleted, and Fetlife members petitioned to have the site's terms of use changed to remove a ban on making criminal accusations in the forum. In most cases, the accused were identified only by their Fetlife usernames, making the posts less public allegations than community warnings — like the blacklists of bad johns circulated among sex workers or the rapist list written in a women's bathroom at Columbia. Still, Fetlife founder John Baku defended deleting the posts, telling Salon, "We live in a society where you're innocent until proven guilty. 'Proven' is very important."
We do live in a society where you won't be imprisoned for the felony of rape until proven guilty. But we also live in a society where police routinely botch rape investigations, where a lack of independent witnesses causes the rape cases that do go to trial to devolve into "he said, she said," and where a BDSM paper trail can undermine the rape shield laws banning past sexual behavior as evidence she was asking for it, regardless of what "she said." (This was the subject of a Law & Order: SVU episode.) Considering the improbability of a rape conviction, should a woman be denied the ability to talk openly about people who can't be trusted not to violate her limits once she's bound and gagged? "Whether the court decides that predatory men are punished or exonerated does not silence the voices of the victims," Ghomeshi's friend Owen Pallett responded on Facebook. "It does not make victims liars."
But Ghomeshi didn't have time to address the possibility of a victimizing misunderstanding with any of his former partners — a hazard BDSM professionals openly acknowledge — in between all his pleas for privacy and open-mindedness. "Let me be the first to say my tastes in the bedroom may not be palatable to some folks," he wrote. "But that is my private life … And no one, and certainly no employer, should have dominion over what people do consensually in their private life." If Ghomeshi had done something nonconsensual, he wondered, "why was the place to address this the media?" In other words: A man's shitty treatment of women is a private matter until it's a felony. This kind of ethical flattening gives a man total social immunity in the spectrum of predatory sexual behavior that can't be prosecuted as rape and paints anyone who criticizes him as attention-seeking and vindictive.
It's especially frustrating considering the ethical pretensions of the BDSM scene. This is a community committed to protecting its right to play-abuse one another, insisting that play-abuse, when properly executed, is an expression of kink sexuality and a human right. One would think BDSMers would be falling over themselves to protect play-rape "victims" from actual rapists lurking in their midst, threatening the entire community's claims to safety and play. I'm not saying Ghomeshi is such a person. (Although if three women came away from their dates unpleasantly shocked, he may have been doing rough sex wrong.) Yet when BDSM advocates retreat to a legal definition of rape in the face of mishandled play-rape, they weaken the entire premise of safe, above-board BDSM. The BDSM scene becomes just like the rest of the world: The abused are shamed into silence, so the abusers walk free.
Questioning a person's sexual proclivities runs the risk of sounding like sex negativity or slut-shaming — this is the progressive mentality Ghomeshi's lurid mea culpa appeals to. But sex-positive open-mindedness doesn't excuse misconduct. If anything, it creates a greater responsibility. You ought to be empowered to do whatever you need to do to get off. If that means beating up a woman, and she's into it, that's fine. Pretty unimaginative, given the state of the world, but fine. It doesn't seem like too much to ask that you are, then, extra careful not to abuse the very obvious power dynamic at play.