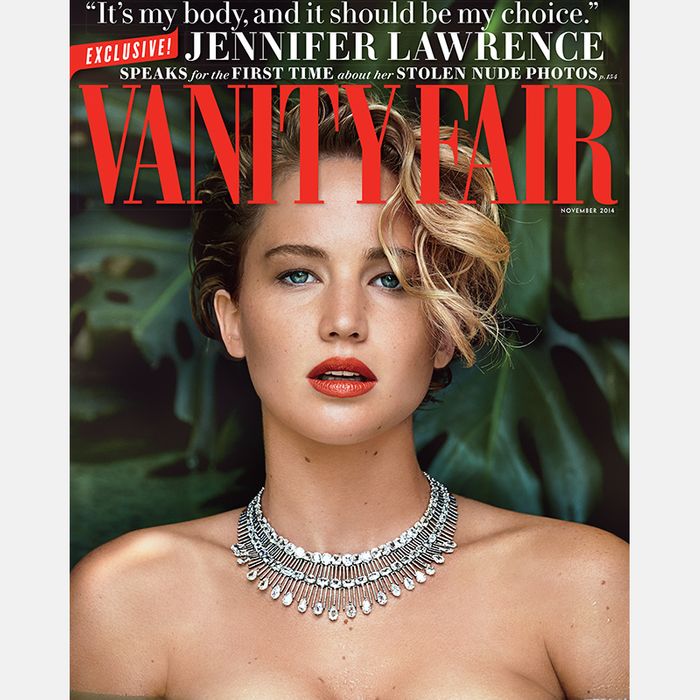 Photo: Patrick Demarchelier/Vanity Fair
Jennifer Lawrence is on the cover of November's Vanity Fair, and, in between talking Hunger Games and weirdly posing with a bird, the actress gives her first statement regarding her leaked nude photos.
In the interview, the actress, who explains that the photos were taken in the context of her four-year relationship, calls what happened a "sex crime" and a "sexual violation." She tells VF:
Just because I'm a public figure, just because I'm an actress, does not mean that I asked for this. It does not mean that it comes with the territory. It's my body, and it should be my choice, and the fact that it is not my choice is absolutely disgusting. I can't believe that we even live in that kind of world. … Anybody who looked at those pictures, you're perpetuating a sexual offense. You should cower with shame. Even people who I know and love say, 'Oh, yeah, I looked at the pictures.' I don't want to get mad, but at the same time I'm thinking, I didn't tell you that you could look at my naked body.


And if that doesn't shame you, remember Lawrence had to call her father and tell him that there were graphic, nude photos of her all over the internet.  "When I have to make that phone call to my dad and tell him what's happened … I don't care how much money I get for The Hunger Games, I promise you, anybody given the choice of that kind of money or having to make a phone call to tell your dad that something like that has happened, it's not worth it."
"Fortunately," she said, "he was playing golf, so he was in a good mood."