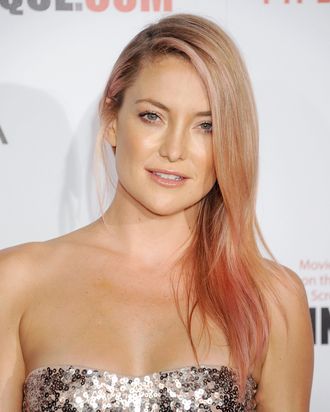 Photo: Gregg DeGuire/Getty Images
Dynamic mother-daughter duo Kate Hudson and Goldie Hawn have a new hairdo. Sections of their golden layers are now a soft, baby pink — but only for a little while. Colorist Daniel Moon gave them the new look, which was timed to highlight October's annual breast-cancer awareness campaign. On Instagram, Kate shared a photo of the hair-changing process, along with a caption that explains the impetus behind the new hue:
In honor of my bestie Juliana, my assistant Kathy, my grandmother Laura, Mimo and all the people who are fighting and have fought breast cancer. Your courage shines and inspires. We decided to show our support by wearing pink proud!
It's good to see Kate and Goldie joining forces for a worthy cause — and it's a far cry from their other side gig, which is seeing dead people.