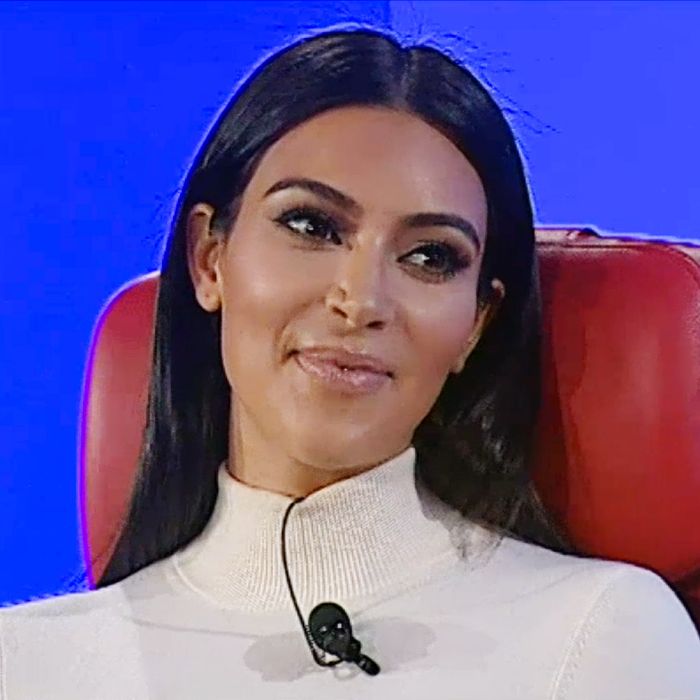 After the insane success of her Kim Kardashian: Hollywood game, it appears the reality star has ascended to the A-list of the tech world (maybe the next game will be Kim Kardashian: Silicon Valley). She joined Re/code co-founder Kara Swisher in conversation at the Code/Mobile conference last night to share her tips for social-media success and bravely admit that she, burgeoning Tech Guru, is the proud owner of multiple BlackBerry Bolds.
While she does keep an iPhone for the express purpose of posting belfies and selfies to Instagram, she says of her BlackBerry, "It's my heart and soul. I love it, and I'll never get rid of it." She continues: "Sometimes I'll send up a Twitpic on my BlackBerry," she said. "I use an older one, though. They don't have them in stores anymore. I buy them on eBay. I have three lined up in my room if they break. If one breaks and I'm down to two, I search on eBay until I have my third. I have anxiety I'll run out."

Considering that Kim Kardashian: Hollywood could earn about $200 million this year, it seems Kim can buy enough BlackBerry Bolds to keep the company operating for the sole purpose of helping her avoid panic attacks.