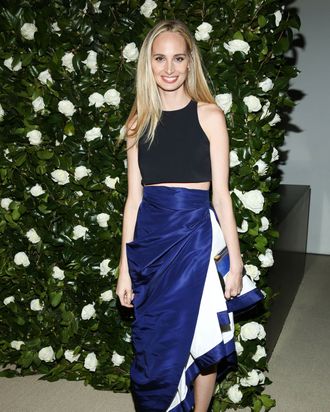 Photo: Rob Kim/Getty Images
Moda Operandi founder Lauren Santo Domingo has an interview in The Telegraph today about the e-tailer's new app, which she describes as "Tinder for clothes." But as far as we're concerned, the newsflash comes several grafs down in the story: LSD once had a summer job working for the WWF, as in the World Wrestling Federation (now called World Wrestling Entertainment, Inc.). Let's let her tell you about that experience.
I answered the fan mail one year as a summer job. And basically" — she lowers her voice conspiratorially — "people are really, really crazy." A natural raconteur, she gathers breath. "Sometimes it was, like, a boy on a Polynesian island who had saved up to buy an action figure and sent it to be signed."

And then there were so many crazy women writing in saying, 'I met you in Grand Rapids in Michigan, we had such a wonderful night, the number you gave me's not working, you told me you'd rescue me from my drunk and abusive husband…' ." By the end of that summer, Santo Domingo had created a fan database and developed a filing system. "It was categorised into 'urgent', 'crazy people' and 'let's get lawyers involved'," she says, smiling.
No backstory is given for that particular chapter in Santo Domingo's career, so we'll just assume she's a huge fan of singlets and Scott Hudson. And based on her experiences dealing with crazed wrestling fans, running Moda Operandi must be a breeze in comparison.