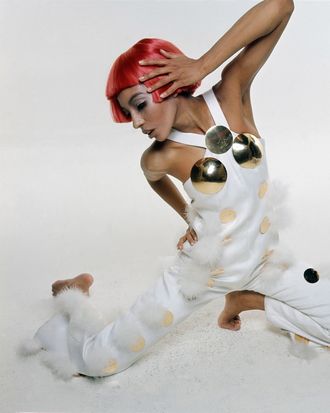 In the '60s, André Courrèges was one of the most copied designers on the planet — though his fashions at times seemed like they came from another world. Along with his contemporaries Paco Rabanne, Rudi Gernreich, and Pierre Cardin, Courrèges was a staunch futurist. His Sputnik sweethearts were clad in abbreviated A-line skirts, go-go boots, and the kind of sunglasses that declared, "unobscured vision is for squares." Some found the vision infantilizing: In 1964, the Associated Press sniffed, "The current pride of Paris, André Courrèges, stops just short of diapers in giving age-conscious American women the youngest collection of clothes ever cut in adult sizes." The article was a reaction to his Moon Girl collection, in which the models wore baby bonnets. In 1965, Vogue wondered, "Is Courrèges Wearable?"
Wearable or not, the designer's influence has been felt on the runway as recently as this past season: in the spherical silhouettes of Jacquemus, or in Junya Watanabe's space oddities complete with PVC headgear. Fausto Puglisi cited Courrèges directly as an inspiration for his "Star Wars meets Barbarella"–themed spring 2015 collection. (Courrèges costumed the latter film in 1968.) So what better moment for the house to re-enter the fashion fray?
Former Young & Rubicam ad execs Jacques Bungert and Frédéric Torloting, who bought the rights to the name in 2011, have been rolling out a number of initiatives ever since to bring the house back to life. They opened a Courrèges store in Paris's sixth arrondissement earlier this month, and the brand recently hosted an event at Lizzie Tisch and Kim Kassel's demi-couture salon, Suite 1521, where customers met the house's designers.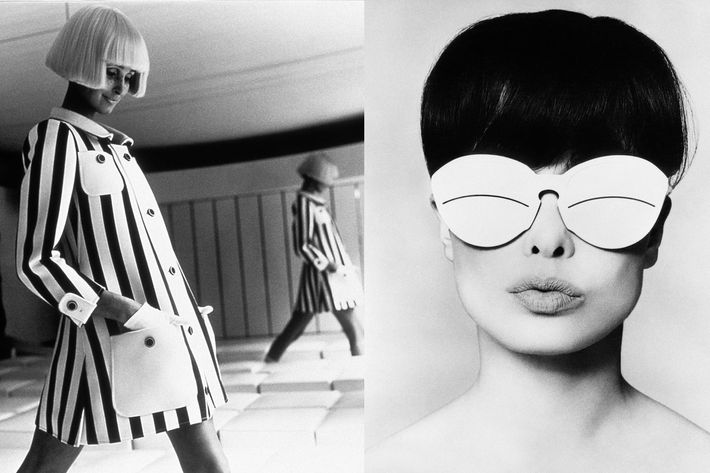 But Courrèges 2.0 isn't limited to making clothes. The company plans to launch a makeup collection in partnership with a major cosmetics brand, and to expand the brand into a dizzying array of product categories: not just the usual bags, sunglasses, and small leather goods, but also architecture, design, music, and electric cars. "To me it's a house of design, even more than a house of fashion," the genial, silver-haired Bungert told me on a recent visit to New York for several Suite 1521 events. Basically, he won't be satisfied until we're all living in a Courrèges world.
Thus far, the clothes — which are the work of a design team — look like what you'd get if you crossed pieces from the designer's Space Age heyday with fairly clean-cut basics. There's an unadorned, long-sleeved white minidress and watermelon-hued separates with circular patch pockets — worn, naturally, with go-go boots. They don't look like outré vintage clothes, but they do have a certain quintessential Courrèges quality. If anything, they could stand to be a tad more daring, but perhaps the house is betting on wearability over a bold statement.
The idea of a woman decked out in Courrèges, driving her mod little Courrèges car up to her Courrèges-designed apartment building, sounds like something out of a Jacques Tati film — or The Jetsons. But Bungert seems confident about his omnivorous approach."This is the Courrèges way of seeing life, because a dress, a bag, furniture, a car — there's always the mix between the reasoning, the thinking, the function, the technology, and the design," he says with a grin. "We like to see ourselves as pop luxury, which is very different from the arrogant, distant luxury [of] the '80s." The word he's coined to describe the approach is "poptimism," which his accent renders as the more harmonious "poptimisme."
The electric cars, he claims, are not some pie-in-the-sky proposition. He recently returned from exhibiting refurbished examples of cars designed in the mid-'00s by Courrèges's wife, Coqueline, at Paris's Mondial de l'Automobile exposition. (They look like little space pods.) Eventually, the brand plans to create ready-for-market versions. In fact, Bungert tells me, Coqueline, who the designer called his "creative complement," was an early proponent of electric cars, long before the name Tesla was on anyone's lips. During the student strikes in May 1968, Coqueline noticed that gas stations had emptied out, which got her thinking about our global dependency on oil. For the next collection, in 1969, Bungert says, "she came onto the runway with an electric car. She said, 'If we want to change [people's] lives, we have to do electric cars.'" Coqueline went on to design wackily-named vehicles like La Bulle (or The Bubble) and Zooop. She still maintains an office above the brand's store, though she no longer has any formal involvement with the company.
This isn't the first time that Courrèges has attempted to relaunch. In 1991, the New York Times proclaimed, "60's Revival Is Official: Courrèges Is Back." The story cited a new backer, Epargne Développement, and revived styles like its popular "poor-boy" sweaters and A-line vinyl dresses. But the revamp didn't take — after all, it's tough to sell a '60s vision of the future to people who are living in the same future these designers envisioned. (Albeit one with fewer go-go boots.)
Bungert doesn't seem discouraged by the lukewarm reception of the previous reboot. To him, the house of Courrèges's biggest asset is "its vision, the belief in the future." The brand, he says, already "has a style, it has an architecture, it has an alphabet. What we're trying to do is take this alphabet and start to make different words with it." Over the next three years, Bungert plans to open ten stores in "major cities" and, though he declined to specify which, indicated that the United States would be a big target. "Japan has been, for 50 years, a Courrèges market," he said. "China, no. Russia, no. Not yet. So to us, the challenge is distribution. But the great thing is, since we are small, we can move fast." (Very fast, indeed. According to a Women's Wear Daily report, he and Torloting have been speaking with international investors about selling a minority stake in the company in order to fund the expansion.)
That doesn't mean the sequel will be a slam dunk. While second acts are possible in fashion, they're tricky — Halston, anyone? — and can't be powered by nostalgia alone. The recent craze for the reinvention of defunct houses, like Carven, Vionnet, Schiaparelli, and soon, Charles James and Paul Poiret, speaks to the power of the brand name — even when it comes to long-shuttered ateliers. Bungert and Torloting may not be fashion insiders, but they do have the rights to an iconic name and all the attendant history — even if the brand isn't quite the household name in America that it is in France.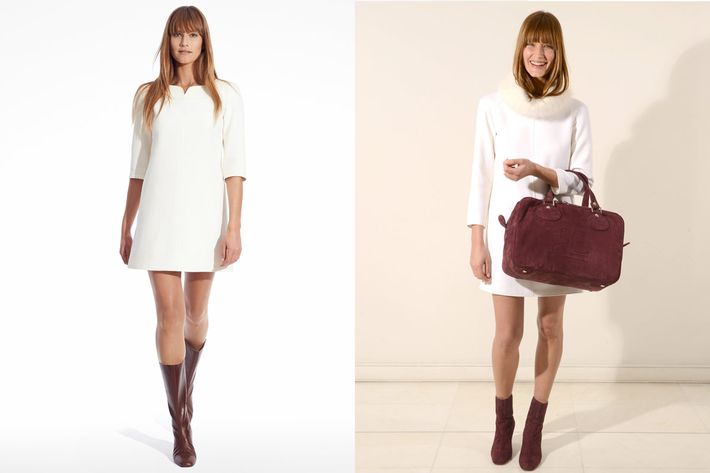 Despite what the public may remember, Courrèges wasn't simply a fantasist. After becoming an engineer, he quit the business at age 28 to apprentice under Cristóbal Balenciaga, where he stayed for a decade before launching his own label in 1961. You don't spend ten years working for Balenciaga without emerging as a connoisseur of shapes; Courrèges also drew on his architectural idols Le Corbusier and Eero Saarinen for inspiration. Not only was he more serious than he gets credit for, he was smart: For a time, he maintained a wildly successful business. Audrey Hepburn, Jackie Kennedy, and Catherine Deneuve wore pieces plucked from the designer's bright-white atelier. Those who couldn't afford the prohibitively priced Paris originals bought copies on Seventh Avenue or patterns from McCall's.
Can the company make its collections that hotly anticipated once again? As for luring the elusive American who's longing to be a galactic "It" girl, she's not an entirely new quarry for the company. In a 1965 interview with Life, Courrèges said that his ideal customer was American: "They are so much better at picking up new ideas than the French."