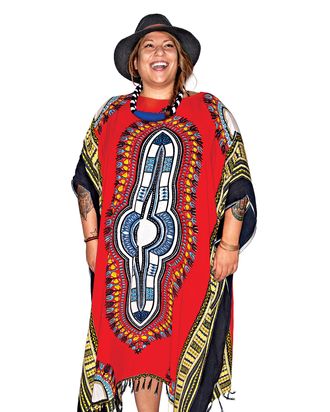 Stefani Annaliese, Hairstylist
 Nice caftan.
I got it at the Malcolm Shabazz Market in Harlem. I've always had this really flowy bohemian style—the boy I dated from when I was 14 till 22 was from the South Pacific islands and really influenced my style. But he was a Mormon, from a family of 13—it wasn't going to work out.
Are you dating anyone now?
No. I was on Tinder but just got rid of it. Too skeezy.
Would you ever date a client?
A lot of guys who come to the salon work on Wall Street … I'm into artsy people. People who wouldn't come to me to get their hair done. Guys who have like a dreadlock here and there. To me, that's hot.
Tipping is a subject we happen to be interested in. Any tips for tipping a hairstylist?
It's so funny when people are shy and they give the money to you in a handshake, like it's a drug deal. I'm like, "Okay, that's smooth." Just walk up to your stylist, hand them the money, and say "Thank you for the service!"
Lightning Round
Neighborhood: East Williamsburg.
Roommates: Two.
Hometown: Tucson.
Years in New York: Three. "I think I'm a for-lifer."
Celebrity clients: Lazaro Hernandez, Emeli Sandé, Michael Chernow from the Meatball Shop.
Best party in New York: "Everyday People, a brunch party at the DL."
Most tired hair trend: "That 1920s Boardwalk Empire haircut that every guy and his mother wants."
*This article appears in the November 3, 2014 issue of New York Magazine.