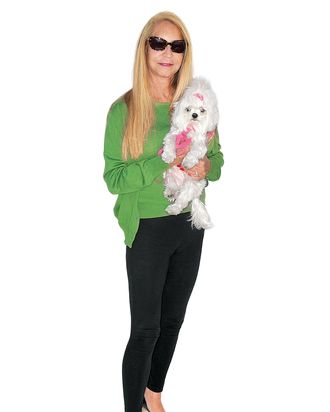 Roberta Brudner, Housewife
What are you two up to today?
I just got my hair done. This is Chanel. She's a teacup Maltese and the love of my life.
Chanel!
I'm a big Chanel devotee. I've worn the clothes for years. When I first got married, my dream was to own a Chanel suit. I've accumulated quite a bit. As a matter of fact, Chanel threw me a surprise birthday party at their store. Can you imagine? It was fabulous.
What's a typical day like for you?
Usually, I'll wake up, stretch, go to the gym, shower, get my hair done, and then meet the girls for lunch — Amaranth, Le Bilboquet, Fred's, wherever — and depending on what the girls want to do, maybe we'll play canasta at the Friars Club. Then I'll go home, rest, and get ready to go out to dinner with friends. A very busy life — I love it!
Lightning Round
From: New Rochelle
Neighborhood: "Long story short: We lived at 830 Park for 38 years, and now we split our time between a place on 55th Street and Palm Beach."
Democrat or Republican: Republican. "I'm hoping they come up with a good candidate for 2016."
Favorite street: Madison Avenue.
Favorite restaurants: Cipriani, Pietro's, and Le Cirque. "Sirio once had me and my husband to dinner in Italy."
Favorite building: Empire State Building.
Last splurge: "I'm very lucky. I don't have to splurge."
*This article appears in the October 6, 2014 issue of New York Magazine.