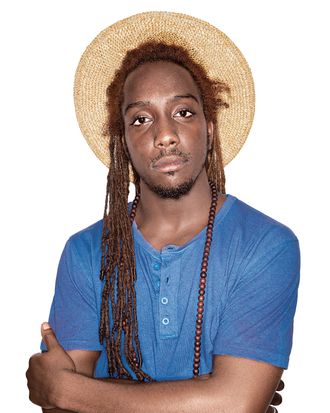 Trevor Crest, Teacher
What do you teach?
Art, to elementary- and middle-school kids at an all-boys charter school in Bed-Stuy. Right now we're working on Joseph Stella–inspired pieces. You gotta have a hook. Last year, we did a unit on Banksy. They loved it. A lot of the concepts went over their heads, but he goes over a lot of people's heads.
Teaching all boys must be kind of intense.
It can be a little wild. But I'm a huge advocate of same-sex education in middle school—helps them lock down some important life skills in terms of respect and personal hygiene. I went to an all-boys Catholic school in Baltimore and then got a scholarship to a superrich co-ed boarding school in Virginia.
What was that like?
A culture shock. At the time I was 14, coming out of the hood, and I was going to this school with literal billionaires. Over Christmas break, I would take the bus back to Baltimore, and my classmates would be flying private jets out of Dulles to the Bahamas. But, you know, I can't wear "I went to the high school John McCain went to" on my shirt. When I close my mouth and walk down the street, I'm a dark-skinned black male, No. 1 suspect.
Lightning Round
Neighborhood: Lower East Side.
Years in New York: One.
Favorite store: "Goodwill. I used to shop at Urban Outfitters, but now that I'm middle class and can actually afford it, I find it ridiculously overpriced."
Favorite building: The Whitney Museum.
Currently reading: The Autobiography of Malcolm X.
Favorite restaurant: "Honestly, dollar-slice pizza."
Facebook, Twitter, or Instagram? Instagram. "I follow a lot of street artists. I like being able to see what exactly an artist does, day in and day out."
*This article appears in the October 20, 2014 issue of New York Magazine.