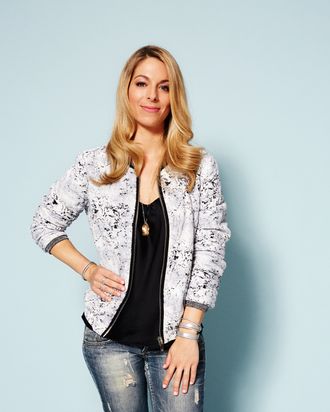 The idea began to percolate while Suda was working in merchandising at Coach. "I had this 360-degree view of the supply chain," she says. "It got me thinking about where the products we buy come from, who makes them, how they're made. There's a story there: What if my purchase actually mattered to the person who made it?"
That leads us to Suda's life-changing failure. Wanting to make a change, but unsure of where to start, she applied for a Fulbright scholarship to study organic cotton in India. "That was not a very good application, to be honest," she says, laughing. Motivated by that rejection, Suda intently researched global artisans. "That was when," she says, "I discovered a rich, living culture of handloom-weaving and natural dyeing in Laos." In 2008, she quit her job, and went to Vientiane, Laos' capital, on a wing and a prayer (and some savings). She didn't know a soul there.
"I started introducing myself to people, and it was completely terrifying," she says. "People sometimes look at you, like, 'Why are you talking to me?'" After persevering, she met a woman with a textile business who took Suda under her wing, introducing the optimistic expat to locals. Everything changed one day after Suda saw villagers melting bomb metal into spoons. (Laos bears the tragic distinction of being the most heavily bombed nation on the globe.) "This was ingenious," she remembers thinking. "It brought them income, but there wasn't any growth potential. That's when I had the idea to create a bracelet."
By 2010, she was ready to sell these bomb bracelets, but only after a fair amount of pushback. "My first time in the village, one of the artisans said to me, 'A lot of people come here and want to help, but nothing happens.' That really touched me. It also explained why it took a year to get the first prototypes. They were like, 'Well, who's gonna buy this? Why waste our time?'" explains Suda, wearing Article 22's creations, above. "That made me realize I wasn't just making jewelry. I was affecting people's lives." Today, those villagers now have the income to pay for things such as soap, phone cards, and fuel, while more of their kids are pursuing higher education.
In deference to these artisans, Suda has been careful to preserve Article22's mom-and-pop feel. "We've built real relationships together, and that's the reason I didn't go into any crazy expansion mode," she continues. "I've been so particular about growing this in a way that works, because I want it to be sustainable. And now, it is."