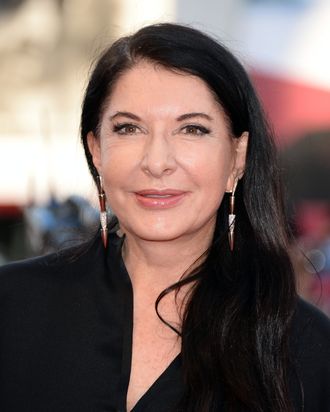 Photo: Venturelli/Getty Images
Marina Abramovic is impressed with Emma Sulkowicz, the art student who has been carrying around a mattress to protest Columbia University's tepid response to her rape allegations.
"I really want to meet her," Abramovic said at last night's after-party for her new show, "Generator," at Sean Kelly Gallery. "Many people don't have the willpower to stick to something no matter what, and that's what she's doing."
Abramovic already met Sulkowicz's parents at an event hosted by TED Talks founder Chris Anderson the other day and plans to meet the young artist herself next week. She wants to ask her about what other art projects she has in mind — "An artist doesn't make a name with one piece, they have to make a body of work," Abramovic said.
The ubiquitous 68-year-old performance artist knows something, after all, about how to make a name. In recent years, she has danced with Jay Z, coated James Franco's body in gold leaf, and gone on an awareness retreat with Lady Gaga. For the opening of her latest project at Sean Kelly, 1,000 visitors clamored to check their bags, watches, and phones at the door, don blindfolds and headphones, and shuffle blindly around an empty gallery. "It's about changing consciousness, changing the state of mind. Only then can you change the world," she says.
Abramovic will flex her celebrity muscles once again for her next work, a series of short films directed by seven of the biggest film auteurs on the planet, including Pedro Almodóvar, Roman Polanski, and Alejandro González Iñárritu. Beginning late next year, each director will shoot a three- to seven-minute film about the death of opera singer Maria Callas, played by Abramovic, and titled "7 Deaths."
Givenchy creative director Riccardo Tisci is designing the costumes, but at last night's party he said his vision is yet to be determined. "I will sit down with her and the directors soon, but the most important thing is what Marina wants," he explained. "At the end of the day, I'm just a good salad next to the amazing chicken. She's the tasty chicken."