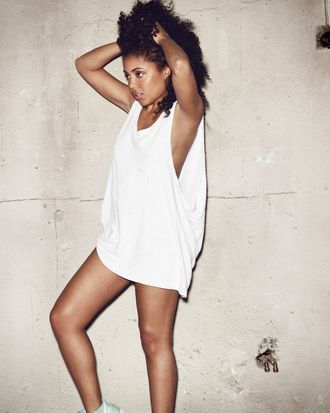 She claims she doesn't care about fashion, but with a super-stylish video for "Don't Wait," the Swedish singer Mapei is shaping up to be one of the coolest (and best-dressed) new female artists on the fall lineup.
The 30-year-old singer, who debuted with an EP called Cocoa Butter Diaries in 2009, is now touring with another Swedish darling, Lykke Li, whom she met as a teen when they sang in a Stockholm-suburb gospel choir together. Mapei's latest album, Hey Hey, incorporates elements of dance, indie, and baile funk — a pop departure from her hip-hop roots — but last week, her New York performance at Radio City Music Hall was full of soul as she twirled around the stage in sneakers and a casual robe.
Before she took the stage to open for Lykke, Mapei spoke to the Cut about the importance of collaborating with other women, curly-hair hacks, and being considered a rap hero by men.
How important is friendship and collaborating with other women to your work?
Women, if we don't join together, we often compete, and there's a lot of jealousy between humans overall. But it's important because other females need role models, they need to see people get together and have fun. Performing with Lykke feels legendary to me.
You started as a rapper. Why come out with such a big pop record?
I've always had that vein in me to do pop, but I've also hung out with a lot of hip-hop producers and rappers. Hip-hop and watching videos were the only outlets I had to know what was going on in the States.
Do you feel like you were perceived differently, rapping versus singing softer music?
Yeah, I just think guys appreciate it more when you rap because it's really male dominated; they see you as a hero. When you sing it feels like some dudes don't want to hear it, they just want to hear you rap. I was very unique when I was rapping because there aren't that many females rapping.
I bet it's that way in Sweden too.
Exactly, so the dudes I hung out with would be like, "You sound American, can you rap?"
You covered a Motown song by the Shirelles for the last track. Are there any other girl groups who inspire your music?
I love that song from Bat for Lashes when she takes doo-wop drums and puts them in there. Church music and a lot of girl groups played in my home when I stayed with my mother and my nana as a child. Soul, pop, Whitney Houston — a lot of females have inspired me.
You've been vocal about political issues in the past. There are a lot of love songs on this album; are you trying to make political music?
Not really, I wouldn't see myself as a political person. I grew up around that, my father was very political. I would go to rallies and would see people fighting for injustice. I think there's a little element of that, for example, in my song "Change." It sounds like I'm marching when I say, "We're waiting for a change." I've done a lot of marching with my father.
Your stylish "Don't Wait" video is like the house party you want to walk into but rarely find. Do you have a deep interest in fashion?
Not really. I like looking good and sometimes I throw on sweats. I'm not really into brands, but I like putting stuff together.
Do you work with a stylist on tour or are you dressing yourself?
I dress myself, and I have stylists give me free clothes …
What's the secret to maintaining your curls?
Either I wear it in a 'fro, puff it out, brush it out and use a blow-dryer to make it really big, which is not healthy for your hair because it can break, or I use olive-oil shampoo and my curls become really tight. I usually go to the Afro shop and get Afro products.
I love the album art on Cocoa Butter Diaries. How did that picture happen? 
That was my ex, we broke each other's hearts, but it's a cool picture that'll last forever. I hope he doesn't regret it, because it's a really cool photo.
Was he actually straightening your hair or was it just a photo op?
He was actually straightening my hair and a friend took a picture.
This interview has been edited and condensed.